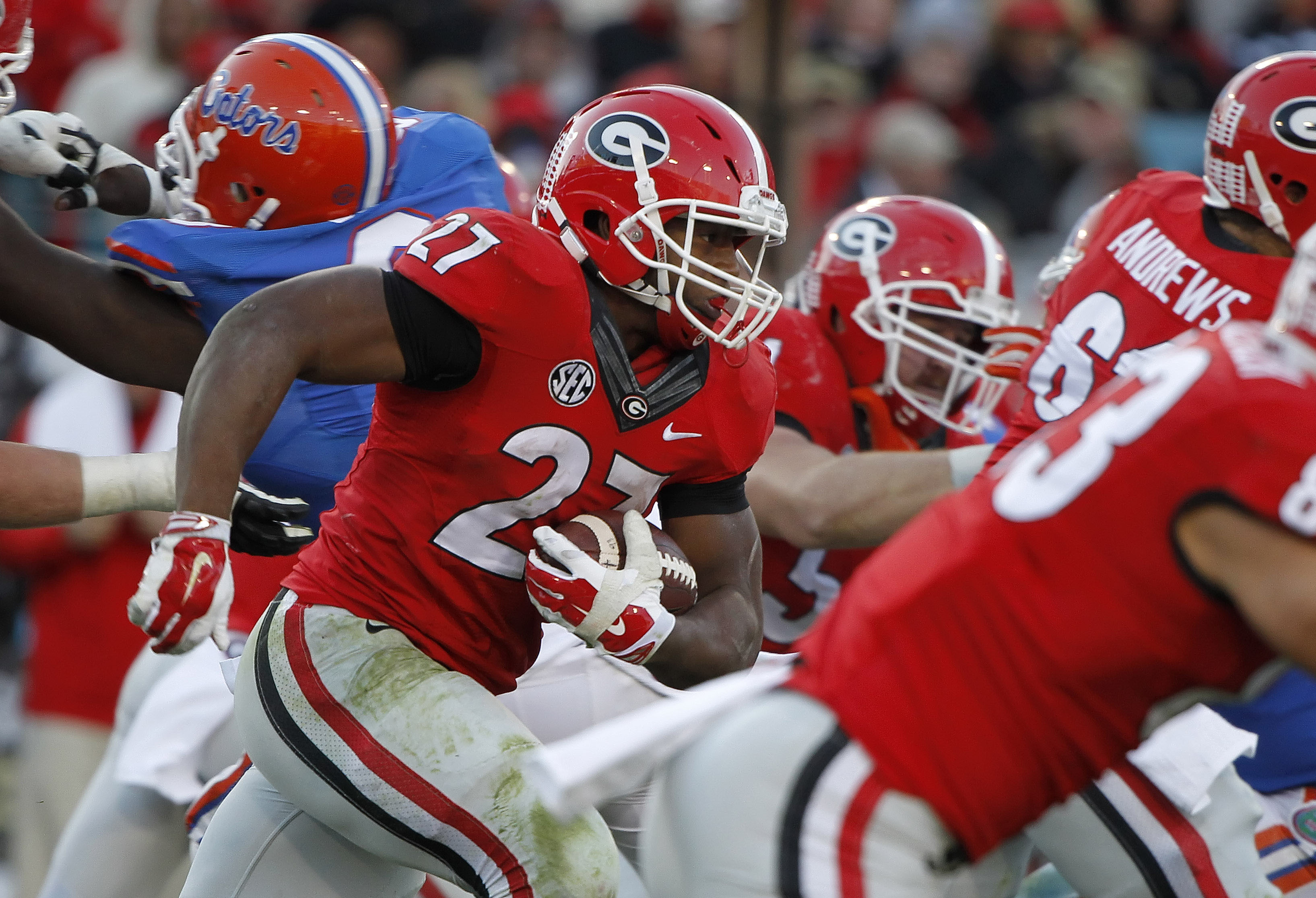 GEORGIA
5 reasons Georgia will beat Florida
After losing to Vanderbilt at home during homecoming, expectations aren't high for Georgia heading into Saturday's matchup with Florida in Jacksonville.
The Gators lead the SEC East race and have another dominant defense. Still, in rivalry games, anything can happen.
Here are five reasons Georgia will beat Florida.
1. Georgia can make Florida's offense one-dimensional: Saturday could very well turn into a defensive struggle. Neither offense is particularly dynamic, and both defenses are capable of taking away a facet of the game. For Georgia, that facet needs to be Florida's run game.
Similar to the Bulldogs, the Gators have a slew of capable running backs that they utilize, but their trio is not of the same caliber as Georgia's. Jordan Scarlett, Lamical Perine and Mark Thompson have combined to rush for 937 yards and 8 touchdowns. Florida wants to run the football, but Georgia has been able to defend the run the season.
The Bulldogs are allowing only 111.1 yards on the ground per game this season, which is a better total than the Gators' noted defense. If Georgia focuses on taking away Florida's rushing attack and forces Luke Del Rio to make plays with his arm, the Bulldogs will have a good chance to create turnovers and steal momentum.
2. The Bulldogs are still a dangerous running team: Although Georgia hasn't been able to run the ball as effectively in 2016 as it has in years past, the potential for excellence is still there. If the Bulldogs' offensive line problems were remedied during the bye week, it could help the running backs have a big game.
Part of the reason Georgia was able to build an early lead against Tennessee was due to the effectiveness of the running game. The Bulldogs ran for 147 yards and averaged 5.1 yards per carry in the first half of that game, and that was done without Nick Chubb. Georgia has a very talented trio of backs in Chubb, Sony Michel and Brian Herrien. If they can get going early, it will be very beneficial for the Bulldogs.
UGA Is Up 10-0 On Tenn. Early In 2nd Which Was Kickstarted By A TD Run By UGA RB #1 Sony Michel @flyguy2stackz…

Video: @Loyal_To_The_G pic.twitter.com/oQFB6trNTE

— Matthew Hall (@Loyal_To_The_G) October 1, 2016
Helping matters are injuries to some key Florida defenders. Defensive linemen Bryan Cox Jr., Jordan Sherit and Joey Ivie are all banged up, and their status will be worth monitoring throughout the week. A player who is more likely to miss the game is linebacker Jarrad Davis, the Gators' leading tackler.
3. This is the right type of matchup for the secondary: It's no small secret that the Bulldogs' secondary has struggled this season. Georgia is near the middle of the pack nationally in passing defense, allowing just under 230 yards per game.
Most of the problems for Georgia's secondary have occurred against taller, physical receivers. Missouri, Ole Miss and Tennessee have plenty of wide receivers that are between 6-foot-2 and 6-foot-5, which made for a great advantage against the Bulldogs' defensive backs, most of whom stand around 6-feet tall.
Antonio Callaway and Brandon Powell are Florida's two leading receivers, but Callaway is 5-foot-11 and Powell is just 5-foot-9. There's no denying that Callaway is a dynamic receiver who is capable of making plays, but there aren't many other receiving threats in this Florida offense. If Georgia can blanket Callaway, it will make life easier elsewhere.
4. Isaac Nauta can create problems: While Florida's defensive backs are arguably the best in the country, the linebackers can be taken advantage of. Isaac Nauta has emerged at the tight end position for Georgia over the past three games, and he could be the team's best option in the passing game on Saturday.
Although he's a freshman, Nauta already has the size to compete in the SEC and the speed to make a difference. He and Jacob Eason have strong chemistry already, but it should only continue to increase. Staying away from Jalen Tabor and Quincy Wilson would be beneficial for Eason, which makes Nauta a great weapon for the Bulldogs.
UGA QB #10 @skinnyqb10 Fires The Laser Beam To UGA TE #18 @inauta18 Who Takes It To The House For The TD…Go ???!!!

Video: @Loyal_To_The_G pic.twitter.com/2bP3dAmrea

— Matthew Hall (@Loyal_To_The_G) October 1, 2016
5. Jacob Eason doesn't shy away from pressure: Georgia's freshman quarterback has been tested many times this season, and he's stepped up when the pressure is highest. Winning in Jacksonville is no easy thing for a first-time starter, especially against this defense, but it's unlikely that Eason will be scared of the moment.
His penchant for taking chances may cost the Bulldogs on Saturday if he doesn't make smart decisions, but Eason has the talent to make a difference. It's a long shot, but if Eason puts together his best game of the season, Georgia's offense could have what it takes to make plays against the Gators' defense.
William McFadden covers the University of Georgia for Saturday Down South. For news on everything happening between the hedges, follow him on Twitter @willmcfadden.