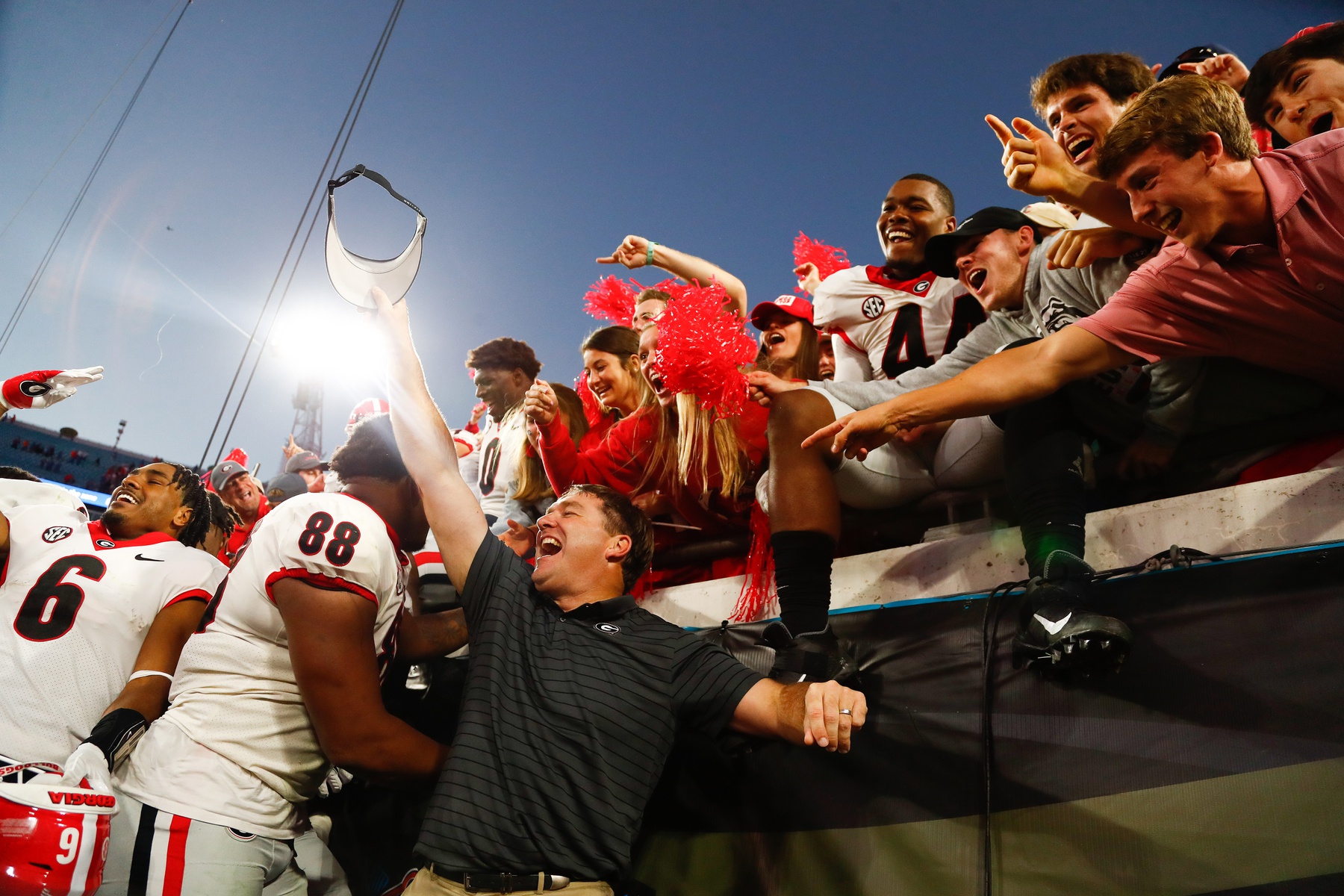 GEORGIA
7 way-too-early predictions for Georgia's defense in 2022
It'll be nearly impossible to duplicate the historic defense of 2021, but Georgia returns a fair number of playmakers from the nucleus.
The secondary will be a question as it's somewhat thin again this season, and there will be new faces at linebacker. The top 4 tacklers from the national championship team are in the NFL, and that allows Georgia to show how the stacking of elite recruiting classes pays off.
Here are 7 way-too-early predictions for Georgia's defense in 2022:
Scoring average will increase
The 10.2 points per game allowed on average last season was just silly, and while remarkable over 15 games, is just too good to maintain over 2 seasons. Georgia has been in this neighborhood before. After all, the 2019 team allowed just 12.6 points per game. But in recent memory, the typical defense has been between 16 and 20 points per game.
With improving and high-powered offenses at Kentucky and Tennessee, for example, look for the scoring average number to return to close to 20 points allowed per game.
Nolan Smith increases production
Smith etched his own play into the minds of Georgia fans when he delivered a sack for the final play of the national championship. And as returnees go, having a vocal leader is a good place to start.
After Smith made 56 tackles last season, he will lead the Bulldogs in tackles this year with 75. Look for more games like he had in the Orange Bowl when Smith delivered 8 tackles in the win over Michigan, and also had a career-high 7 QB pressures against the Wolverines.
Kelee Ringo has slight regression in No. 1 corner spot
The featured star of the amazing play that's replayed over and over this offseason will have a step back. Not because he's not talented, but more because it'll be a natural development move to take a step back after being a freshman with the most incredible play in the past 4 decades of the program.
Ringo, who started the final 12 games of last season, will be counted on to be a No. 1 cornerback, and while solid, Ringo won't have the kind of remarkable season he had in 2021. Kirby Smart has already mentioned this publicly that Ringo can't let that single play define his career, and that he needs to develop like other rising sophomore cornerbacks. Don't be surprised if there's some growing pains for him that pay off in the long run.
Jalen Carter will nearly double sack total
Carter will make NFL scouts salivate that he may, in fact, be better than the 3 defensive linemen who were first-round picks this year. Carter had 3 sacks a year ago, and while that isn't his primary duty, he'll have 5 this season and provide the kind of blocker-eating line control to develop into a high draft pick.
Carter is already known among NFL talent evaluators as a run-disruptor while being a premier interior pass rusher. Carter will become increasingly more vocal and assertive among his teammates, and like Jordan Davis before him, work to get in shape to be able to be on the field as much as needed.
Co-coordinators will be just fine
Will Muschamp and Glenn Schumann became the shared replacements for Dan Lanning when he took the head coaching job at Oregon. By the end of the season, it will be clear that one of them is more vocal, more visible on the sidelines, and more public in terms of speaking with the media and other traditional coordinator duties.
The players made a point during the College Football Playoff that because it's a player-led team, there wouldn't be a noticeable dropoff with Lanning's departure. Because with Kirby Smart, the defense has, in effect, 3 defensive coordinators.
Robert Beal becomes a late-blooming star
As a veteran of all 15 games a year ago, Beal only started 2 and now has the opportunity to seize control of a starting spot. Most notably, Beal had a team-high 6.5 QB sacks, and also produced 16 quarterback pressures on the season, something that is worth noticing this season. Without more experienced teammates around him to provide room for pressure, Beal will attract more attention from opposing blocking schemes.
Since Beal considered the NFL this offseason, his return will be a source of motivation to enhance his draft profile for next year. In his 4-year career, Beal has played in 39 games, totaling 46 tackles, 9 tackles for loss, 7.5 sacks, 2 pass breakups, and one forced fumble. But more than half of that production came last season.
Christopher Smith will lead UGA (and maybe SEC) with 5 INTs
Another veteran returnee, Smith may be remembered in the short-term for his key block on Ringo's pick-6 return. In fact, in that game, Smith made a career-best 7 tackles, 2 pass breakups, a quarterback pressure and a 3rd-quarter interception. Overall, Smith had a solid season for Georgia as he played in 12 games, and started 11, as he finished with 35 total tackles, 4 pass breakups, 3 interceptions and 2 QB pressures.
Look for Smith to improve on his career-high in tackles for 10, and also lead the Bulldogs with 5 interceptions.