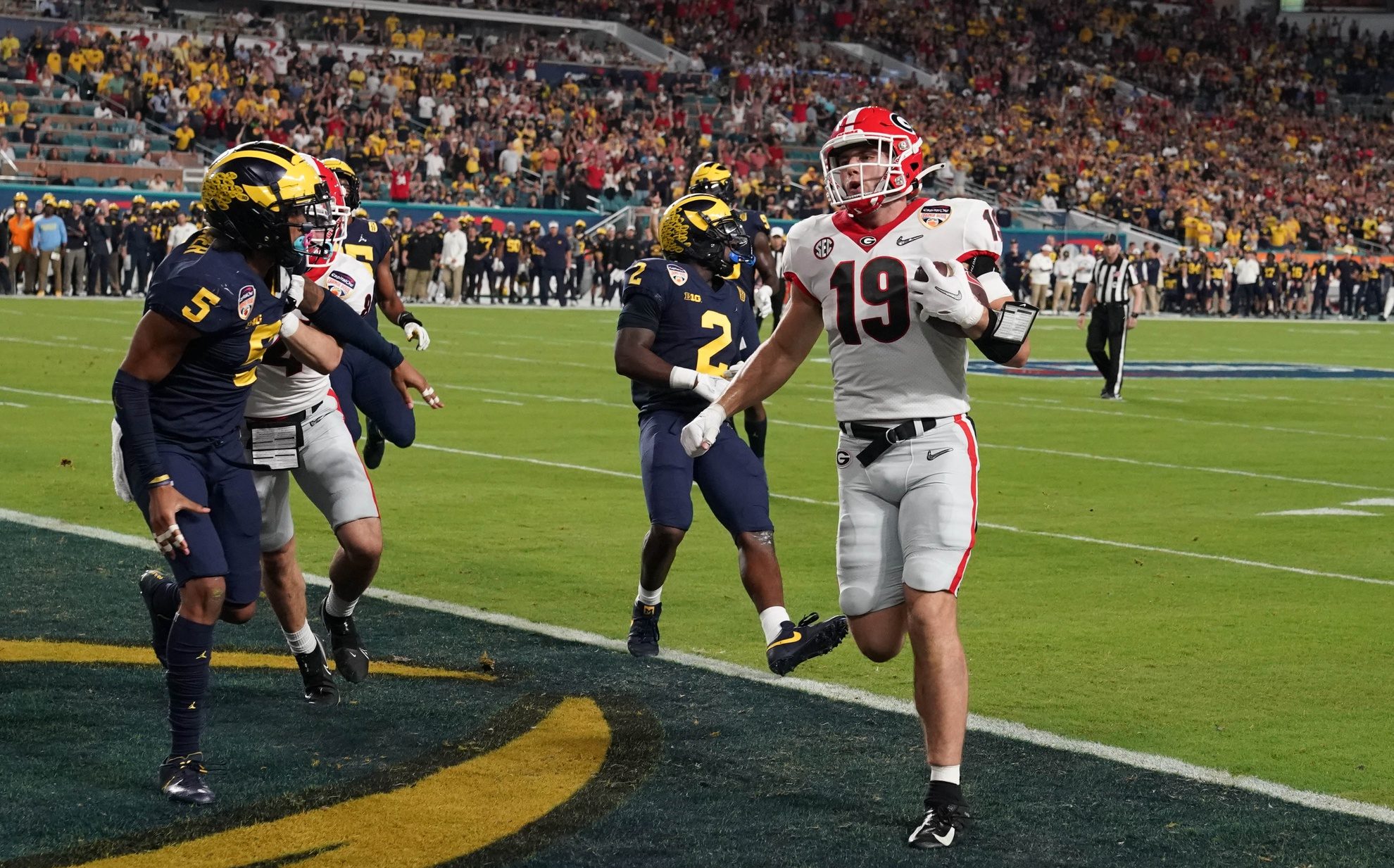 GEORGIA
7 way-too-early predictions for Georgia's offense in 2022
Stetson Bennett is back for more, and how about that tight end position?
The 2 biggest conversation topics entering the 2022 season will get Dawgs fans talking throughout the summer, but the offense has more to offer, and more to dissect before Georgia takes on Oregon to start the season.
Running back production has slipped some in recent years, and of course there's mainly health and depth questions at wide receiver.
Here are 7 way-too-early predictions for Georgia's offense in 2022:
Quarterbacks
If you think the quarterback situation will sail through the season without any major discussions, fan division and salty responses from Kirby Smart, you haven't paid much attention. Georgia is not the only program dealing with QB tumult, so buckle up.
The prediction here is that there will be a major change to the QB position as Stetson Bennett navigates being the incumbent for the first time in his college career. Perhaps Georgia loses 2 in a row and Bennett is benched? Maybe one of the backups flashes in a second-half comeback and wins the job? One thing is sure is that making it through an entire season following a national championship without drama at QB is not likely.
Scoring average
Todd Monken has worked wonders as offensive coordinator in Athens, and last season, despite being overshadowed by the historic defense and all the quarterback chatter, the Dawgs averaged 38.6 points per game, which was 3rd in the SEC and the most in the Kirby Smart era.
That will come down some this season, and be more in line with the previous 4 seasons, which ranged between 30.8 and 37.9. Look for Georgia to establish its traditional running game, which has escaped the Bulldogs in recent memory, and drain opponents rather than wallop them.
Tight ends
The embarrassment of riches has even caused the commentary during the G-Day game to openly wonder if Georgia will use the rare "14 personnel" with 4 tight ends on the field. It's difficult to see that happening, but the matchup nightmare it would cause defenses is something to relish.
Within the position, the prediction goes that Brock Bowers will take somewhat of a step back as he eases back into the fold after he missed spring practice. Meanwhile, Arik Gilbert will duplicate what he did in the G-Day game with pass interference calls and red-zone highlights for days. Oscar Delp will have a coming-out party, but not quite the dominating effort we remember from Bowers.
Wide receivers
Arian Smith, who suffered a broken leg last season, will have a breakout season as the big-play threat in a deep room of pass catchers. Keep in mind he had touchdowns of 35 yards and 61 yards last season. But his first career catch was a 31-yard touchdown against South Carolina 2 years ago, and also had a 55-yard catch in the Peach Bowl.
Although not quite as talented as the tight ends, the wide receivers have several options, including Dominick Blaylock, AD Mitchell, Kearis Jackson, Marcus Rosemy-Jacksaint and Ladd McConkey to fill out the lineup.
As for the depth chart, Mitchell is expected to be the No. 1 wide receiver, and McConkey is capable of being the No. 2. Other candidates include De'Nylon Morrissette.
Arik Gilbert
To ease the tight end log jam, look for Monken to force defenses to show their hand by putting him out wide, at least in goal-line situations. There was already a glimpse of it in the G-Day game. A tantalizing option could be to put Bowers out wide to show off his speed, but Gilbert has enough speed and, of course, the size to make it especially difficult for a defender to keep up with him. Flare another of the 3 elite tight ends on the other side and listen for the opponent's defensive staff to break their headsets in the press box booth.
.@StetsonIv ➡️ @arik_gilbert connection is 🔥🔥🔥

Watch live on ESPN2: https://t.co/ePBADRzZYS pic.twitter.com/lHhnaJld8q

— Georgia Football (@GeorgiaFootball) April 16, 2022
RBU
Kenny McIntosh will become Georgia's first 1,000-yard rusher since D'Andre Swift in 2019, and thanks to some help from Kendall Milton, Georgia re-establishes itself as RBU. McIntosh is a tad better between-the-tackles and after contact, and he's a year older with a touch more experience.
Although Daijun Edwards and Branson Robinson offer an interesting wrinkle to the mix, McIntosh has the best chance at being an every-down back because of his pass-catching skills.
Offensive line
Between o-line coaches Sam Pittman and Matt Luke, the offensive line has developed into a strength for Georgia in recent years. But this time, there is some concern about the guard positions between Broderick Jones, Warren McClendon, and center Sedrick Van Pran. Stacy Searels no doubt has a career's worth of experience coaching elite offensive lines, but given the Amarius Mims drama, and unknown starters at 2 positions gives some pause that a plug-and-play approach is simply going to continue what Pittman and Luke started.