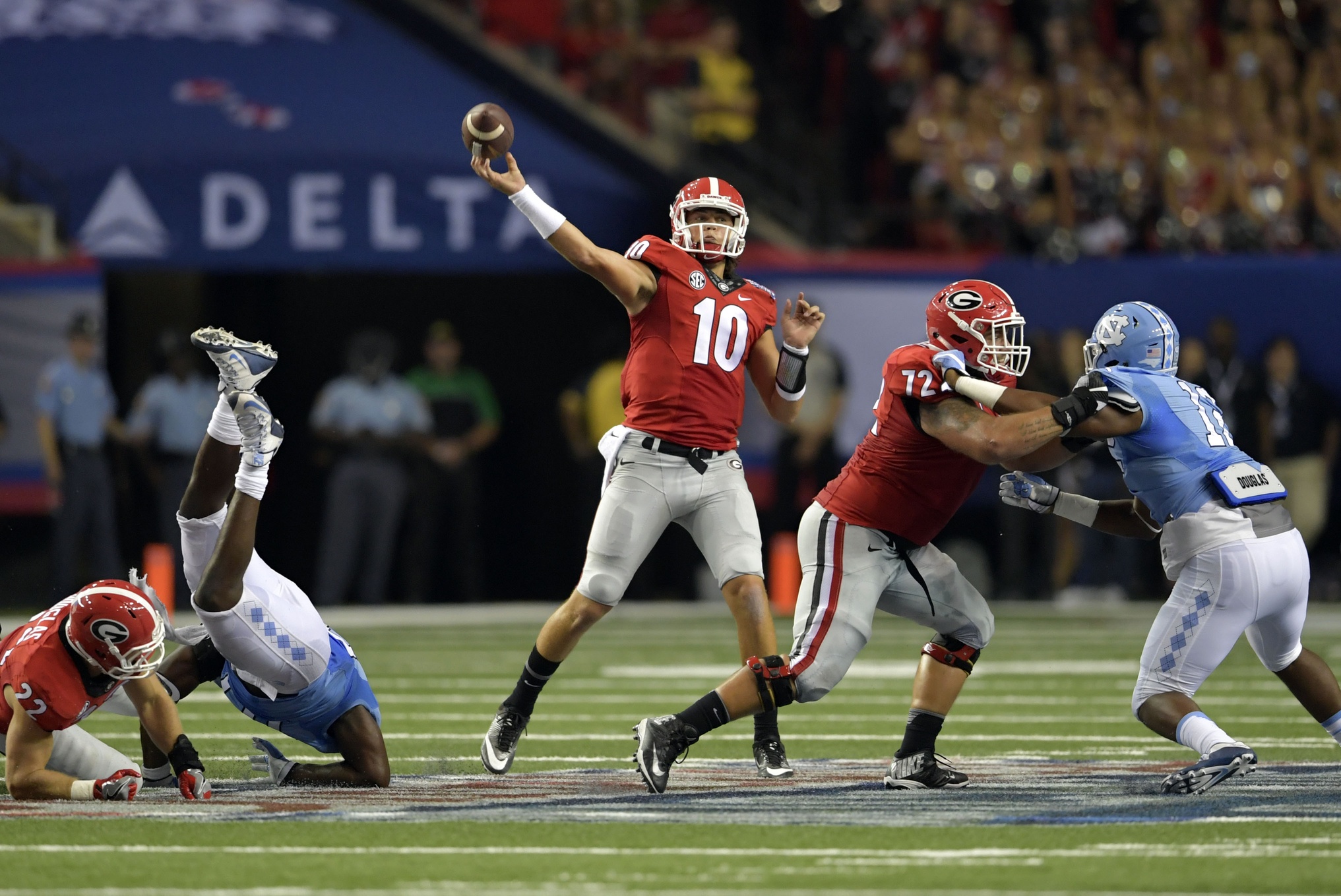 GEORGIA
Jacob Eason on pace to obliterate Georgia passing records
Jacob Eason is one of the few true freshman quarterbacks in Georgia history to start for the Bulldogs. He began this season in rarified air but has quickly jumped out to a pace to shatter school records.
Although Georgia is 3-2 and fresh off of a stunning loss to Tennessee, Eason is hardly at fault. In fact, had the Vols not pulled off a last-second Hail Mary, the true freshman would have had his second game-winning touchdown pass in three weeks.
It can be argued that in today's pass-oriented football landscape, that Eason is being asked to do more than any of his true freshman counterparts who donned the red and black.
Comparisons aren't always perfect, but as Eason continues, we will continue to track his performance from a historical perspective.
Through the first five games of the 2016 season, of which Eason has started four, he has completed 81 of his 151 pass attempts, a 53.6 completion percentage, for 991 yards with 7 touchdowns and 4 interceptions.
Eason's seven touchdown passes already match the true freshman regular season totals of Matthew Stafford and Eric Zeier. Eason needs just three more to break Quincy Carter's freshman school record.
It's an impressive stat line, especially when considering that three games were against a ranked opponent.
Historically, only one other true freshman can match Eason's start: Carter.
In 1998, Carter became the first true freshman to start the Bulldogs' season opener since Johnny Rauch in 1945. In his first five games, Carter was 80-of-131, a 61 percent completion rate, for 1,152 yards with 6 touchdowns and 3 interceptions.
With Carter there is a bit of a caveat, however. After high school, Carter pursued a career in baseball and spent two seasons in the minors before heading to Athens. So, although he was a true freshman on the football field, he was a pro athlete a couple of years removed from high school.
Carter's numbers, except for touchdown passes, are a bit better than Eason's at this point, but they are well within reach for the Bulldogs' current quarterback.
Georgia played 11 regular season games then. Carter started all 11 and finished with 2,484 yards, 9 touchdowns and 12 interceptions. If you include Carter's bowl performance, those numbers jump to 2,706 yards and 11 touchdowns.
Eason, who could play in 13 games, is on pace to throw for 2,574 yards and 18 touchdowns.
Zeier, whose freshman records Carter broke, made his first start in Georgia's sixth game of the 1991 season, but he still had some rather impressive stats.
Splitting time in his first five games, Zeier completed 60 of his 110 pass attempts, a 54.5 completion percentage, for 791 yards with 4 touchdowns and an interception.
Those numbers aren't eye-popping, but Zeier showed his strong potential in his time on the field and earned the starting job with a tremendous performance against No. 6 Clemson.
Zeier finished his true freshman season with 1,984 passing yards and 7 touchdowns.
The final quarterback Eason is regularly compared to is Stafford. Under Mark Richt, Stafford was to be brought along slowly, but injuries gave him his chance to start in the third game.
Eason is well ahead of Stafford's pace.
Stafford started two of the Bulldogs' first five games in 2006 and looked like a true freshman. He was 36-of-75, a 48 percent completion rate, for 485 yards with a touchdown and 3 interceptions.
Stafford's performance and confidence improved as the year continued, but his first few impressions were not what many had hoped for.
While Eason's performance will be fun to track for these purposes, his addition is much more important in terms of what it means for Georgia's offense.
Since Aaron Murray's departure, the Bulldogs have severely lacked a downfield passing game. Eason's arm has since remedied that.
Georgia has seven pass plays of 30 yards or more and four pass plays of 40 yards or more.
To put that into perspective, the Bulldogs only managed 11 pass plays of 30 yards or more and three of 40 yards or greater last season. In 2014, those numbers were only slightly higher with 15 pass plays of 30+ yards and five of 40+ yards.
Now that Eason is behind center, Georgia is likely to improve on those numbers. On their current pace, the Bulldogs should finish the season with around 17 pass plays of 30+ yards and 10 of 40+ yards – more than the past two years combined.
Historically, Eason is on track to put together one of the best true freshman seasons by a Georgia quarterback. But the tangible impact he's already bringing to the Bulldogs' offense is what's truly worth monitoring.