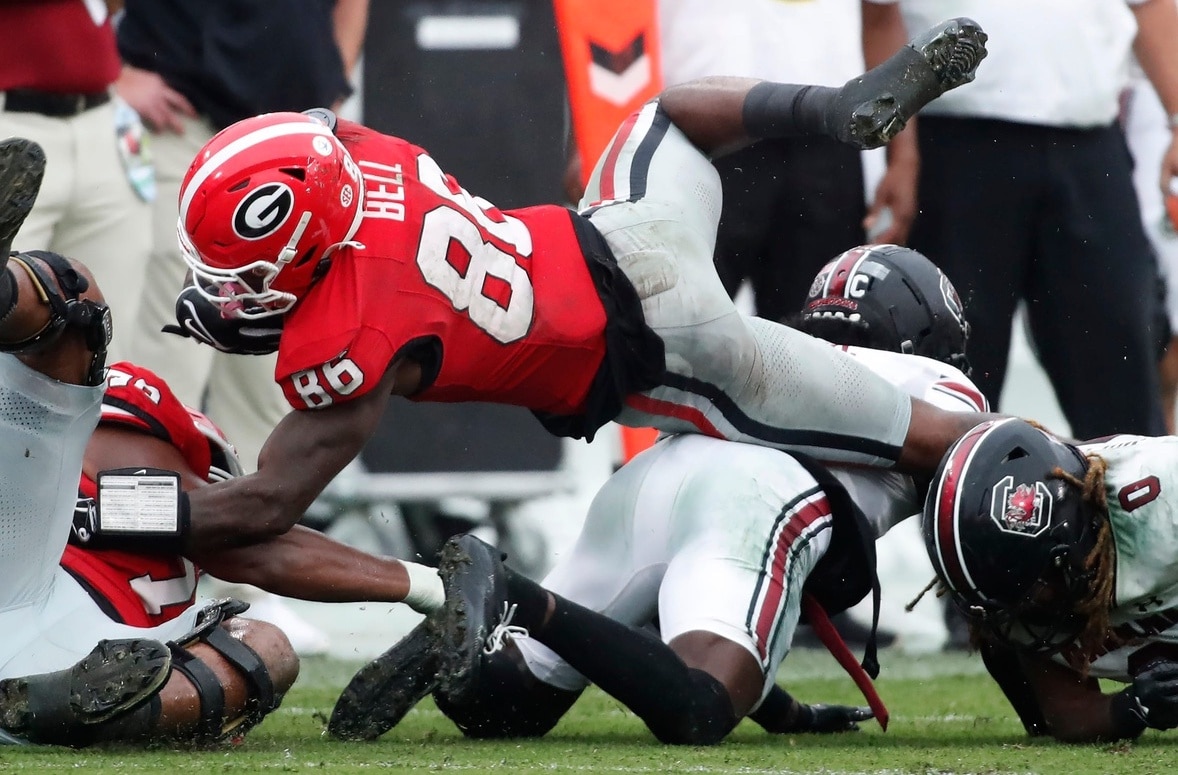 GEORGIA
It's OK to be concerned about the Georgia offense through 3 games
It's become a weekly tradition.
Georgia gets off to a sleepy offensive start, "Mike Bobo" becomes a must-search on the app formerly known as Twitter and then UGA plays well enough in the second half to move past those early concerns.
Saturday continued that tradition. As a 4-touchdown favorite at home against South Carolina, the Dawgs scored a whopping 3 points in the first half. "Todd Monken" was trending at halftime as UGA went into the break facing an 11-point deficit.
The sky was falling in Athens. That is, until it wasn't.
On the first 2 drives of the second half, UGA gained 124 yards on 15 plays. More important, it capped those drives with a pair of touchdowns. UGA outscored South Carolina 21-0 in the second half to earn a 24-14 victory to improve to 3-0, and perhaps retain that No. 1 ranking.
Disaster averted. That's a win.
But let's not lose sight of the bigger issue. A team in pursuit of a 3-peat has a clear weakness right now. It certainly isn't the defense that pitched a second-half shutout that made Spencer Rattler's stellar first half look like a distant memory by day's end. It's the offense.
There's nothing wrong with acknowledging those concerns, and if you tell me that averaging 46.5 points against UT Martin and Ball State left you feeling perfectly fine about the offense, your eyes told you something different than mine. After an SEC opener in which that pattern repeated, we can no longer say "the game plan was conservative because of the competition." That was fine for UT Martin and Ball State. Not for South Carolina.
Yes, it's worth noting that UGA is dealing with injuries. That absolutely played a part in these slow starts. It's not just that Ladd McConkey missed his third consecutive game. Starting right tackle Amarius Mims left Saturday's game early and was on crutches on the sideline. Kendall Milton is dealing with a left knee injury. DawgNation reported that Brock Bowers is dealing with a groin injury, as well.
Injuries or not, the Mackey Award winner hasn't been able to get anything downfield this season. His longest play of the year was a 23-yard grab against UT Martin.
Georgia's atypically decimated running back room was fortunate to have Daijun Edwards back after he missed the first 2 games. Edwards was the difference with 20 carries for 118 yards and a score. UGA needed his nasty between-the-tackles running to keep the foot on the gas in the second half.
But where are the home-run plays in the passing game? Even with some banged-up pass-catchers, wasn't this supposed to be the deepest group that Georgia has ever had?
It feels like there's a reluctance to let Carson Beck rip downfield shots. RaRa Thomas and Marcus Rosemy-Jacksaint had the only passing plays that went for more than 16 yards. As a result, Beck only averaged 7.7 yards per attempt, and UGA was held to 5.8 yards per play.
Of course, we're judging UGA on a different scale. This was the most prolific offense in school history last year. Specific to South Carolina, the Dawgs put up twice as many points in the game in Columbia last year, and it had 547 yards of offense. That game was never close.
Sure, we watched Georgia have offensive struggles against teams like Mizzou and Kentucky. Saturday's slow offensive start may just be a blip on the radar on the path to yet another title.
What if it's not, though? What if this is just who the UGA offense is and those expectations should be lowered?
Well, it means a few things. It means that Georgia's defense might have to revert to its 2021 ways. No, it doesn't need to be historically dominant with NFL dudes at every position. But this offense might need some short fields to get going, much like we saw in the second half when South Carolina didn't get past the UGA 44-yard line.
Some weeks, that won't be an issue. Mykel Williams and that Georgia front will overwhelm offenses, which will lead to short field after short field.
In other weeks, it'll be an issue and Georgia will have to dig deep.
Saturday was Georgia's first game in which it truly had to dig deep. There was concern that the Dawgs would smash a weak schedule every week and we wouldn't really know how good they were until the SEC Championship. There was a fear that it wouldn't learn its weaknesses until it was too late.
That won't be the case. Georgia has work to do, and not in a "we only won by 42 points but it was a sloppy finish" sort of way.
Bobo's task is to find ways to get Beck settled. We need to see more of the guy who got rave reviews all offseason, including a banner spring game. So far, Beck looked more like a guy who was too afraid to make a mistake. The "anxiety" he talked about having in that first start doesn't appear to have completely faded with more reps. He still doesn't have a go-to receiver, and he hasn't had a complete game yet.
The good news? Georgia's got a talent advantage at key positions that can bail them out of deficits like the one it found itself in on Saturday. That was a championship response after a lackluster start.
Maybe that's the sentence that'll be used to describe this Georgia offense by season's end. Or perhaps "lackluster" will stick with this group throughout 2023.
Whatever the case, there's nothing wrong with acknowledging what UGA's offense looked like for the majority of these first 3 games.
A concern.