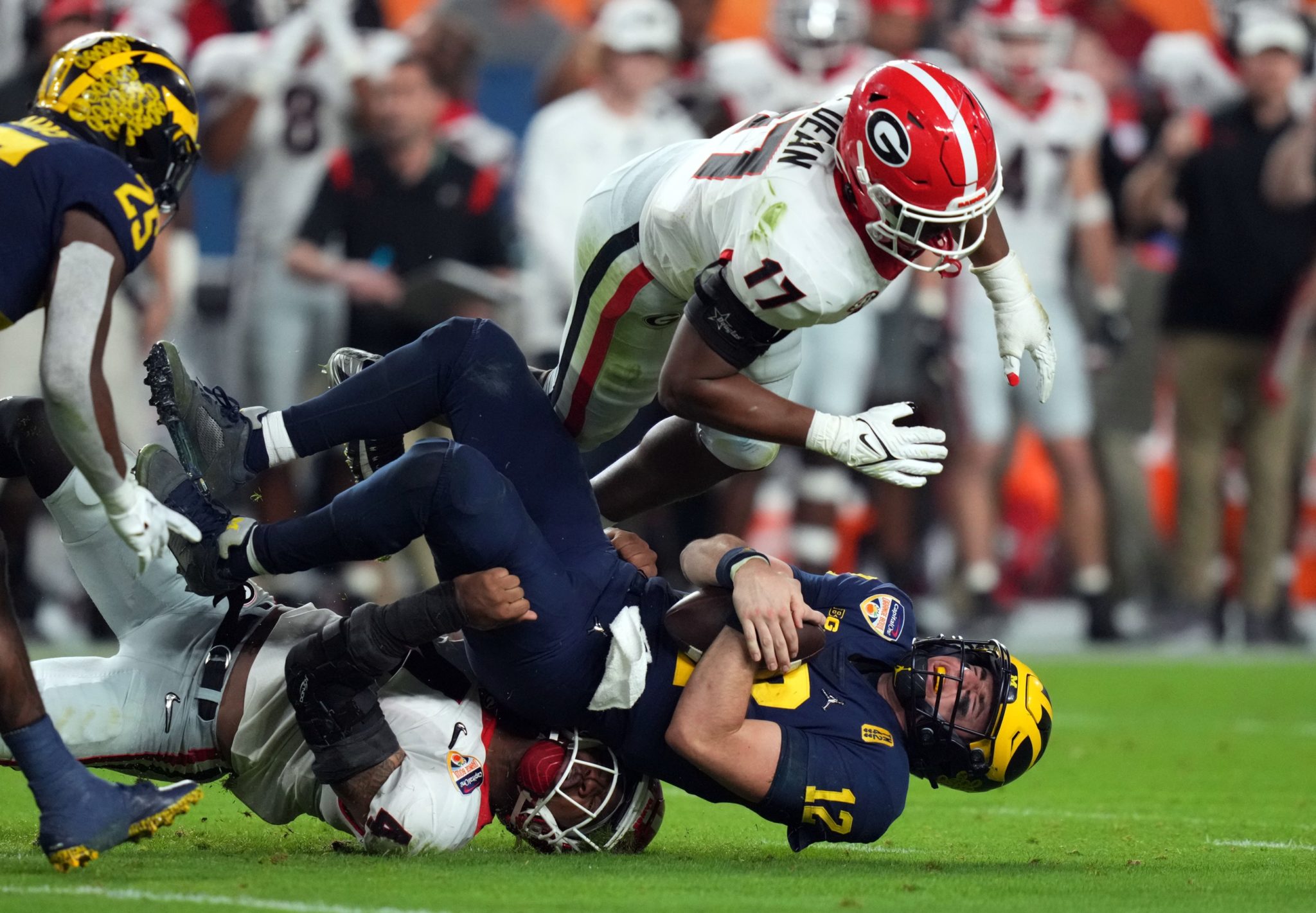 GEORGIA
Georgia feasted on that yummy rat poison, and there's still a whole lot more to gobble up
MIAMI — You knew there would be rat poison. Yummy rat poison. The only question was whether Georgia would feast on it or nibble around the edges.
Friday night's Orange Bowl showing left no doubt. The Dawgs were the hungriest versions of themselves in a 34-11 rout of Michigan to move on to the College Football Playoff National Championship for the second time in 5 years.
After a month of hearing that they didn't have the right DNA to win a championship, Georgia looked Michigan in the eye and proceeded to run the Wolverines off the field. The touchdown favorites made Michigan look like a Sun Belt team. Any belief that Alabama broke Georgia came crashing down like the victory confetti.
The rematch is set. We'll get to the significance of Friday night's game in relation to that in a bit.
Was it perfect? Well, not according to Kirby Smart. He blasted Stetson Bennett IV for the lack of urgency at the end of the first half. Smart wasn't pleased that Georgia didn't squeeze out another 3 points. Of course, when your team is up 24 going into the break, we take that as Smart trying to be perfect.
Perfect, his team is not. But it came darn close on Friday night.
Of course Brock Bowers made his presence felt. His touchdown, which gave Georgia the first score, handed Michigan its largest deficit of the season. Seven points. It got worse. Much worse.
But unlike the SEC Championship, Bowers wasn't a 1-man show.
Bennett made (mostly) all the right decisions en route to Orange Bowl MVP honors. Jermaine Burton got separation. James Cook did James Cook things (his last touchdown as Bennett got demolished was the dagger of all daggers). The offensive line held its own against Heisman Trophy runner-up Aidan Hutchinson and that Michigan front.
We even got a little trickery from Todd Monken via a Kendall Milton-Adonai Mitchell connection:
GEORGIA PULLED OUT THE TRICKS TO SCORE 🤯#CFBPlayoff pic.twitter.com/7sSnq1MbaA

— ESPN (@espn) January 1, 2022
Georgia was toying with Michigan by the end of the first quarter. Five scoring drives to start the game was a CFP record. Shoot, Michigan hadn't allowed 4 scoring drives to start a game since 2010.
And that was just the offensive display of dominance.
If you were a ball-carrier in all blue on Friday night, chances are, you met a man named "Nakobe Dean." Forced fumbles, open-field tackles short of the line to gain, quarterback hurries … you name it. Dean did it. If it wasn't Dean, it was Nolan Smith, Quay Walker or Jalen Carter, who got multiple shots on Michigan starter Cade McNamara.
On the bright side for McNamara, he developed a nice rapport with Derion Kendrick. On the night so bright side for McNamara, Kendrick played for the other team. When Kendrick earned his second interception of the night in the middle of the third quarter, he had more receptions than any Michigan receiver.
It was that kind of night for Michigan. And for Georgia, Friday's blowout was a reminder that more times than not, Smart's team bounces back from embarrassment. It only suffered consecutive losses once in the past 5 seasons. An Alabama SEC Championship loss was what started that lone instance back in 2018.
This time, an Alabama SEC Championship loss didn't mean a trip to a non-Playoff bowl; it meant a shot at redemption. It meant a shot at earning its first in-season rematch with the Tide.
The question is if Georgia, fresh off its most impressive win of the season and arguably its most impressive of the Smart era, turned the corner. Is there enough yummy rat poison left to finally get over the Alabama hump?
That's complicated. And for now, rhetorical.
Nick Saban admitted that yummy rat poison was the key for Alabama against Georgia the first time, and it certainly looked like a key for the Dawgs against Michigan. Lord knows we're about to get a week and a half of "what makes us think this time will be any different" questions. It's fair. I mean, when you literally have the same exact final score in consecutive years of a matchup and you still have the same quarterback who was on the short end of those games, yeah, we have to ask that.
Rat poison wasn't necessarily the reason that Todd Monken dialed up the perfect first quarter game plan. That was scheme and execution. And given the pressure facing Georgia entering Friday night, don't overlook how easy that looked from start to finish. Lesser teams would've wilted.
Any question that Georgia had a locker room divided over the quarterback situation felt irrelevant by night's end. Shoot. It felt irrelevant by the end of the first quarter.
Will that be the case against Alabama? Doubtful. After all, keeping pace with Bryce Young is an entirely different beast than keeping pace with McNamara/JJ McCarthy. Bennett knows that. Georgia fans know that. Drink every time you hear the Charlie Brown-Lucy reference to describe Georgia expectations.
Just kidding. Don't do that to your liver.
Instead, just accept it as reality. Accept the fact that Friday night's drubbing didn't necessarily end that debate. Monken gave Alabama more wrinkles to look at, but is Bennett suddenly a different quarterback than he was a month ago? Nope.
Maybe, maybe Georgia's defense can make those adjustments and fare better against an Alabama passing game that won't have John Metchie.
There was always going to be Georgia doubt about winning it all down to the final second. Well, depending on who you ask. If you ask the oddsmakers, they say that Lucy isn't pulling that football (drink). Georgia opened as a 2.5-point favorite when the way-too-early CFP National Championship line came out … at halftime. Then again, those same oddsmakers had Georgia favored to beat Alabama by a touchdown.
Hence, the OG yummy rat poison.
The yummiest rat poison in human existence might not be enough to beat Alabama. If Georgia finally gets over the hump, it won't be because "X" amount of key figures publicly doubted Smart's squad. It'll be because the Dawgs finally played 60 minutes against the Tide.
Nothing would taste better than that.