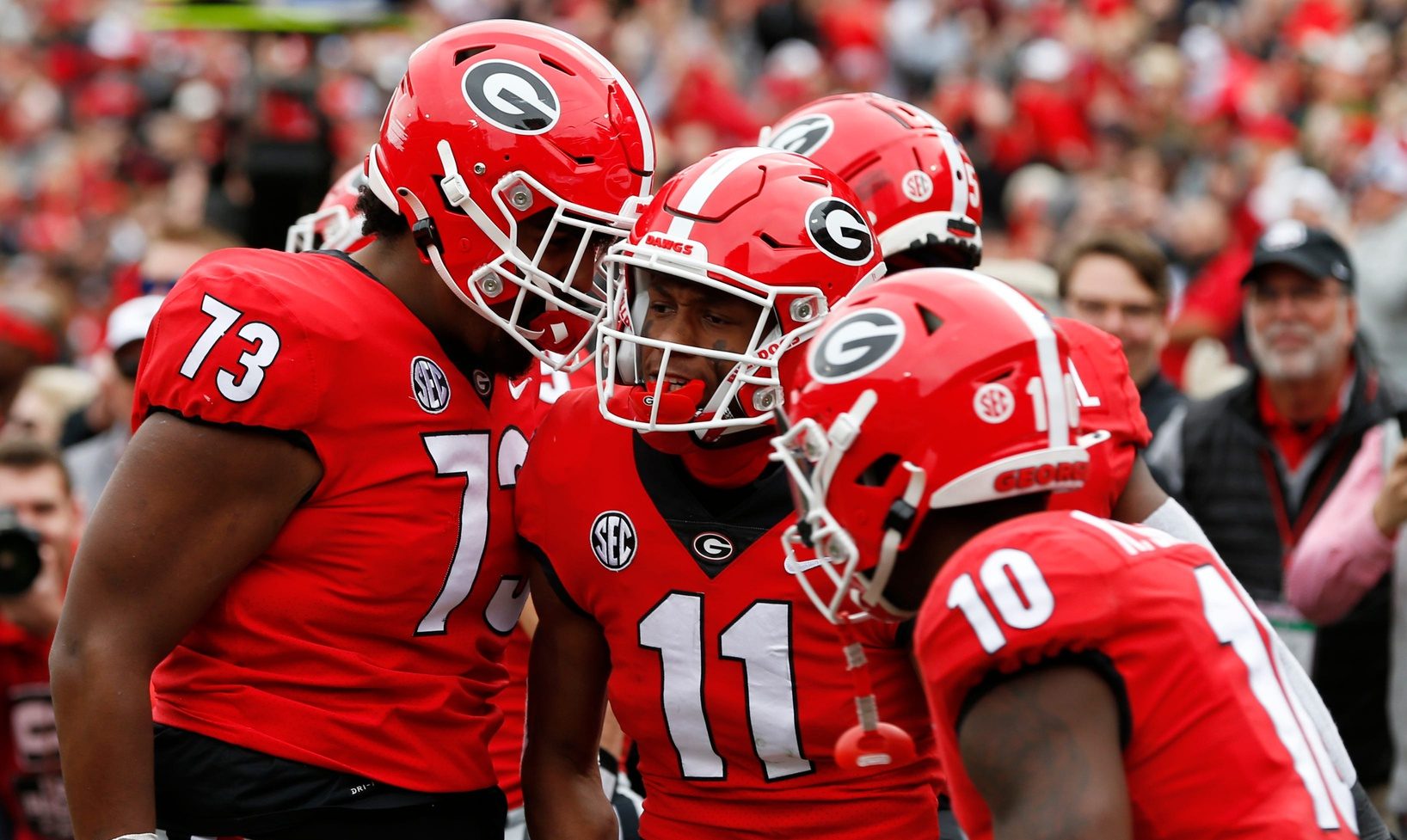 GEORGIA
Georgia football: 5 biggest areas of concern ... and possible solutions
The defending national champion does not have many legitimate concerns, especially with the stacked recruiting classes on the way and in the pipeline. However, no team or program is perfect, and Georgia has several areas to polish as it looks to defend the trophy.
Depending on which part of the fan base you'd poll, the areas of concern in 2021 were quarterback, defensive secondary, wide receiver and, at times, running back. Georgia overcame all those issues. Depending on the degree of problems, the Bulldogs are more than capable of working out the kinks this season as well.
Here are the 5 biggest areas of concern, and possible solutions entering the 2022 season:
Defensive backs
For the 2nd straight offseason, the secondary is an area of concern, and this time it is two-fold: New, younger faces and a new position coach.
At right cornerback, for example, Georgia has lost Derion Kendrick to the NFL and Lovasea Carroll to the transfer portal (South Carolina). National championship pick-6 star Kelee Ringo is back on the left side, and Christopher Smith and Dan Jackson are back at safety. After those front-line players, the depth chart quickly gets young.
Daylen Everette, Kamari Lassiter, Nyland Green, David Daniel and Malaki Starks are among the talented players expected to contribute.
Fran Brown, the new secondary coach, will focus on sorting out all this playing time and using the spring to determine who's ready. It's the 2nd straight year Georgia has had a new position coach for this group, but the positive news is that it will have super senior seasons from William Poole and Christopher Smith.
The other good news is that Brown won't be alone in coaching up defensive backs. Kirby Smart and Will Muschamp are 2 of the best defensive-minded coaches in the country, especially when it comes to the secondary. And Brown's predecessor, Jahmile Addae, laid out somewhat of a blueprint for coming in ahead of the national championship season before he left for the same job at Miami.
Depth at wide receiver
While the tight end position is as deep as any team in the country, the wide receivers could use some more depth and contributions, especially given Jermaine Burton's departure. Arian Smith is a strong candidate to fill some of that production. He has been sort of a boom-or-bust player in his career as he has battled injuries, but he also flashed with 2 touchdowns on just 3 catches and 102 yards in 4 games.
The alarm comes from the fact that Smith has missed 17 games, and he has played in 8 over the past 2 seasons. Yet he has potential, as he came out high school as a 4-star prospect who was an Under Armour All-American.
Another candidate in this spot is Marcus Rosemy-Jacksaint, who has played a bit more of a prominent role but also has battled injuries. Rosemy-Jacksaint played in 13 of 15 games last season, including 4 starts, and finished with 7 catches for 94 yards.
Adonai Mitchell is expected to be the No. 1 wide receiver, and Ladd McConkey is capable of being the No. 2. Other candidates include De'Nylon Morrissette and a wild card in Arik Gilbert.
Inside linebacker
Making up for the departure of Nakobe Dean will be tough, as Georgia loses its top 3 linebackers from last season in Dean, Channing Tindall and Quay Walker. The concern comes from the fact that the veteran players in this room — Rian Davis and Trezmen Marshall — have dealt with injuries.
There's plenty of help on the way, of course. Jamon Dumas-Johnson has generated plenty of buzz. There are also former 5-stars Smael Mondon Jr. and Xavian Sorey Jr., and Mondon has turned heads among the veterans. Dumas-Johnson is a former 4-star recruit who played in 14 of 15 games as a backup linebacker and also on special teams.
Running game
One of the more concerning developments in the last year has been that Georgia has lost some of its "RBU" luster because of waning production in the running game. The Bulldogs ranked just 6th in the SEC in rushing last season with 190.9 yards per game. A glance at the top returners in the SEC shows Kendall Milton down the list on yards after contact.
In Smart's 6 years as head coach, Georgia hasn't had a consensus 1st-team All-SEC running back. UGA did not have a running back listed among the 4 who earned All-SEC honors in 2021 or the 5 in 2020. D'Andre Swift (2019) and Nick Chubb (2017) were 1st-team picks by the coaches but 2nd-team picks on the AP vote.
The depth chart is thin this spring with only 3 backs on the roster, but more are on the way in the form of 4-star Under Armour All-American Branson Robinson. Obviously, the offensive line will play a role here following Matt Luke's departure. But the duo of Milton and Kenny McIntosh is capable of returning the program to the 1,000-yard rushing level.
#SEC returning leaders in Yards After Contact per attempt (min. 50 atts):

Devon Achane, #TAMU – 4.02
Chris Rodriguez, #UK – 3.94
Patrick Smith, #Vandy – 3.79
Kenny McIntosh, #UGA – 3.76
Dominique Johnson, #Arky – 3.76
Jarquez Hunter, #Auburn – 3.64
Kendall Milton, #UGA – 3.46

— Brent Rollins (@BrentRollinsPhD) February 7, 2022
Amarius Mims
The 6-foot-7, 330-pound Mims played in 7 games last season and enters his 2nd season expected to be more in the mix.
A consensus 5-star, Mims has the frame to be an NFL tackle, and he was expected to reach that potential very soon after he came out of high school ranked as the No. 3 offensive tackle prospect, No. 1 prospect in Georgia and No. 7 prospect nationally. With Broderick Jones and Warren McClendon likely installed at the tackle positions, look for Mims to slide to guard while he polishes some of his skills and ramps up the experience to move to his likely eventual role at tackle.