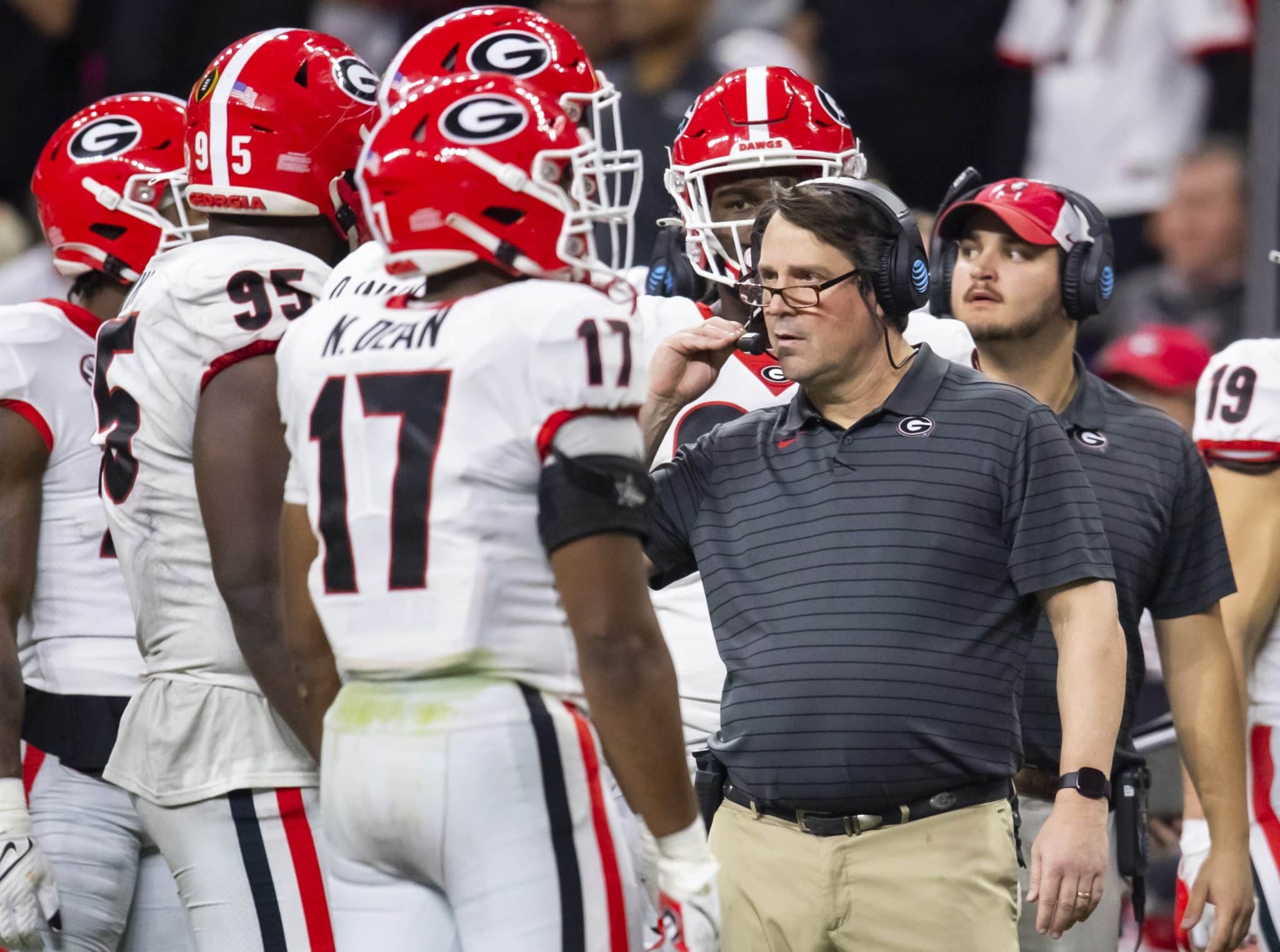 GEORGIA
Georgia football: 5 statistical trends the Bulldogs must reverse in 2022
How does one critique a team that won 14 games and its school's first national championship victory in 41 years? Tell me, with what instrument must we measure to identify troubling statistics from a team whose defense may well have been one of the very best in modern college football history?
For a guy like yours truly, whose football acumen lies somewhere between a teenaged superfan and his overserved dad at a backyard barbecue, it's a bit like looking for subatomic particles with a magnifying glass.
And yet, we press forward. No team is perfect – no, Georgia fans, not even your revered 2021 Bulldogs.
Here are 5 telling statistics that Georgia must find answers for this season to become college football's first repeat national champion since 2011-12 Alabama.
"Only" a plus-4 turnover margin
No one is saying a plus-4 turnover margin is bad, per se. It's a perfectly okay stat for a perfectly fine team. For a defending national champion with a reputation as one of the stingiest defenses in recent memory, though? I'll admit, I'm less impressed.
In nearly every metric, Georgia's defense was among the country's best in 2021: No. 2 total yards allowed, No. 1 scoring defense, No. 4 sacks, and the list could go on. For takeaways, you need to scroll all the way down to No. 30 nationally. The plus-4 overall turnover margin puts them at No. 39, deadlocked with the always dangerous New Mexico State (2-10 record last season).
To put that into context, only one champion during the College Football Playoff era has recorded a lower turnover margin – 2016 Clemson actually had a -1 turnover deficit – and 4 champs had margins of 10 or more.
It's not the end of the world, but it is worth noting.
Much of this is easily explained by the overall quality of the defense otherwise. The Bulldogs ranked No. 2 in the nation in passes defended and faced offenses in long-yardage 3rd-down situations regularly.
But could there be another, less rosy explanation – that the secondary just missed a few opportunities and was covered by its more talented front seven?
Maybe. More on that below.
12 passing plays of 40+ yards
If there's one thing that Georgia didn't do particularly well on defense a year ago, it was allowing big plays. Going down the list of rankings at each yardage threshold gets progressively worse.
10+ yards: 96 allowed, ranked No. 18 in the country
20+ yards: 38, No. 44
30+ yards: 18, No. 56
40+ yards: 12, No. 96
Those 12 plays were the most the Bulldogs allowed the same number in 2012.
I know what you're thinking: How many of those were against Alabama? And the answer is nearly half. Bryce Young tossed 5 passes over 40 yards in the 2 games Georgia played against the Crimson Tide, including 3 in the 41-24 SEC Championship blowout. But Young is still there trying to build on his Heisman Trophy-winning campaign, and Alabama is the betting favorite to win it all. All roads appear to go through Tuscaloosa, and it would be too optimistic to assume Georgia could get a second crack at its SEC rivals should it falter again the first go-round.
The good news: cornerback Kelee Ringo is back alongside Christopher Smith in the secondary. Safety Dan Jackson, once an unknown, is expected to improve. Up front, edge rushers like Nolan Smith and 2021 sack leader Robert Beal Jr. returned for their senior seasons, and it feels like we still haven't completely tapped into defensive tackle Jalen Carter's enormous potential just yet.
The better news: Tide wide receiver Jameson Williams, who torched Georgia for 4 of those 5 Young passes, is in the NFL. Georgia may have better luck simply by virtue of his absence.
Passing vs. ranked opponents
We made it this far, folks. This far without focusing on the only Bulldogs football star more divisive than Senate-candidate Herschel Walker.
What a story it was watching former walk-on quarterback Stetson Bennett win the starting job and lead Georgia to its first national title since 1980, but, oh, what a roller-coaster. Bennett proved, yes, the Bulldogs could win it all with him under center. Still, there are those who, understandably, believe it was a product of the defense and he was just along for the ride.
The numbers here, as with everything when it comes to Bennett, are up for debate. For example, he completed about 65 percent of his passes for 1,430 yards, 13 touchdowns and 2 interceptions in 6 games against ranked opponents. Pretty good.
But consider that in the 3 regular-season games he attempted fewer than 18 passes per contest and, when Georgia was forced to remove the reins in the SEC championship game, he turned in arguably his worst performance.
Now, some may point to his performances against Michigan and Alabama in the College Football Playoff, both of which earned him MVP honors, as signs that he has taken the leap and become a bona fide passing threat. Others may argue offensive coordinator Todd Monken had 4 weeks to figure out the best ways to maximize his ability and minimize his vulnerabilities.
See? Divisive.
There are a few things working in Bennett's favor this year. Freshman phenom Brock Bowers returns as, arguably, the country's top tight end. Tight end/receiver Arik Gilbert, after a year away from the team, may prove to be just as good. The emergence of AD Mitchell and the very real possibility that he could develop into a high-tier wide receiver makes up for the loss of Jermaine Burton, who took his talents to Tuscaloosa.
If Monken really did crack the code and the CFP is a blueprint rather than an outlier, Georgia's offense could fare better this year than last.
0 return touchdowns since 2018
It's a bit like complaining about the food on a lavish vacation, but Georgia has put up a goose egg in both the punt and kickoff return game since Mecole Hardman and Eric Stokes each had one in 2018. Failure to reverse this trend in 2022 won't be the flea that breaks the bulldog's back, but it's interesting, nonetheless.
Some of this is understandable. Kickoff returns are less common since rule changes in 2018 allowed a fair catch inside the 25-yard line to result in a touchback. Georgia hasn't had a true game-breaker on punt returns since Hardman that same season. Kearis Jackson, the primary returner the past 2 seasons, has done what's been asked of him and that's about it.
But maybe this season, field position matters just a little bit more. Maybe this season – say, in an opening matchup against a dangerous Oregon defense – the Georgia offense might need every yard it can get to avoid an upset that derails its title defense before it ever gets off the ground.
Jackson is likely the punt returner when the Bulldogs open it up against the Ducks on Sept. 3, and everything we know about Smart is that he'll err on the side of ball protection and trust his offense and defense to take care of business.
15 players taken in the 2022 NFL Draft
Alright, so this is cheating a little bit but, really, it is the most important statistic for the Bulldogs since the whistle sounded on their title win over Alabama on Jan. 10. We can spend 1,000 words picking at nits from Georgia's 2021 résumé, but no statistical reversal will be as pivotal as how it replaces that production.
The 15 selections, the most in the NFL's modern seven-round format, included 8 defenders and 3 linebackers from a unit that ESPN just dubbed "LBU." Gone are real estate devouring defensive tackles like Jordan Davis and Devonte Wyatt, hard hitters like Lewis Cine, vocal leaders like Nakobe Dean, and longtime consistent runners like James Cook and Zamir White.
Smart, of course, will get no sympathy from his fans (and certainly none from his rivals). In the SEC, the only question after a national title is whether you can win another one. Luckily for Smart, he and his coaching staff have been preparing for just such an occasion.
Few teams are as uniquely equipped to withstand such an exodus of elite talent as Georgia. The program has logged top-5 recruiting classes in each of the past 4 years, including 2020's top-ranked class on the heels of 2019's runner-up.
While the defense may regress slightly this season, it'll be a more shuffle than a pronounced step. Potential 2023 first-round draft picks like defensive tackle Carter, Nolan Smith and Ringo still patrol the defense. Top offensive targets like tight end Brock Bowers and wide receivers Ladd McConkey and Mitchell – all freshmen a season ago – still have room to grow. Bennett will finally be the (mostly) unquestioned starter under center.
All statistical deep cuts aside, the Bulldogs are still one of the very few who can hoist the trophy at the end of the season.