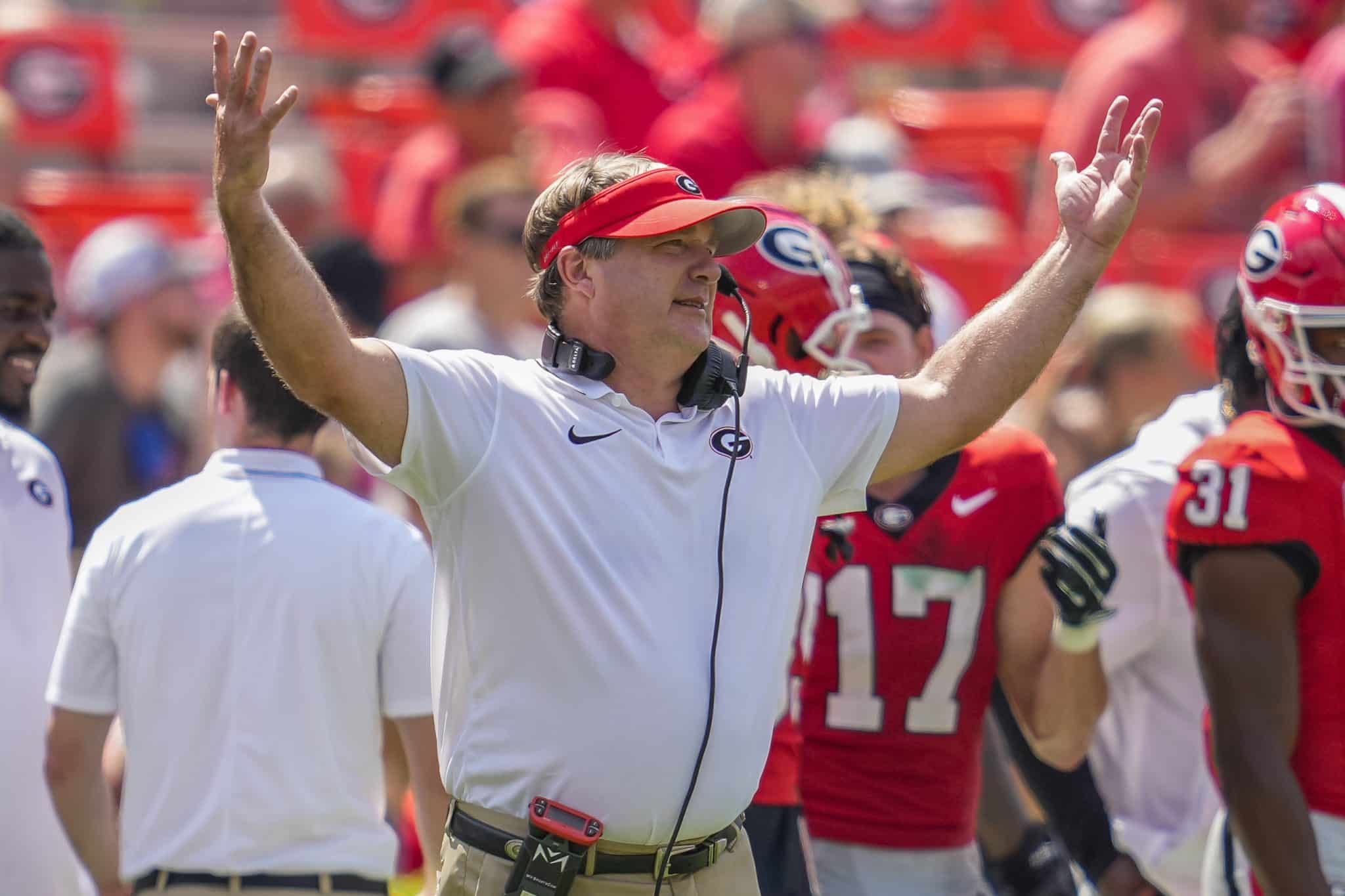 GEORGIA
Georgia football: Bulldogs need a stiffer challenge to measure progress
I'm not sure we know more about Georgia football today than we did 2 weeks ago.
The Bulldogs are good. No doubt about that. The defense is chock full of talent again, and it has had that on full display so far in its first 2 games. The numbers probably don't even do full justice to how well Georgia has played on defense, as late drives in both contests have inflated some numbers.
The offense is good, but a work in progress. Carson Beck has shown why he was selected as QB1 for the Bulldogs to replace departed Stetson Bennett. He's been solid, but not spectacular. He's put up decent numbers and mostly protected the football. For a team that is so solid on defense, he's the perfect complement to run a safe, efficient offense — until such time as the coaching staff gets more comfortable opening things up.
The running game is a question mark. Injuries have slowed it down. And who knows who will step up to make that aspect of the offense more effective — or when?
None of this is news. But next week (vs. South Carolina) might shed more light, and that seems like what the Bulldogs need.
Perhaps the biggest challenge exposed by the weak opening schedule for the Bulldogs has been the inability to inject a level of excitement into their game. Things have felt more businesslike, which, to a degree, can be a trait of a good team.
At a certain point, though, the Bulldogs need to know what they have, and they need the opportunity to have a little fun, show a little swagger and demonstrate why they have won back-to-back national championships.
As teams around the SEC struggle, we may learn that Georgia is, once again, top dawg.
A few more parting thoughts:
The SEC is looking mighty vulnerable
As mentioned just before the break, the SEC looks vulnerable.
Texas over Alabama. Miami over Texas A&M. Florida State over LSU. Tennessee settling for 30 points against Austin Peay. Ole Miss needing a 20-point fourth quarter to top Tulane. Auburn rallying then surviving to edge California 14-10.
And then there's Georgia with a pair of dominant defensive performances, blowing out opponents in unimpressive fashion. Maybe we're just spoiled. Maybe Georgia is once again far ahead of the rest.
One thing is certain: The SEC is wide open for the Bulldogs to cruise again if they can clear up some of their deficiencies. After that, it's just a couple of games to immortality.
Get Mighty Mews the ball
This might be more self-indulgent than anything, but can Georgia put the ball in the hands of Mekhi Mews more often?
He is suddenly the best thing going on this otherwise ho-hum team. Every time he fields a kick or punt, the stadium holds its collective breath. The fans know, as the opponents do, that Mews has a chance to do something special on every return.
And he has:
A 69-yard punt return for a touchdown.
A 47-yard kickoff return to midfield to open the game.
158 total return yards in this past game alone.
The Bulldogs have had surprising players emerge on offense over the past few years: Brock Bowers, Ladd McConkey and Adonai Mitchell, to name a few (more on Mitchell below).
Mews is just the latest in the group, and my hunch is that he could be doing even more if given the opportunity.
Give it to him. Please. For me.
Georgia is missing Adonai Mitchell more than we anticipated
Just a thought from the nightcap of games, but Georgia is really missing Mitchell.
Don't get me wrong, Georgia has a strong receiving room. Or it will once McConkey returns from injury. Rara Thomas has shown signs of being a downfield threat. Dominic Lovett has been solid, but less spectacular than one might have expected from the top-tier transfer. Bowers is Bowers, though he played arguably his worst game as a Bulldog on Saturday against Ball State.
But, man … Mitchell is clearly one of the best receivers in America, and Georgia may have lost a bigger weapon that it realized. Fans loved Mitchell and knew how good he was, but perhaps overestimated the quality of the receiving room in his absence. There is clearly a lack of an explosive threat on the outside.
Maybe that guy can be Thomas, who caught a 56-yarder in the opener and an 18-yarder in Week 2. Or Arian Smith, who has home run ability but not the physicality of Mitchell.
From this seat, Georgia's passing game looks talented, but more finesse than physical. Maybe time will change that, as well.
(Oh, and if you're keeping track, another Bulldog transfer wide receiver scored in that Texas-Alabama game Saturday night. Jermaine Burton and Mitchell combined for 3 touchdown receptions in a separate marquee matchup. The Bulldogs are winning even when they aren't playing, it would seem.)