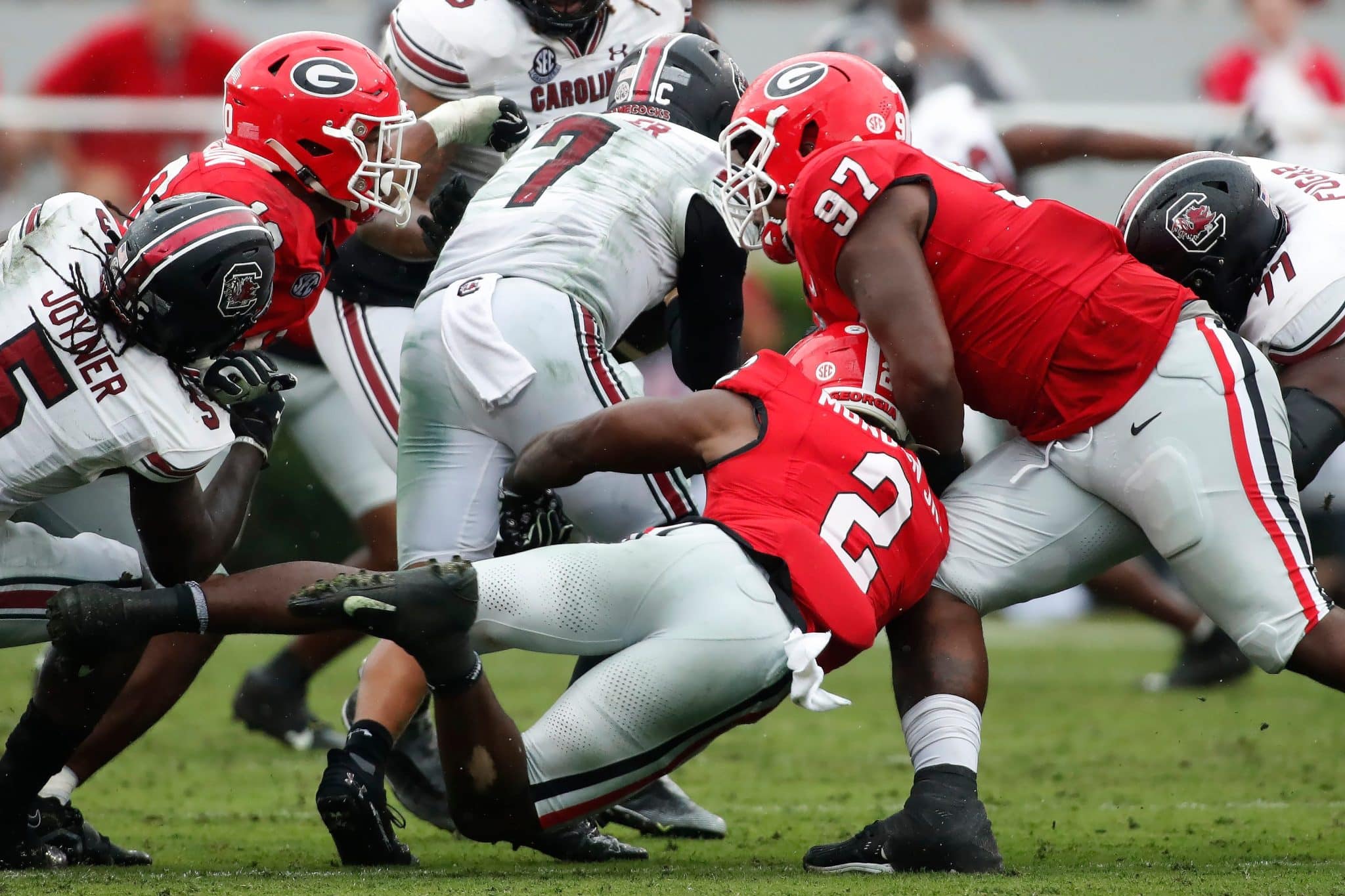 GEORGIA
Georgia football: Is this defense elite, or just really good?
As Georgia put together its strongest offensive performance of the season on Saturday in a win over UAB, another question was creeping into the mind:
Will this team actually be exposed on the defensive side of the ball?
For the first weeks of this season, Bulldogs fans from all corners have shared opinions on what was causing Georgia to start slow or fail to turn eyes with dominant performances. Not surprisingly, the vast majority of opinions took some form of:
"Carson Beck just ain't the guy."
"Brock Vandagriff needs to be in there. He's more mobile."
"Screw you, Bobo!"
And, while I've certainly had questions about the Bulldogs' approach and whether or not offensive coordinator Mike Bobo had enough trust in his new starting quarterback to let him loose, I've generally kept my responses pretty tempered. Beck had shown enough to inspire some confidence that with more consistent offensive line play and a little more experience, the offense could/should round into shape.
But the defense …
Look, I'm not saying the unit isn't good. On the contrary, its numbers would indicate it is great. It's in the top 10 in points allowed nationally; it's in the top 20 in total defense; it rose to the occasion and positively suffocated South Carolina quarterback Spencer Rattler in the second half of a 24-14 win.
But has it met its own high standards? Absolutely not. I'll provide an example:
It's near the end of the first half against UAB. Georgia has just taken a 28-7 lead. The rout is on, and the Bulldogs appear to be back. They're going to win by 50, carrying the momentum they established in the second half against South Carolina, and the official three-peat chase is on.
And then UAB quarterback Jacob Zeno completed a couple passes. He ran for 19 yards into Georgia territory. He completed 2 more passes for 29 yards down to the Georgia goal line and then tossed a 2-yard score to make it 28-14 going into the half.
That is not Georgia's standard. The Bulldogs do not give up 2 first-half touchdowns to non-competitive opponents. Neither was it the Bulldogs' standard to allow Rattler a near perfect first half passing and plenty of scramble yards with his feet.
The team that has led the nation in rushing defense in 3 of the past 4 seasons — it was a lowly No. 2 in 2021 — is all the way down at No. 18 nationally at the moment. Which is just fine and maybe good enough, but it's not the standard the team has set.
Here's the deal: Georgia doesn't record a lot of sacks. That has been well established in the past couple of years. But it has also been established that it doesn't need sacks to affect the quarterback and dominate and opposing offense.
What it has done well in the past that maybe it is struggling a bit with this year is keeping quarterbacks contained, knocking them off their timing, forcing errant low-percentage throws and getting off the field quickly.
It will have another chance to find a groove this week when it travels to Auburn. The Tigers used 3 quarterbacks in a loss against Texas A&M, completing just 9 of 23 passes for 56 yards.
This is an offense that, on paper, the Bulldogs should be able to contain. But again, as we experienced with the offense, it's simply time to quit assuming we know what this team should be on paper and see what it is in reality.
Some parting shots …
Marcus Rosemy-Jacksaint can be the WR Georgia needs
There have been a lot of questions about who can be that big outside target for the Bulldogs in the passing game with Adonai Mitchell now catching passes in Austin, Texas, and Ladd McConkey still out of pads with an injury.
Marcus Rosemy-Jacksaint looks the part. The 6-2 senior caught 3 passes for 94 yards, including a 50-yarder, against UAB to finish second on the team in receiving behind Brock Bowers.
The Bulldogs have been a fairly dink-and-dunk offense through much of the first month, but Rosemy-Jacksaint finally provided a chance for Beck to get vertical.
It's a good sign moving forward.
Brock Vandagriff's strong drive leading the offense
Vandagriff's efficient 75-yard scoring drive in mop-up time was impressive.
Look, it's clear that Beck is the guy. Despite what any detractors may say, he's beginning to really settle in as the starting quarterback and does look like a guy who can lead Georgia to where it needs to go.
With that said, Vandagriff's offense is simply more exciting and pleasing on the eyes. He's fast. The offense moves faster. There's a bit more energy behind everything. There are unquestionably more risks, which is why Beck is QB1, but the potential is evident for the backup.