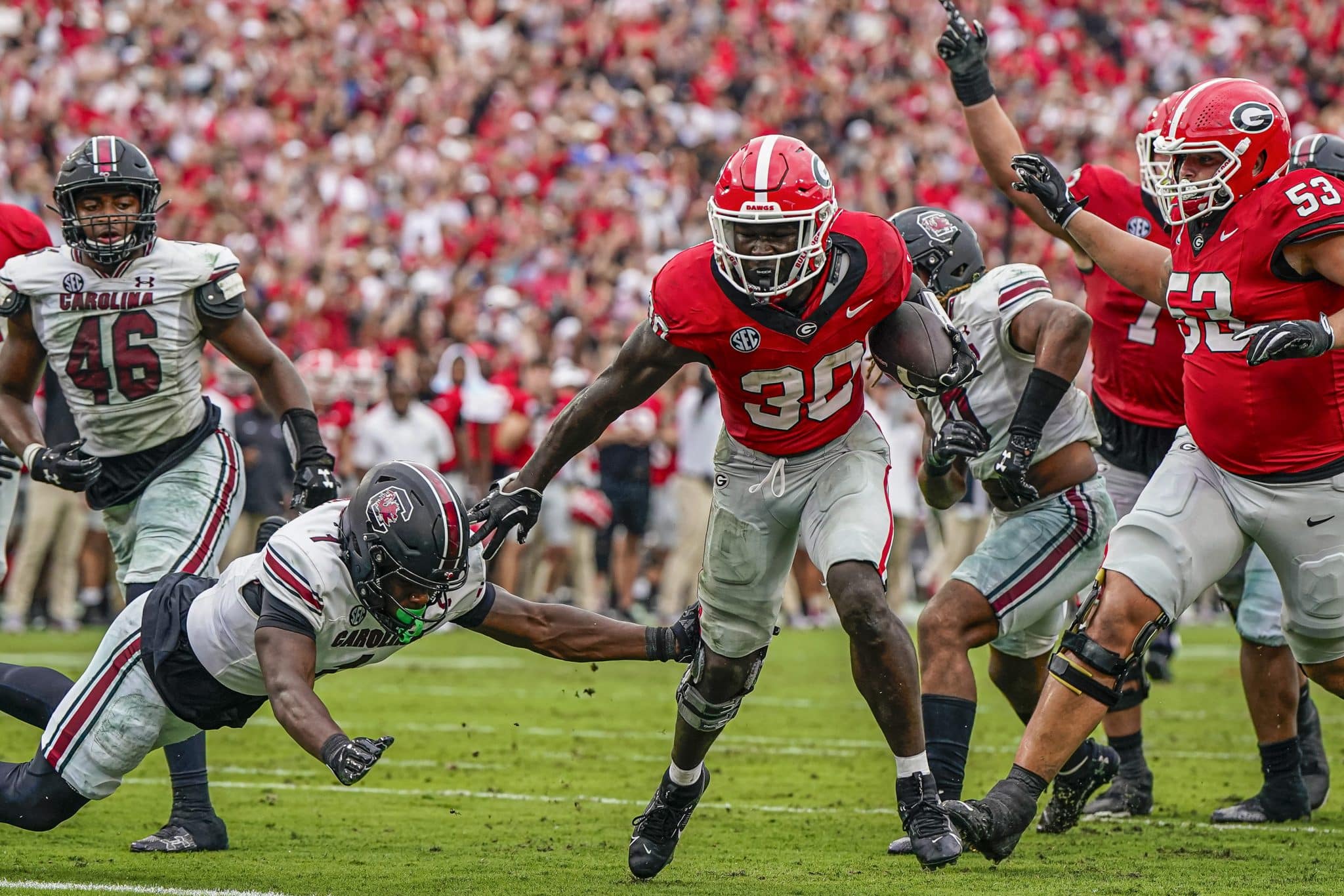 GEORGIA
Georgia football: It's time for Daijun Edwards to be Dawgs' feature back
You could forgive many if they didn't take note of Daijun Edwards when he signed as part of Georgia's No. 1-ranked 2020 recruiting class.
The running back, listed as a 3-star recruit on 247Sports, was overshadowed by a slew of blue-chip players, many of whom are names you'll recognize: Kelee Ringo, Jalen Carter, Broderick Jones, Darnell Washington, Tate Ratledge, Sedrick Van Pran, Kendall Milton, Nazir Stackhouse, Carson Beck and many more.
Milton was far more notable in the class at the running back position. He was the No. 9 running back in the country at the time. Edwards was all the way down at No. 33. He wasn't included in the national all-position rankings.
Even after Edwards finished 2nd on the team in rushing (after Kenny McIntosh) with 769 yards and 7 touchdowns on 140 carries in 2022, we approached this season with higher hopes for Branson Robinson and Milton. I heard the names of Roderick Robinson II, Andrew Paul and the walk-on Cash Jones more than that of Edwards.
Not anymore. Get ready to hear about Edwards for the rest of the season.
It was clear in Georgia's sloppy 24-14 win over South Carolina on Saturday that Edwards is the No. 1 back on this roster. In his first game back after missing the first 2 due to injury, Edwards carried 20 times for 118 yards and a score. He had carries of 8, 12, 21 and 17 yards, and the Bulldogs were noticeably more effective on the ground than they had been in either of their first 2 games.
It's Edwards' consistency, perhaps, that makes him the best runner for Georgia. What he lacks in explosive plays, he makes up for in simply hitting the correct gap and notching solid 4- and 5-yard gains.
Now, in the absence of another home run threat at running back, Edwards should be the bell cow moving forward. Milton and Robinson II can spell Edwards, and the versatility of wide receiver Dillon Bill gives Georgia some extra options back there. But Edwards is the guy and should see enough attempts to reflect that each game moving forward.
The offense is simply more effective with the senior running back shouldering the load. He makes the running game more consistent, which should open up more opportunities to the team's many weapons on the outside — Brock Bowers, Dominic Lovett, Arian Smith and more — none of whom have really hit their stride yet this season.
If they do, watch Georgia's offense start to click and the team begin to look like a national title contender yet again.
Some final thoughts …
Caron Beck can actually move
Look, I'm not saying Georgia should use Beck like it used Stetson Bennett last season, designing runs for the quarterback, who could regularly pick up large chunks of yardage. But Beck is a considerably better runner than his stature might suggest.
He finished the game with 2 yards against South Carolina thanks to a couple of sacks, but a 10-yard scramble stood out to me.
Brock Vandagriff is the more mobile of Georgia's quarterbacks, but I think I'd like to see the Bulldogs put Beck on the move on occasion to shift the pocket and passing lanes.
The kicking situation
It's been awhile since Georgia had questions at kicker. You have to go all the way back to 2016 when William Ham struggled early for the Bulldogs and was surpassed by an unknown walk-on named Rodrigo Blankenship. Since then, Georgia has been pretty well set for field goals.
It's a question mark right now.
Freshman Peyton Woodring, who won the job over the more seasoned Jared Zirkel, missed a pair of makeable kicks against South Carolina, and the job may be up for grabs in practice this week.
Let's be clear about one thing, though: This Georgia team doesn't appear to be as dominant as the past two, and kicking may be crucial in a couple of games going forward.
Figuring out the position is crucial to Georgia's chances this season.