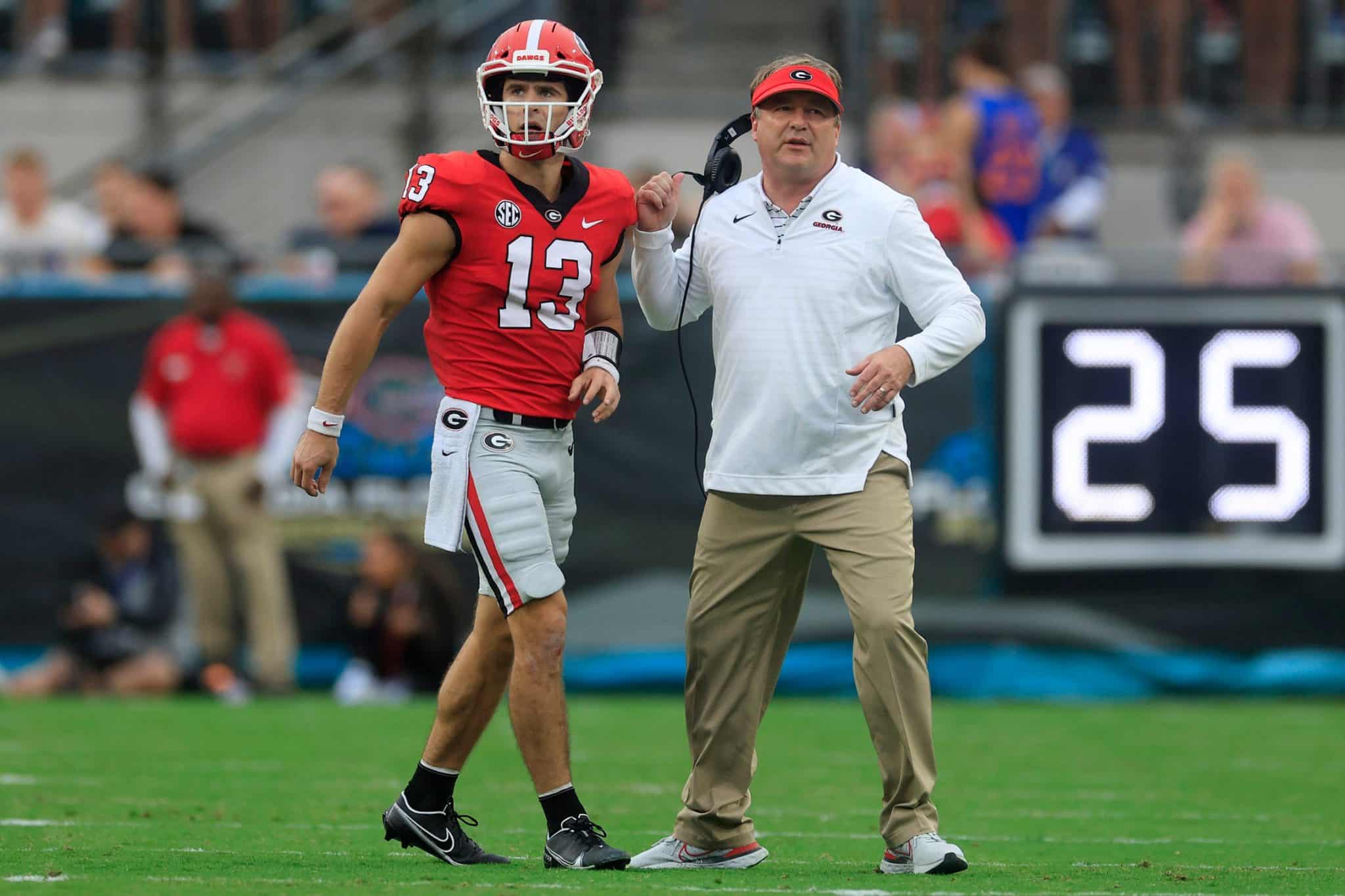 GEORGIA
Georgia football: You wanted a challenge? You've got a monumental one this week
This is it.
For weeks now, it has felt like the inevitable culmination of a brewing storm in the Southeastern Conference. You liked No. 3 Alabama vs. No. 6 Tennessee? That was the undercard. The heavyweight fight coming this Saturday afternoon in Athens is the main event.
No. 1 Georgia. No. 2 Tennessee.
Bulldogs coach Kirby Smart always talks about challenging his team. Well, he's in luck, because it finally has a challenge.
There is, of course, the hype. You don't get 1 vs. 2 games very often in college football. Not in the regular season, at least. Only 4 times since 2000 have we seen 1 vs. 2 matchups outside of postseason play, and 3 became instant classics:
1 Ohio State holding off No. 2 Michigan, 42-39, in 2006.
1 LSU 9-6 over No. 2 Alabama in an overtime defensive showdown in 2011.
1 LSU over No. 2 Alabama in a 46-41 shootout in 2019.
The 4th was less memorable, when No. 1 Ohio State topped No. 2 Texas, the defending national champs, 24-7 in Week 2 of the 2006 season. Still, the attention paid to that game and all the others, the college football pageantry, the national media — it's enough to distract even the most seasoned veterans, not to mention 18-, 19-, and 20-year-old kids who, by the way, still have classes to attend throughout the week.
On Saturday, Athen will host ESPN's College Gameday, the SEC Network's SEC Nation, countless writers from premier sports news sites and publications, representatives from NFL teams, just under 100,000 fans inside the stadium and many thousands more outside at tailgates scattered around campus.
It's not an exaggeration to say that this — at least in the week leading up to kickoff — is the biggest game Sanford Stadium has ever hosted.
Sound challenging enough for you, Kirby?
If the pageantry wasn't enough to get you excited — or nervous — then perhaps the implications for the contest are. Let's list them:
They're playing for the No. 1 ranking. Whichever of these teams escapes the hedges with a W on Saturday will without doubt stand alone atop the college football rankings on Sunday. No, rankings don't mean much in the regular season. But we still release them on a weekly basis for some reason, and we all pay attention to them.
They're playing for the SEC East crown. No, it won't be decided in this game alone — the Bulldogs will play 2 more conference against Mississippi State and Kentucky, while Tennessee closes out with 3 against Missouri, South Carolina and Vanderbilt. But barring upsets of monumental proportions, especially in the case of the Vols, this game is likely to be what separates these teams.
They're playing for a likely date with Alabama in the SEC Championship. Both LSU and Ole Miss are in the mix for the SEC West crown, but the Crimson Tide is the heavy favorite. For the Vols, that would be a rematch of the classic we saw just a couple of weeks ago. For the Bulldogs, it would be their 3rd meeting with Nick Saban and Co. in a calendar year.
They're playing for a near lock at the College Football Playoff. If the winner of Saturday's game finishes the regular season undefeated as expected, it will likely sew up a spot in the Playoff regardless of how it fares in the SEC Championship Game.
Plenty to play for.
And then, once the teams kick off, it will be a clash between arguably the nation's best offense, Tennessee, and its best defense, Georgia.
For the Vols, it's all about Heisman Trophy contender Hendon Hooker, who has elevated himself from a solid quarterback a year ago to arguably the nation's best. He has completed more than 71 percent of his passes. He has thrown for more than 2,300 yards. He has connected for 21 touchdown passes and just a single interception. His 191.6 passer rating is 2nd in the country, behind only Ohio State's C.J. Stroud.
Along with Hooker are a slew of weapons who give opposing defenses fits: running backs Jaylen Wright and Jabari Small, who have combined for more than 950 rushing yards and 13 touchdowns; receivers Jalin Hyatt (907 yards and 14 touchdowns) and Bru McCoy (451 yards and 2 touchdowns).
Smart gushed over Tennessee's weapons in his postgame press conference after Georgia defeated Florida on Saturday.
"They run the ball really well, guys," he said. "I know you don't believe, but they run the ball really well. That is why they throw the ball outside, because everybody has people on the inside. They have a perfect storm. They have a really fast, elite wideout with a quarterback with a really strong arm."
On the other sideline, the Bulldogs feature a defense that is 2nd in the nation in points allowed per game (10.5) and among the top 5 in every major yardage category. They, too, feature stars across the board, many of whom — Jalen Carter, Kelee Ringo, Christopher Smith, Nolan Smith — will likely be playing for NFL teams this time next year.
Stetson Bennett IV's program-record pace for passing yards, 2 of the nation's best tight ends (Brock Bowers and Darnell Washington) and a balanced running back room led by Daijun Edwards and Kenny McIntosh will be a big enough threat for the Bulldogs' offense, as well.
To put it much more succinctly than I have in the 900 preceding words:
This is going to be good.
If Georgia hadn't been challenged in its first 8 games this season, it certainly will be this week.