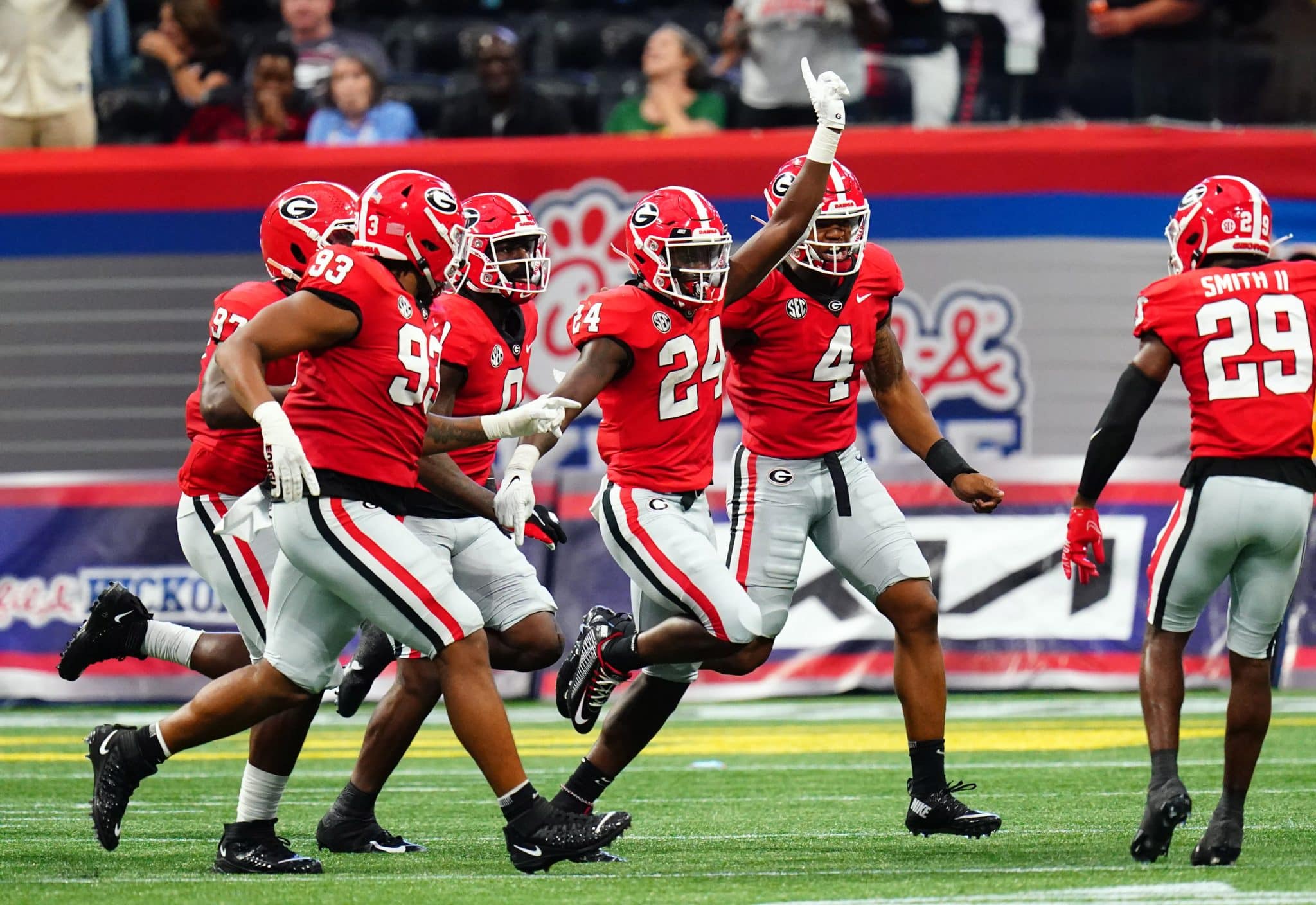 GEORGIA
Georgia football: A closer look at Malaki Starks' fine freshman start
Stop and think for a minute: Who was Georgia's best defender through the first three weeks of last season? Defensive tackle Jordan Davis comes to mind. Maybe linebacker Nakobe Dean. There were plenty of options on a unit that proved to be the nation's best throughout the season.
Now think about this year.
As good as Georgia's defense has been, and it's been arguably just as good, this still feels like a clearer answer. Can you think of anyone who's turned as many heads as true freshman Malaki Starks?
To be clear a lot of this rides on Starks' interception of Bo Nix in Week 1, when the DB from Jefferson, Ga., ran toe-to-toe with an Oregon receiver on the left sideline, contorted his body in a 180-degree turn, reacted to the ball perfectly and high-pointed it for a pick as he fell backward to the ground. It was immediately lauded as one of the best interceptions many had remembered seeing any time in recent memory.
Starks added his second interception in 3 games last week against South Carolina, nearly breaking loose on what turned out to be a 42-yard return. It's one of the best three-game starts for a Georgia defensive back so far this century.
Since 2000, only seven Bulldogs have recorded multiple interceptions as a freshman. Kelee Ringo had a pair last year – one in a blowout of Alabama Birmingham in Week 2, another much more memorable one against Alabama to seal the national championship. Three other players – Shaq Wiggins (2013), Bacarri Rambo (2009) and Reshad Jones (2007) – also had two. Only two players, Dominick Sanders (2014) and Tim Jennings (2002), had three. None, other than Starks, had multiple picks in his first three games.
That's the list.
It would be one thing if those two interceptions had just fallen into Starks' lap – a tipped ball, an underthrown pass – or still another if Starks had demonstrated a relative weakness outside of the interceptions. Instead, he already looks like a heady veteran poised to become Georgia's top defender, if not this season then at some point in his Bulldogs career.
To understand Starks' success, you must first look at his superior athleticism. He came to Georgia as a 5-star recruit out of Jefferson, listed as an athlete who projected as a college linebacker or defensive back. In high school, he had run his team's triple-option at quarterback as well, and put up elite figures in track and field (10.88 seconds in the 100-meter dash).
He was technically sound in coverage and had the physical build to develop into an effective tackler. In three seasons as a varsity defensive back in high school, Starks recorded 10 interceptions, three as a senior, two as a junior, and five as a sophomore.
With the Bulldogs, the interceptions have been nice, but he's also tied for the team lead in tackles. Against Oregon and Samford, he led all Georgia defenders in snaps played.
It's all a nice development for a team that was hoping for but not counting on Starks' immediate presence in the defense. And while there will be growing pains – Georgia hasn't really faced an elite quarterback yet (though Nix and South Carolina's Spencer Rattler, if anything, are veterans) – the freshman is projecting as a key piece to a defense that is beginning to look just as dangerous as a year ago.
The context: Safety Dan Jackson, who started Week 1 against Oregon and had a successful season a year ago, now is more of a reserve. Starks plays next to Christopher Smith, who is having a great start to 2022 after an effective 2021. Former All-American Tykee Smith is back into the rotation as he continues his return from an ACL injury a year ago. And none of this acknowledges Ringo, who is a potential first-round draft pick in the next NFL Draft.
In other words, Georgia's secondary is good, and Starks has taken it to another level. It will be fun to see just how good his numbers and impact can be as he continues to improve over the course of his freshman season.