GEORGIA
Has Georgia found a title-winning pass-rush?
Georgia played pretty strong defense in Year 1 under new head coach Kirby Smart. The expectation for the Smart era at Georgia was that it would feature something akin to the dominant defense he coached at Alabama as Nick Saban's defensive coordinator but in 2016 they weren't playing to that level yet in Athens.
In particular, the defense struggled to make the most of passing downs and ranked only 51st nationally in S&P+ on passing downs. In key losses to Tennessee and Florida that cost them the SEC East division crown. the Bulldogs allowed those two opponents to go a combined 18-for-33 on third downs for a conversion rate of 54.5 percent.
However, Saturday night in South Bend, the Dawgs held Notre Dame to a 3-for-17 conversion rate (17.6 percent) on third down with a few huge plays on passing downs that won them the game. Much of that success was because Georgia finally made the most out of two star senior edge rushers in DE/OLBs Davin Bellamy and Lorenzo Carter.
Here are the three sacks the Dawgs landed which reveal how Georgia's defense built off its abilities to create pressure that took down the Fighting Irish and could take the Dawg D to another level.
Second and 9 on Irish 14, 2:31 left in first quarter
This is the sort of play that Georgia wasn't making consistently a year ago, where the Bulldogs make the most out of having an opponent behind the chains to deliver a negative play that could kill a drive and bring great field position.
The formation is Georgia's base 3-4 package with Lorenzo Carter (No. 7) on one edge lined up as a sam linebacker and Davin Bellamy (No. 17) lined up as a weak side end opposite. They end up dropping Carter and playing Cover 2 over the two-receiver side of the Notre Dame formation. Then they bring an extra man and play man coverage on the other side.
This blitz causes two problems for Notre Dame. One is that the offense can't be sure where to send help because they don't know if one or both of Bellamy and Carter are blitzing. They end up leaning on star left tackle Mike McGlinchey to hold up his end without help. The second problem comes when Bellamy attacks McGlinchey and pinches him inside, leaving no one left on the edge to pick up the blitzing linebacker off his outside hip.
Second and 10 on Dawgs 35, 1:59 left in third quarter
This is another passing down where a great defense is looking to get ahead and set up a low-percentage play on third and long. Notre Dame is driving and working into Georgia territory in a game eventually decided by a single point. Georgia ended the drive on this play.
Georgia is in its base 3-4 again but this time the Dawgs rotate the safeties differently to bring Carter from the wide side of the field. They drop Bellamy off the opposite edge and lean on a four-man rush.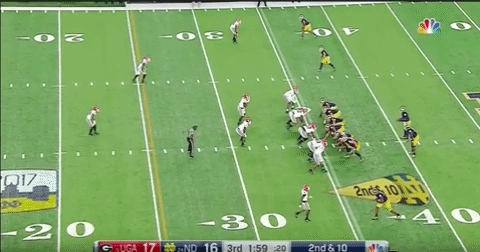 Again the Irish get into trouble partly due to their inability to anticipate where the pressure is coming from. They slide the protection over to Bellamy, who ends up dropping anyway, then running back Josh Adams is late to help on the other side against Carter. The Dawgs also once again have a guy fight through the tackle so that he's occupied and unable to get wide to help against the extra linebacker coming off the edge.
Carter sacks and strips Brandon Wimbush and kills the drive. Georgia can't capitalize with points on offense but took potential points off the board and flipped field position.
First and 10 on Irish 36, 1:37 left in fourth quarter
The entire game is on the line with this drive, Notre Dame has just completed a route for a first down and need only to get in field goal range to set up a potential winning kick. This time Georgia is in a nickel package with DEs Carter and Bellamy both lined up standing up on either side of the formation. Either could potentially drop into coverage or stunt from those alignments, so the challenges for the Irish in setting their protection are the same as in the other two examples.
For this play, the Dawgs just bring a basic four-man rush as though they were lined up in a standard 4-3 defense.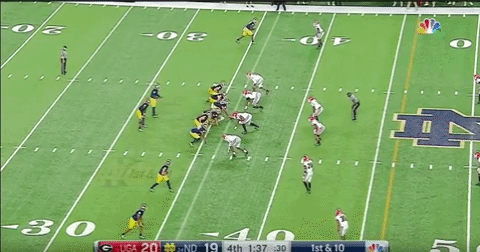 Notre Dame plays a basic protection scheme but sends the tight end out on a route and uses the running back to help against Carter while trusting McGlinchey alone against Bellamy. This time Georgia just beats Notre Dame straight up, with its best pass-rusher beating the best Irish offensive lineman. Wimbush is sacked and stripped by Bellamy, Georgia recovers the fumble and the game is over.
Georgia has a pair of studs in Carter and Bellamy and a lot of different ways to use them both to set each other up for pass-rushing opportunities and to set up teammates. It makes for a pretty nasty pressuring defense that could be the difference in a competitive year in the SEC East.