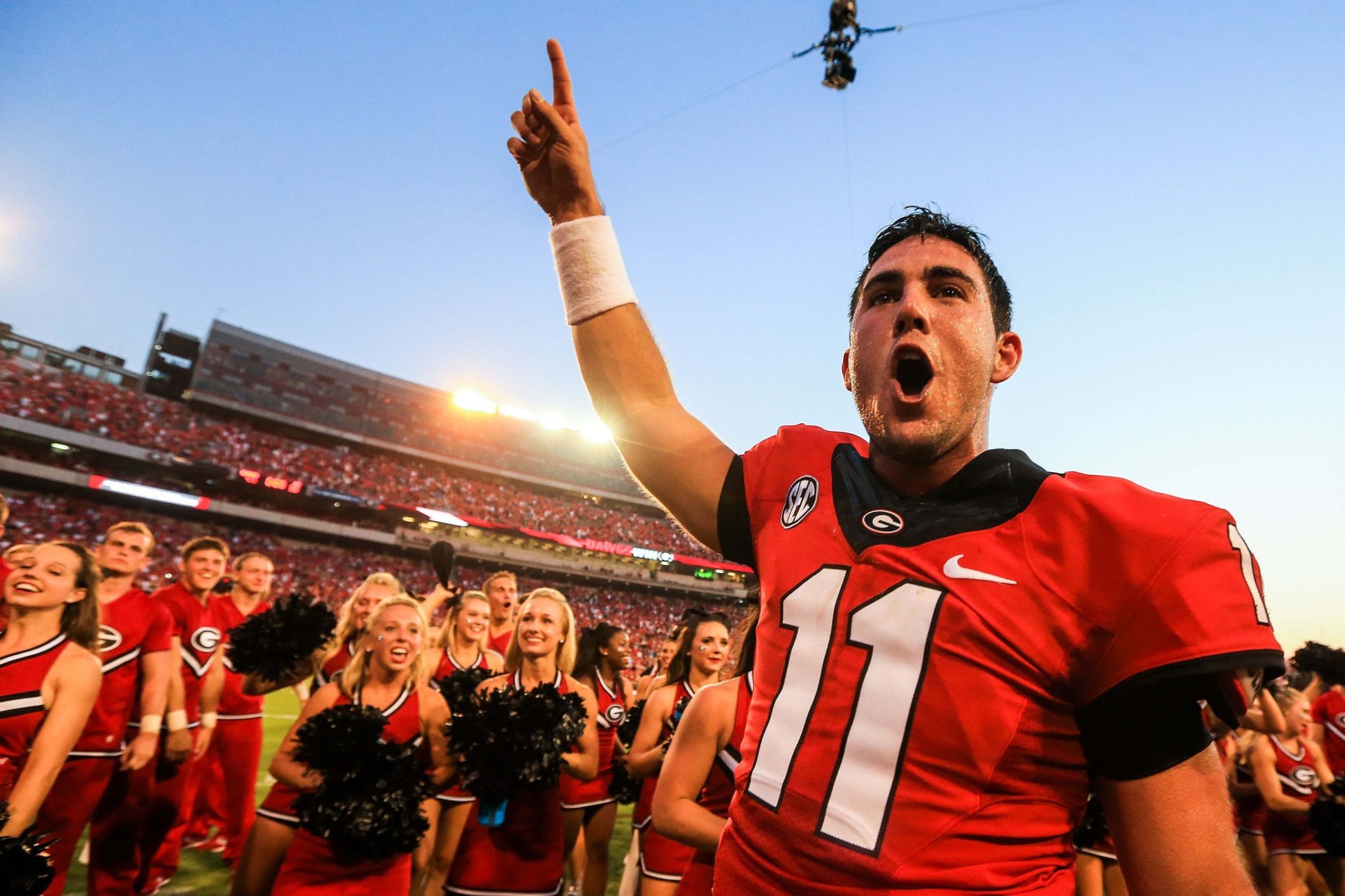 GEORGIA
Georgia is playing for all those players who came up just short of ending the 1980 jokes
Aaron Murray has a Google calendar to keep track of all his appointments. Between his various broadcasting duties and his current NIL role working with The Players' Lounge in the NFT business, Murray keeps busy. In the week leading up to the College Football Playoff National Championship, "busy" is an understatement for the former record-setting Georgia quarterback.
He showed his wife his Google calendar, which had roughly 10-15 interviews per day with media outlets. At some point in all of those interviews, the 2012 SEC Championship got brought up. It's similar to what Murray experienced in 2017 when Georgia was in the College Football Playoff National Championship. He's used to it.
That doesn't mean he wants to spend the rest of his life talking about how he came 5 yards short of beating Alabama and having an extremely favorable matchup against Notre Dame in the BCS National Championship to finally end the 1980 jokes once and for all.
"The emotion if Georgia does win — as I'm hoping and expecting to happen on Monday night — would be thank goodness I don't have to talk about 2012 so much," Murray told SDS. "It will be good to end the conversation of 'Can Georgia beat Bama? Can (UGA) get over this supposed curse? Can Kirby Smart beat Nick Saban?' So when that conversation is over with, hopefully at some point on Monday night, I will feel a lot of relief and excitement."
"Relief" is a word that seems appropriate for guys like Murray. He's one of the most prominent figures in Georgia football in the 21st century. That also means he's synonymous with the "close, but no cigar" club of Georgia players who came up short in the past 4 decades.
Needless to say, those guys will have a special interest come Monday night.
And to be fair, Murray is only associated with a fraction of that drought. He bled a different red growing up in Tampa. His family had season tickets to the Tampa Bay Buccaneers. That meant Saturdays were spent playing sports and Sundays were spent watching them.
"If you would've asked me when I got to Georgia, 'Hey, Aaron. When's the last time Georgia won a national championship?' I would've been like, 'I have no idea,'" Murray said.
It admittedly took Murray a year or 2 at Georgia to fully grasp the magnitude of the title drought. Now, though, that's different. Murray lives in Georgia. Those 1980 reminders are constant.
Earlier in the week leading up to Monday's rematch with Alabama, Murray caught up with Herschel Walker and Buck Belue. They, of course, were the cornerstones of the 1980 Georgia squad that won it all. As in, the last Georgia squad to win it all. Murray asked both a simple question — how has it been 41 years?
"We all are just shocked," Murray said. "With the talent in this state when it comes to recruiting, when it comes to the teams we've had, when it comes to the coaches we've had to think that it's been that long, it's kind of shocking."
Win or lose on Monday, 41 years without a national title is still difficult to fathom. Besides just the down-to-the-wire losses to Alabama in do-or-die games in 2012, 2017 and 2018, there's also the 2002 team that won the SEC with just 1 loss but missed out on playing for a BCS National Championship because Miami and Ohio State were both undefeated. The 2007 team could've also made a 4-team Playoff field but it also missed out on playing in the BCS National Championship.
Those moments will be on the minds of plenty of Georgia fans Monday night. How could they not be? No matter what lead Georgia has, misery lurks.
Never mind the fact that UGA put together a regular season for the ages. In a way, it was fitting that Alabama was there in the SEC Championship, waiting to be the thorn in UGA's side for the 7th consecutive time.
Murray didn't see that coming. His storybook Georgia season was going undefeated, rolling past Alabama en route to the Playoff and ultimately, winning a title. Ugly SEC Championship loss aside, he's confident that relief is on the way and that Monday's rematch will be a different story.
But it's gotta be asked — has Murray thought about another Georgia loss?
"Come on now. Don't even bring that up," Murray said. "Yeah, of course, especially after what happened in Atlanta. You can't look past that … as a Georgia fan, you're hoping for a win, you're excited for a win, but there's a huge feeling deep down inside that once again, it's Nick Saban, it's Alabama, they just beat us by double digits. I just don't know."
What Murray does know is what's at stake in Indianapolis. For guys like him, it's moving on to a different chapter.
If Georgia wins, a guy like Chris Conley won't have to relive his decision to catch Murray's deflected pass short of the goal line at the end of the 2012 SEC Championship. A Georgia title and a guy like Terrence Edwards won't have to relive the wide-open pass he dropped in a loss against Florida that ultimately cost the 2002 Dawgs a shot at playing for a national title. A Georgia title and a guy like Dominick Sanders won't have to relive his coverage bust on DeVonta Smith that resulted in the 2017 UGA team losing the national championship in walk-off fashion.
If Georgia does indeed get it done, the mindset will change entirely. Instead of "when will UGA get out of its own way" it'll be "can anyone get in UGA's way?"
"I do believe Kirby is right there at the point where Georgia could have a similar run to what Alabama has had the last 15 years," Murray said. "I think they're right there with the facilities, the coaches, with the talent, with the recruiting … they're knocking on the door to greatness and strapping a rocket on."
On Monday night, an Atlanta-based business owner is hosting Murray — along with former Georgia punter Drew Butler, former Georgia offensive lineman Clint Boling and another one of Murray's friends — in a suite at Lucas Oil Stadium. If a new era of Georgia football is about to begin, the Dawgs of the past 40 years are in for a night that they won't soon forget. And if it's more of the same, well, Murray and others will welcome some new members to their fraternity.
Relief or misery awaits.