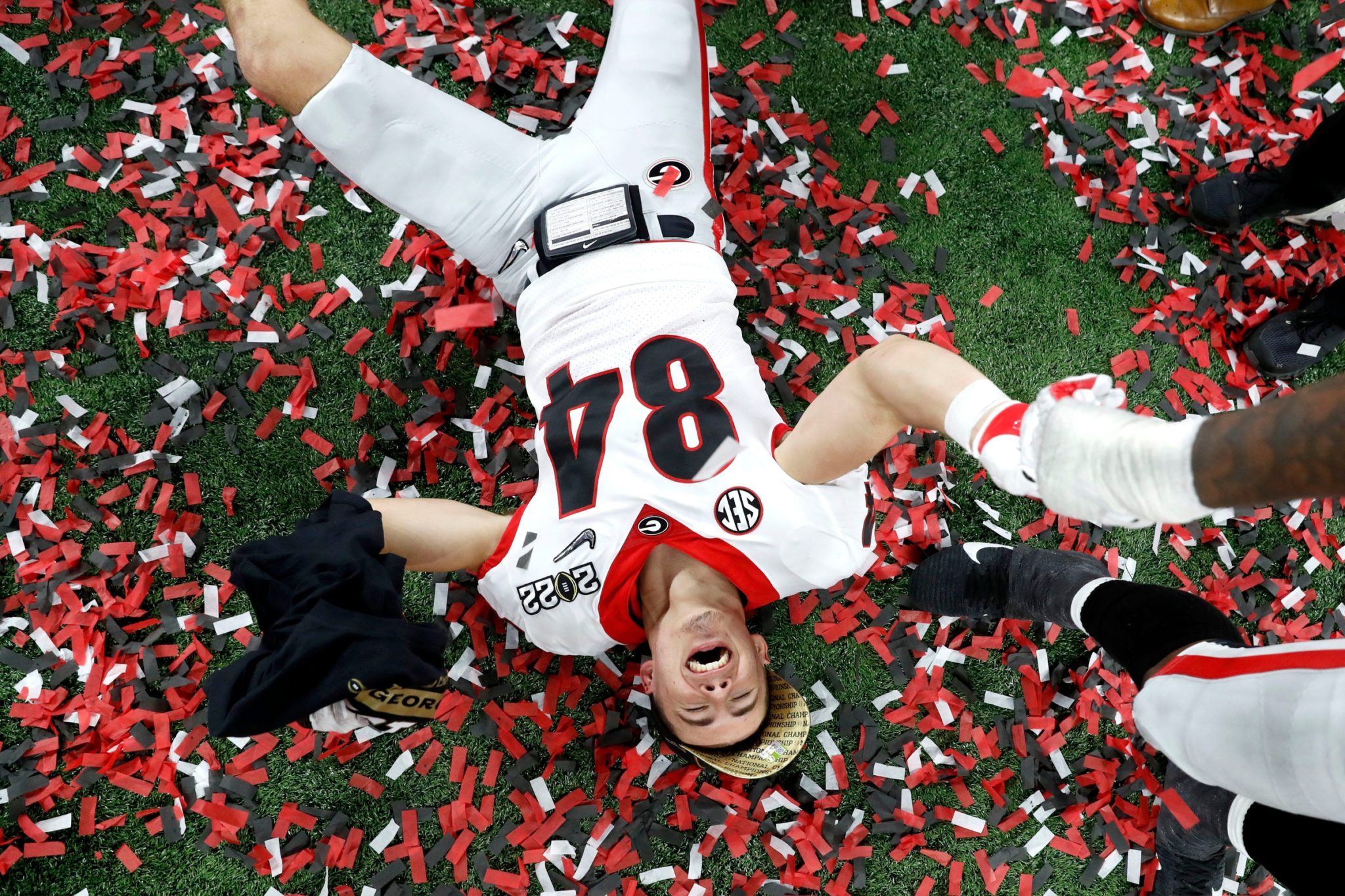 GEORGIA
Georgia's national title means goodbye, good riddance to all those 1980 jokes
INDIANAPOLIS — If not now, when?
Those 4 words hung over the 2021 Georgia football team like a dark cloud on a late-August afternoon. As long as Nick Saban stood on the other sideline, as long as there was time left on the clock, it would linger. The uncertainty. The desperation. The never-ending cycle of "close, but no cigar" moments. If 2021 ended with another nightmare, when would Georgia's dream ever come true?
Well, those 4 words are dead. So are the 1980 jokes.
For the first time in 41 years, the Dawgs stand alone. There would be no "2nd-and-26." No fake punt was attempted with the game on the line.
Well, there was the time that an extremely debatable fumble call went Alabama's away and beer bottles might have fallen from the Georgia section. But besides that? Nah.
Georgia's "close, but no cigar" was nowhere to be found. Victory cigars? They were puffed by Georgia players as confetti fell on the Dawgs' storybook national championship season Monday night at Lucas Oil Stadium.
Up until Kelee Ringo's game-sealing pick-6, you could've convinced plenty of Georgia fans that even with an 8-point lead, the drought would somehow continue. Surely Alabama would find a way. Never mind the fact that Jameson Williams was sidelined in the second quarter, which added insult to injury for a Tide offense that was already without receptions leader John Metchie III.
Don't get it twisted. Georgia wasn't gifted a national title. You don't spend 4 decades trying to reach the top of the college football mountain only to be told you were gifted a ring. UGA was the best team in college football in 2021, even if the SEC Championship didn't show it.
Some wondered if that blowout loss just provided a glimpse into the future, and that a rematch would end just as Kirby Smart's previous 4 meetings with Nick Saban ended. That is, with Saban outscoring Kirby in the 4th quarter — Alabama had a 41-7 advantage in the final frame before Monday night — en route to yet another trophy to add to the mantle.
Nope. Not this time. Not this team.
Instead, it was Saban who told Smart "you kicked our ass in the fourth quarter" (thankfully the ESPN cameras caught that).
He's right. That's exactly what Smart did. Where should we start? How about the fact that the Dawgs scored 20 points and Stetson Bennett didn't miss a single pass attempt in the 4th quarter.
That's right. Bennett started off so poorly that backup "JT Daniels" was trending on Twitter after the first series.
The Mailman delivered the Georgia faithful a 40-yard score that won't be forgotten in Athens anytime soon:
IT'S AMAZON. IT'S FEDEX. NO!!

IT'S THE MAILMAN STETSON BENNETT 🤯📫 pic.twitter.com/e1hA1FsDnh

— PFF College Football (@PFF_College) January 11, 2022
By the way, for all the talk about Georgia having, as Shane Beamer would say "100 5-stars," that play was anything but that. Bennett's well-documented story of wearing a Mailman hat to get noticed at recruiting camps and earning a walk-on spot is just the half of it. According to SEC Network's Cole Cubelic, Adonai Mitchell only convinced the coaching staff to give him an offer after he sent videos of him catching passes by himself during COVID.
This Georgia team wasn't just a few stars doing the heavy lifting. Granted, the likes of Jordan Davis, Devonte Wyatt and Jalen Carter did their best at that. Shoot, after Carter blocked a field goal in the third quarter, he even turned around and served as the lead blocker on UGA's first touchdown of the night.
🚨 SOMEONE FINALLY SCORED A TD 🚨

Zamir White punches it in to give Georgia the lead, 13-9.

🎥 @SportsCenter pic.twitter.com/hkRzAP6L5J

— The Athletic (@TheAthletic) January 11, 2022
How do you stop that? White and Cook were a major reason UGA finished the night with a 140-30 rushing advantage.
Of course, a big part of that disparity was because of the sack yards Alabama took. After it failed to record a single sack for the first time all year in the SEC Championship, Smart's defense got to Bryce Young 3 times. Irrelevant was the fact that when Channing Tindal got to Young on third down in the red zone, it was UGA's first sack of Young in 82 minutes of football.
Adjustments? Yeah, they were there. Pressures were mixed up. In his last game as UGA's defensive coordinator, Dan Lanning's defense looked a whole lot like the group that rewrote the record books in the regular season, and not like the group that had a bad afternoon in Atlanta.
Let's give credit to where credit is due. Bennett, AKA the subject of the "can he win a national title?" question even into the fourth quarter on Monday night, delivered. Smart didn't just double down. He tripled down on his guy. Anything short of a drought-ending victory and Smart would've had to eat that decision forever. In the 4th quarter, Bennett was 4-for-4 for 83 yards with 2 touchdowns.
Just the way Smart drew it up.
Nobody had to tell Bennett what Monday night meant. The Blackshear, Ga., native who grew up an hour and 20 minutes from Buck Belue, the last UGA quarterback to win a national title, had plenty of perspective.
ESPN cameras showed Bennett being brought to tears in the final moments of Georgia's victory A half-hour later when Bennett stood atop the victory stage, he stopped and looked out at the Georgia fans who stayed for the celebration at Lucas Oil Stadium. Georgia safety Lewis Cine said something that got a smile out of Bennett, who then made his way off the stage and into the sea of red and black at field level.
One of those people who didn't want to leave Lucas Oil Stadium was Aaron Murray. It was Murray who came 5 yards short of beating Alabama in the 2012 SEC Championship, and ultimately missed out on a chance to play for a national title. The record-setting UGA quarterback said that he talked to Herschel Walker and Belue earlier in the week, and that all of them were still in disbelief that the drought had lasted 41 years.
On Monday, Murray took in the game from suite level on the field. Bennett's dime to Mitchell happened just feet from where he was standing.
Make no mistake about it, though. Every Georgia player of the past 4 decades probably felt like it had a front-row seat to history.
That celebration might've consisted of damaging some property, as Smart suggested. For guys like John Staton IV, it was chugging a beer tossed down to him by some former Georgia players.
Georgia mood pic.twitter.com/tHxcCcdwpo

— Connor O'Gara (@cjogara) January 11, 2022
Plenty of Georgia fans left the Lucas Oil Stadium tunnel in handcuffs. One of them was stopped by CBS Sports' Dennis Dodd, who asked the handcuffed Georgia fan about his venture onto the field and subsequent punishment.
"Forty-one years. One hundred percent worth it."
Forty-one years. It's hard to tell a group of 18-22 year-old kids what that drought truly meant to the UGA faithful. Bennett said before the game that he didn't want to think of himself as "a savior" by winning a national title for millions of people.
Nolan Smith, who had the final sack of Young to close the book on Georgia's history, also grew up in the state. It's the team that his mom rooted for. Smith admitted that he cried after the SEC Championship because he had never won a title in 16 years of playing football. Earlier in the week, Smith discussed what a title would mean.
"To be the first since the drought," he said, "I tell people, you'll be a Georgia legend no matter if you're from inside the state of Georgia or outside of Georgia, you're going to be Georgia legend. We came in to be legendary, be special, leave your mark."
The 2021 Dawgs are legends. They say "legends never die."
It's a good thing curses do.