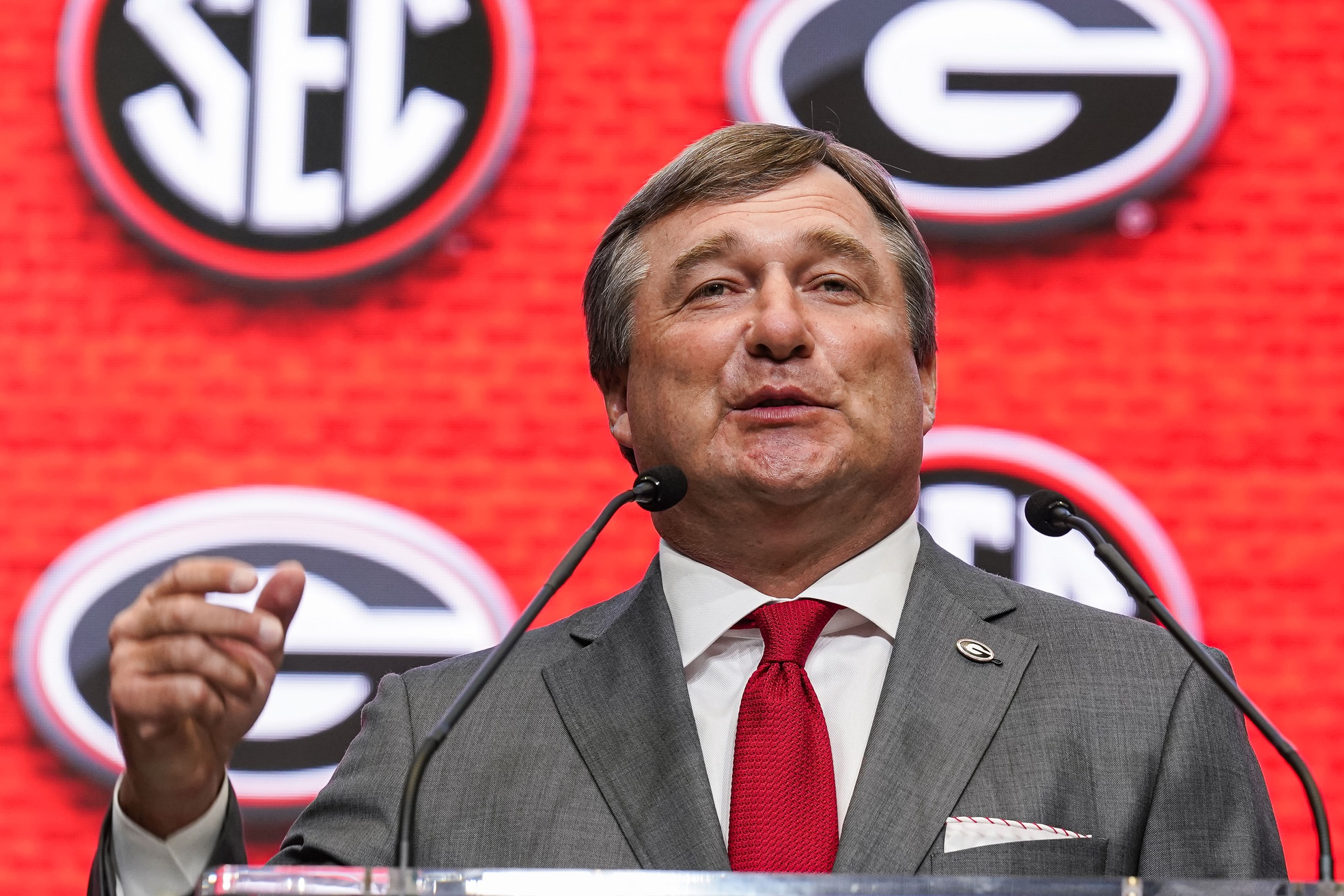 GEORGIA
Have sticker shock after seeing Kirby Smart's new contract? Don't. He's worth it
Think about this.
The No. 2 team in the SEC East was Kentucky last year. It was considered a moral victory for the Cats (by some) that they scored multiple touchdowns against Georgia's historically dominant defense — the second came on the game's final play — in what was ultimately a 30-13 loss.
On Wednesday at SEC Media Days, Kentucky coach Mark Stoops was asked about the significance of that late drive and how it could potentially bridge the gap between the Cats and Dawgs.
"How do you gain on Georgia? I can't answer that," he said. "I just saw Kirby up there, I could maybe try to whack his knees out or something, knock him out for a minute."
That's how much better Smart is than the rest of his own division.
In the past 5 seasons, Smart is 27-2 against the SEC East. His trip to a conference championship — in what's essentially a play-in game for the College Football Playoff — is like clockwork.
So yeah, you better believe he was gonna get that historic contract.
On Thursday, we found out from multiple reports that Smart's new contract is 10 years, $112.5 million, making him the highest-paid coach in the sport. Timing is everything. Fresh off winning Georgia's first national title in 41 years, it wasn't a surprise that he got a new rich contract. His tenure in Athens would be deemed a success if it ended tomorrow.
(Go figure that a sudden retirement was actually on the table for Smart, who said he considered stepping down before the 2021 season.)
If you're flabbergasted to see Smart's new deal, that's understandable. Just know that it's not quite as stunning as you might think, especially for a coach who has elevated Georgia's standard unlike any coach before him. Lincoln Riley just reportedly got a similar 10-year, $110 million deal to leave Oklahoma for USC, and he never won a Playoff game.
In fact, look at all of these new coaches who signed 10-year contracts in the past year despite the fact that they've never won a Playoff game:
Lincoln Riley, USC
Brian Kelly, LSU
James Franklin, Penn State
Mel Tucker, Michigan State
Jimbo Fisher, Texas A&M
You'd take Smart over all of those guys, right, Georgia fans? Obviously, especially considering that Smart is 1 of just 4 active head coaches with a Playoff win.
You can be frustrated with Smart's quarterback decisions while also acknowledging that posting 5 consecutive top-7 seasons puts him on the podium for any list of "best coaches in America."
According to Georgia athletic director Josh Brooks, Smart is "the best football coach in America." That's what Brooks said as he celebrated Georgia's championship in front of tens of thousands of fans on a frigid day at Sanford Stadium. Clearly, Brooks put his money where his mouth is. Well, he put Georgia's money where his mouth is.
This new contract doesn't necessarily mean Smart is about to make the Dawgs the team of the 2020s decade. But if you were betting on one particular team to do that, wouldn't it be Georgia, Alabama or Ohio State?
It's fitting that those 3 teams are the obvious favorites to win the 2022 title. Georgia just watched 15 players get picked in the NFL Draft, yet it still finds itself in that position. That's Smart. That's having someone who recruited and developed talent as relentlessly as anyone in the sport, including Nick Saban.
Yes, getting over the hump against Saban absolutely impacted that contract. In fact, Smart probably had about $20-30 million at stake heading into the Playoff. There's no way he would've been in that $100 million club if this team had lost 2 consecutive games to end the season, including one to an inferior Michigan team.
But that didn't happen. Smart instead delivered a finish for the ages, and one that wouldn't have been possible if he had listened to anyone but himself when it came to sticking with Stetson Bennett IV. Smart didn't stumble into a title — he earned it.
He earned that contract, too. It wasn't that long ago that some wondered if Smart was worth the $3.75 million annually he received as a first-time head coach in 2016. Even the most optimistic Smart supporter wouldn't have predicted that Smart would ink a $112.5 million contract just 6 years after a season with home losses to Vandy, Georgia Tech and Tennessee.
(File that in the ever-growing "Year 1 doesn't matter as much as everyone thinks it does" folder.)
Smart flipped the script in a way reminiscent of Saban after his rough Year 1 at Alabama. Compare their Years 2-6:
Overall record
58-10
61-7
National title berths
2
3
Yeah, Saban has Smart beat. That's why the former is the G.O.A.T.
But the overall record, SEC record, division titles and top-10 finishes are nearly identical. As long as you're not the team that can't beat a top-5 opponent like Notre Dame or Oklahoma, that's about as good as it gets.
Smart delivered on his promise to take Georgia to that next level, and it's not debatable. Any comparison to Mark Richt is in the rearview mirror.
We're not really trying to figure out Smart anymore. You don't have a 5-year stretch like that without knowing how to build and reload a program. The only thing we're left to figure out about Smart is whether he's going to be one of the top 3 coaches of the last 30 years. It's certainly on the table.
That's why he's being paid what he is. In the haves and have-nots, Smart left no doubt which group Georgia falls in.
It probably took some getting used to seeing the words "national champions" attached to Georgia's name. It'll take some getting used to when we see a 9-figure contract attached to Smart's name.
But fear not, Georgia fans. Your guy is worth every penny.