GEORGIA
Jacob Eason showed both promise and inexperience on G-Day
Red and black permeated Athens, Ga., with Georgia faithful past, present and future converging on a rare April occasion in the Classic City. Of those fans, 93,000 — yes, exactly 93,000 — turned Sanford Stadium into a Bulldogs sanctuary, the largest crowd in SEC spring game history on hand for a spring service as loud and large as the fall editions.
The record G-Day attendance bookended a seamless transition from one head coaching era to another. But of the 93,000 or so inside Sanford, there were only two that the spectators really showed up to see (maybe three, if you count Ludacris).
Kirby Smart holds the unenviable role of succeeding Mark Richt, loved by some and hated by others but inarguably a tough act to follow. Smart set the bar high, challenging the Bulldog nation to fill the stadium, a task anyone with previous G-Day experience viewed as out of reach. He won that battle, but even Smart — the creator of the full-house vision intended to lay championship foundation — couldn't outweigh the prophet supposedly destined to turn that title dream into reality: Jacob Eason.
The standing ovation at the 10:36 mark of the second half gave Georgia fans the delayed gratification they'd been yearning for since Eason spurned a potential flip to Florida and remained committed the G.
Eason stepped out on the field, ready to lead a third-team offense in the wake of an uneventful first quarter championed by quarterbacks Greyson Lambert and Brice Ramsey. The cheers roared through Athens for an early-enrollee freshman with Lebron James-level hype that, in that moment, had never showcased his mythological arm talent against a live SEC defense.
That soon changed, and in the minds of many Georgia believers, those unproven expectations appeared possible. He rounded out his G-Day debut — primarily with the third-team offense against the second-team defense — with a 19 for 29 passing performance for 244 yards and a touchdown. Of his five drives behind center, three of them ended with realistic scoring chances and two resulted in touchdowns (one passing). His surface-level statistics outshined his quarterback counterparts, though Lambert and Ramsey both faced off against the No. 1 defensive unit.
But for a player who has constantly been the butt of a "should be getting ready for prom" joke, Eason made the Bulldogs supporters: 1) Thankful they showed up in bunches 2) Hopeful about the program's future and 3) Insufferable when it comes to Smart's pending starting quarterback decision.
This isn't a total "slow your roll" moment because Eason did show flashes of brilliance that displayed why he completed 62 percent of his passes for 6,228 yards and 58 touchdowns at Lake Stevens High School. But Eason shouldn't be conceived as the no-questions-asked starter because of a meaningless intrasquad scrimmage in April, even if it did take place in front of 93,000.
Remember: There's a reason Lambert and Ramsey split time with the ones and twos and the newcomer didn't. Head coaches, even new ones, tend to know what they're doing more than the common observer. His five possessions and 29 throws flaunted a number of personalities — the good, the great and the freshman. There were essentially three sides to the blue-chip early enrollee in his Sanford Stadium unveiling.
THE "SHOULD BE GETTING READY FOR PROM" MOMENTS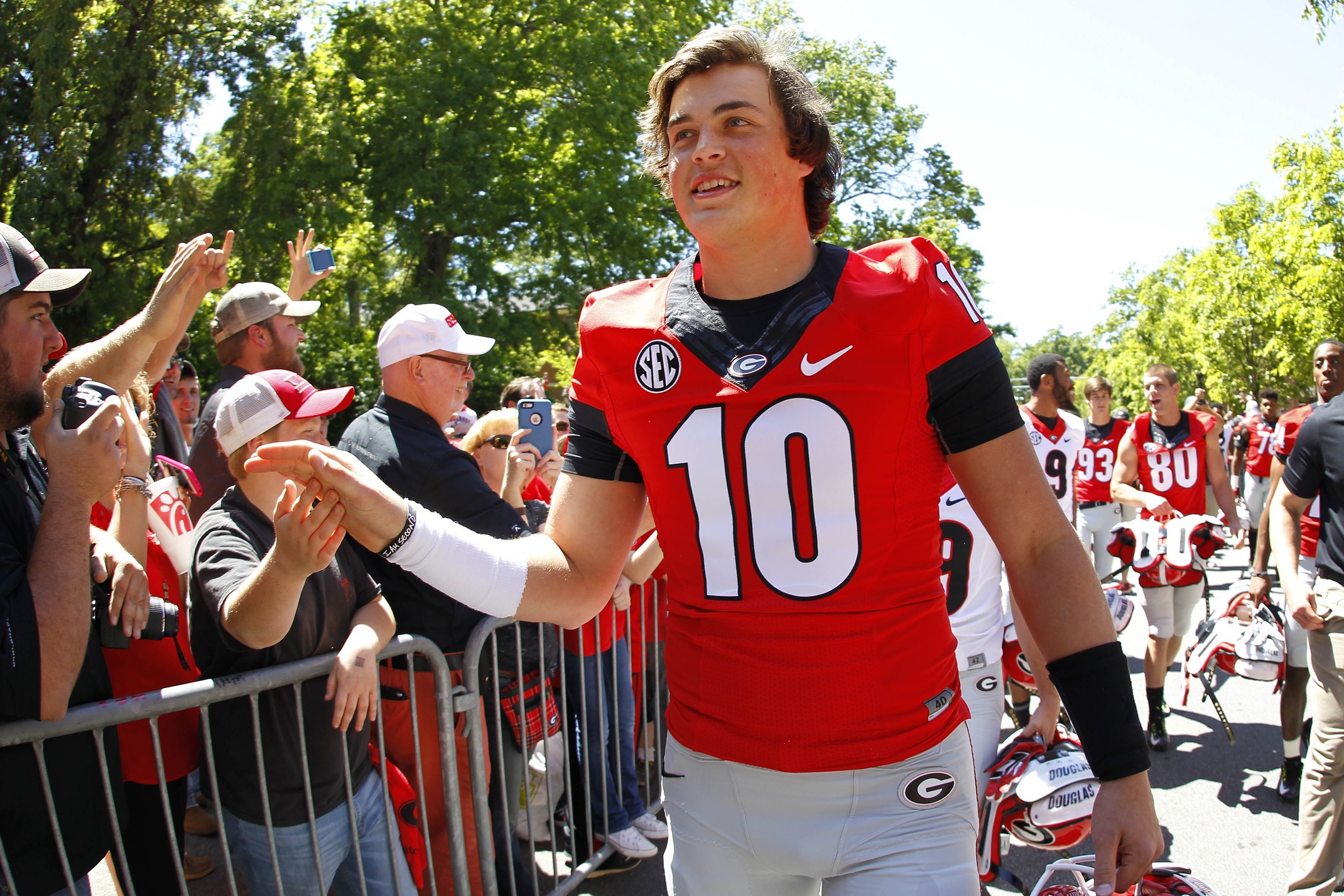 Keep in mind Eason only enrolled at Georgia in January. He's been put to work since he arrived, evidenced by his expedited weight gain and his uncanny ability to take play calls and command the line of scrimmage. Most of the time, he didn't look like a freshman, but — as can be expected — there were plays here or there.
Jim Chaney kept the play-calling simple, running 24 of Eason's 36 snaps in a three-wide shotgun formation with a tight end and a running back. Otherwise, it was a mixture of four-wide sets and two-wide bunch formations with a sprinkle of plays under center (to be continued).
This three-wide shotgun-heavy theme indicated one of three things: This is how Chaney operates, Chaney didn't want to show his hand in a glorified practice, Eason isn't yet comfortable with the playbook, or some variation of the three.
After all, he should be picking out a tuxedo, not studying Xs and Os to lead a group of SEC football players. That Eason personality surfaced most commonly when Smart and defensive coordinator Mel Tucker elected to blitz — a rarity in a spring game but a necessity in this specific position battle. The No. 2-team defense, led by former starters including linebacker Tim Kimbrough and cornerback Aaron Davis, rushed at least six players on eight different plays.
In order, those instances resulted as follows: Third-down sack, incomplete short right, 6-yard sack, 1-yard sack, 12-yard completion to Isaiah McKenzie, incomplete short left, 37-yard completion to Reggie Davis (more later) and incomplete long right. (Keep in mind Eason wore a black no-contact jersey, so the sacks were essentially two-hand touch.)
There were some five-star moments within, but the three "sacks" — he was also sacked on a four-man blitz — reeked of freshman inexperience, a player accustomed to slower pass rush and more penetrable secondaries. To his credit, Eason worked with an offensive line mostly made up of Kendall Baker, Sam Madden, Aulden Bynum, Ben Cleveland and Billy Seward. Not the biggest and baddest group. Not yet anyway.
The first quarterback takedown of the day probably served as the lowlight of Eason's otherwise-admirable day. He packaged a nice series together on his opening drive, taking the third unit 56 yards on five plays to set up a third-and-4 from the 14. With Ridley Ridley wide left, McKenzie in the right slot, Reggie Davis wide right, Jackson Harris at tight end and Brendan Douglas next to him in shotgun, Eason took the snap and hesitated to make a decision — one of the only times in the game he seemed truly young. He had Harris open streaking across the middle, similar to the touchdown pass he threw to Isaac Nauta later in the game, but didn't see him.
He was immediately swarmed by a quartet of defenders in D'Andre Walker, Reggie Wilkerson, Kimbrough and Justin Young, who jawed at him almost as a welcome reminder that he hadn't won any Heismans yet. The other two 6-man blitz sacks followed suit, a quickly-collapsed pocket and a too-patient read resulting in a lost down and lost yards.
He might be the future, but he also still could be in a high school hallway. There's room to grow.
THE "GIVE COACH A TOUGH DECISION" MOMENTS
Smart has a good problem on his hands: Three serviceable SEC quarterbacks. Unfortunately for him, "serviceable" is what got perennial 10-win coach Mark Richt fired. He needs greatness. If Smart hoped he'd be able to, at a minimum, cut Eason from the 2016 candidate pool because of a nervous or careless opener, he didn't get his wish. No, in many regards, Eason made the choice that much tougher.
Smart declared on the pregame ESPN broadcast that his biggest area of quarterback focus would center around decision-making ability, not highlight-reel throws. Of course, everyone outside the hedges imagined in their video-game minds that Eason would hurl a 60-yard touchdown bomb on play one to launch his legacy. Eason probably dreamt of that, too, but instead he proved time and time again that he enjoys making the smart throws just as much as the flashy ones.
Twelve of Eason's 19 completions didn't travel further than seven yards down field, many resulting in YAC points for McKenzie, Nauta, Reggie Davis, Ridley and Harris. His first snap of the day involved Eason going through his three-wide reads before checking down to Douglas on a swing pass that ended in a 13-yard gain and career-opening first down. He utilized quick slants and tight-end curl routes on numerous occasions to circumvent a threatening pass rush against a makeshift offensive line.
Eason kept it easy in the G-Day game, and that probably pleased the likes of Smart and Chaney, who were likely expecting at least one turnover (not counting the turnover on downs). Instead, Eason gave them zero turnovers against a No. 2 defense — specifically Aaron Davis, whom Eason more or less picked apart — that picked off last year's starter Lambert and returned it 98 yards for a touchdown.
Eason only made two throws that could even been deemed "intercept-able." One went to McKenzie, a short receiver in traffic, who couldn't haul in a rocket throw with several white jerseys there to break up the little chance there was of a completion. The other was another long pass across the middle of the field to McKenzie. Kirby Choates covered it well, as it bounced of both McKenzie and Choates' hands. But even with those, it never really seemed like possession would change hands. When he did miss, Eason's power made it too difficult for a defensive back to make a game-changing play, albeit against a second-team unit.
The rest of his incompletions didn't make you say, "What was he thinking there?" Many were intentional throw-aways to avoid a sack, or an unlikely completion attempt placed where only a receiver could make a play on it. If Smart or Chaney were looking for a reason to excuse Eason from the big kids table, they didn't get it.
THE "HE'S DEFINITELY THE GUY" MOMENTS
Eason originally committed to Georgia, and subsequently re-committed, because he felt the Bulldogs' pro-style approach best suited his NFL objectives. Rarely, if at all, did he play from under center as the Lake Stevens quarterback, and it was interesting to see in the G-Day game just how much work he'd gotten there during his three-month stint in Athens.
In his first play under center — his only throw from there in the game — Eason went play-action with Douglas on the right hash mark. He heaved it well across the field to Ridley, who was blanketed by cornerback Shattle Fenteng, and it dropped directly into his fellow early enrollee's arms for a 35-yard gain. These are the types of throws that have caused the Georgia fan base to collectively fan-girl for two years. Fans at the game (and watching it at home) must have been happy to finally see it in Sanford Stadium.
It was one of three of his completions that made the freshman seem to be in a class of his own when it comes to arm talent and potential. He lofted another pass along the right sideline to Reggie Davis for 35 yards on a throw that required poise in the pocket against a fast-tracking Aaron Davis.
The third highlight-worthy play might not have jumped off the page to all, but Eason's 18-yard tucked pass in between Aaron Davis and safety Rashad Roundtree along the right sideline on his second drive showed Eason can wow with his touch just as much as his zip.
That doesn't even mention the 7-yard touchdown throw to Nauta — a harbinger of things to come for Georgia — which was an impressive third-down throw in its own right. He was also the only quarterback to manufacture two touchdown drives, one ending in a 7-yard run by Shaquery Wilson out of the I-formation, which need not be forgotten in the grand scheme of quarterback orchestration.
These were the moments Georgia fans have been anxiously awaiting, and these are the moments that make bystanders realize: He may not be the guy yet, but one day in the not-too-distant future, he will be.