GEORGIA
How Georgia is adjusting its offense to fit Jake Fromm
With Jacob Eason still out and the Dawgs facing a Mississippi State team fresh off laying a beatdown on LSU, Jake Fromm is about to step back into the spotlight for the second time in three weeks. The true freshman had to take over for a road trip to South Bend to face Notre Dame and he threw 29 passes that went for 141 yards (4.9 yards per attempt) with a touchdown toss and an interception. Suffice to say he wasn't terrible effective, but he at least didn't prevent the Georgia RBs and defense from pulling off a victory.
The Georgia staff has two key areas to resolve with Fromm at the helm against better opponents. The first is easing pressure off the run game so that opponents don't load the box and take away the Nick Chubb/Sonny Michel tandem. The other is easing the pressure off a freshman QB who's not yet ready to carry the weight of the team.
Here's how the Bulldogs have managed that task in the past two weeks …
Facing a loaded box
The obvious prerogative of a defense facing great running backs but a freshman QB is to try and make that team beat them by throwing the football. That was clearly Notre Dame's thinking two weeks ago …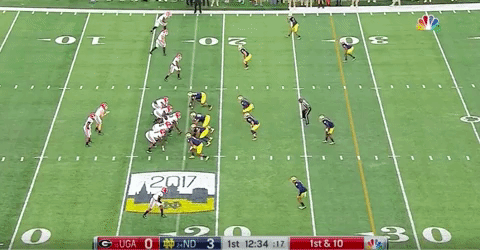 On this play Notre Dame has six defenders in the box against five blockers for Georgia, but Fromm has a release valve to help the run game in the form of a quick stop route over the middle to WR Mecole Hardman. Notre Dame figured out how to take that away later, but it was a nice boost to start the game and helped the Dawgs set up opportunities for their RBs to have more space later.
Here's an example where Notre Dame won the mental battle and lured Georgia into handing the ball off into a loaded seven-man box: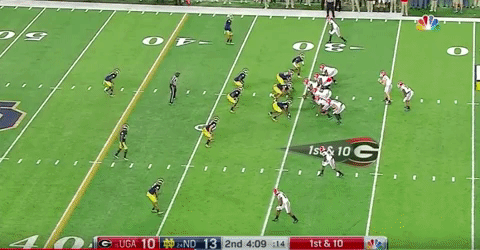 They sneak "rover" Drue Tranquill into the box late to take away the cutback and also to free up the linebackers to play downhill into their gaps. Left tackle Isaiah Wynn has to try and climb off a double team early to pick up the middle linebacker and leaves TE Isaac Nauta to try and handle 6-4, 290 pound DE Jay Hayes. That goes predictably poorly.
When a defense has talented players who need attention and also drops extra guys you can't block down, then the brilliance of a Chubb or Michel doesn't matter as much.
Setting up Fromm for success
The Bulldogs have mixed in a ton of different play calls to try and set up Fromm to do some damage without asking him to make a lot of protection checks with his OL or to make progressions in the passing game facing live bullets.
On the rare occasions Georgia tried that against Notre Dame, things often didn't go terribly well: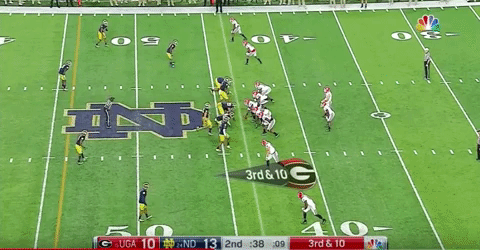 Fromm clearly didn't expect Tranquill to get out wide on that slot receiver and although he did hesitate, he still tried to fire the ball in only to be picked off. Credit Tranquill not only with disguising his intent but also making a tremendous play.
Fromm also had a fumble on a 3rd-and-9 against Samford that came when he tried to scramble for a first down rather than checking down to his TE: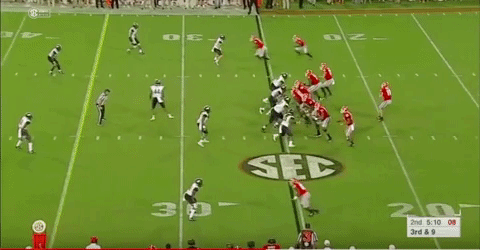 Some of Georgia's better solutions have included using jet sweeps to discourage defenders from keying hard on the RBs. D'Andre Swift, a coveted recruit in a crowded backfield, shows his explosiveness here …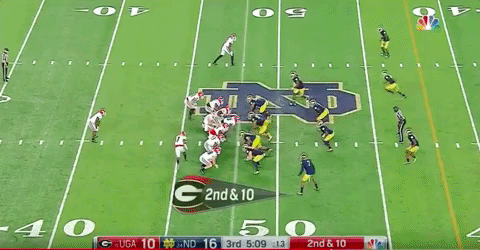 Or using some I-formation sets that get enough blockers on the field to account for extra defenders in the box.
The challenge with these concepts is that they make it pretty easy for the defense to still key the RB and play downhill against the run game; Georgia just has a bunch of big bodies to try and block them anyway. Without the threat of a deep play-action throw, there's only so much you can do and Georgia probably doesn't love the chances of their TEs and FB consistently winning these battles when playing against SEC athletes.
Georgia will doubtlessly try to create some opportunities to take shots on play-action, but that didn't yield much fruit against Notre Dame. Their best play so far has been to mix in pass-options on their runs to try and clear space for Chubb and Michel to do the heavy lifting.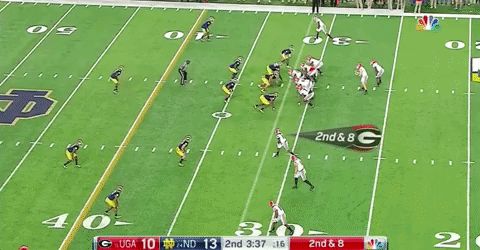 You can see here that Tranquill and the free safety are positioning to take away the quick hitting stop route to the field this time, but the backside hitch route is open against the off coverage from the cornerback. By adding these simple, quick-hitting passes to their runs, Georgia is able to set up Fromm for some wins, release pressure off the run game, and involve their other athletes.
RELATED: Can Georgia slow down Nick Fitzgerald?
Mississippi State's defense is the best the Dawgs — and Fromm — will have faced. They'll need to continue to diversify this approach and get Fromm more comfortable in their normal passing game to get real points on the board. In the meantime, there's a chance he can continue to be a game manager while the RBs and defense carry the water.