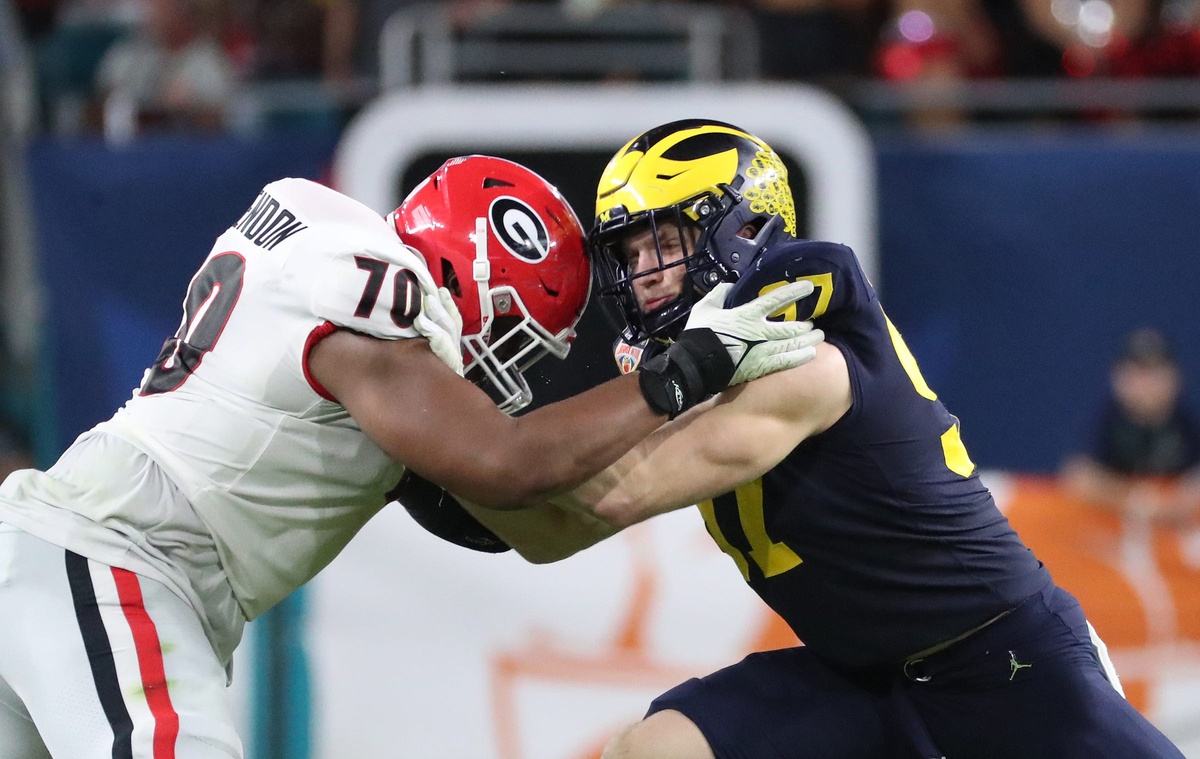 GEORGIA
After dominating Aidan Hutchinson, Jamaree Salyer welcomes the challenge of stopping Will Anderson Jr.
Will Anderson Jr. is the next challenge for the Georgia offensive line that was targeted last week for its matchup against the vaunted Michigan pass rush. It's the latest test for a unit that is tied for second in the country in sacks allowed this season (11), and combined with Stetson Bennett's mobility can prove to be a formidable matchup for Anderson and Co.
Anderson, the star Alabama linebacker, boasts 17.5 sacks this season, which leads the country. But there is rising optimism for the Georgia offensive line, and specifically offensive tackle Jamaree Salyer after he neutralized Michigan's Aidan Hutchinson to the point that he only had 4 tackles and zero sacks in the Orange Bowl. David Ojabo didn't have any tackles. Hutchinson led the B1G with 14 sacks, and Ojabo was 2nd with 11. Georgia shut them out.
Salyer is aware that NFL scouts will watch the Anderson matchup just like they did Michigan, but he said he's more interested in competing against the best. Put simply, that's why he went to Georgia, and wants to play in the SEC.
"We just wanted to go out and battle," Salyer said. "We wanted to play our best game, and we knew the strength of their defense was their defensive ends. Very, very talented player, take nothing from them, we just had a good game, and I'm proud of the way that we played, just up front in general we played a really good game."
Kirby Smart has preached to the team about the analogy of holding a ladder. The o-line has bought in.
"You want to be the guy that holds the ladder so the team could climb to the top," Salyer said. "It's easy for an offensive lineman, that's our thing, we hold the ladder for everybody. But as a team concept, that's what we want everybody to be, so we could keep climbing."
Even after the impressive performance to the point that ESPN's Chris Fowler and Kirk Herbstreit hardly discussed the Michigan pass rushers, Salyer gave himself a grade of B- or C+, likely because of facemask and chop block penalties. This week, he's ready to do it again against Anderson and the Alabama pass rush, which had 3 sacks in their December meeting.
"The trio of Hutchinson, Ojabo and Anderson obviously are all great players, the young kid they have over at Alabama is a really great player" Salyer said. "I'm excited, I'm always excited to rise to the occasion."
Salyer servin' em 🥞🥞🥞 pic.twitter.com/cWihi9uzJg

— WeAreBigGuys (@WeAreBigGuys) January 1, 2022
Salyer, who is 6-4 and 325 pounds, has done it all season, and he's beginning to catch the eye of NFL scouts. There's been discussions about Salyer moving to guard in the NFL, and they started earlier this season, but he has excelled at tackle, and he attributes that to hard work.
"It's tough not having the same 6-6 measurables as the next guy, but it's a mindset thing, if you allow that to hold you back, then it will," he said before the Orange Bowl. "If you allow that to slow you down, then it will. But if you go out there and work hard every day, take the mindset of I can do this and I will do this, it will happen for you, no matter what that is in life. I just kind of took that approach with playing offensive tackle, and I take that same approach playing guard, center, whatever it is. Everything requires work, everything requires strain and effort and perfecting your craft. I go at every day trying to attack that goal and be the best that I could be. I think that's helped me where other people think I would fall."
It's clear that Salyer, who battled a foot injury part of this season, is playing some of the best ball of his career. He is the spokesman for the offensive line, and the former 5-star prospect is the perfect mold of who Kirby Smart is looking for in a Georgia player. He loves competition, doesn't back down from opponents, and is versatile enough to play multiple positions.
He gets one more chance to go out and battle on Monday against that Alabama pass rush.
#CFBPlayoff/@seniorbowl Preview: Which team runs the ball more effectively will be a key in tomorrow's #orangebowl. @GeorgiaFootball LT Jamaree Salyer & LG Justin Shaffer, both likely eventual NFL starters, will face a big test with Michigan's Aidan Hutchinson and David Ojabo. pic.twitter.com/oifU7rcrph

— Jim Nagy (@JimNagy_SB) December 30, 2021
Georgia OT Jamaree Salyer has some finishing ability. Little top heavy but I like some of what he can do. pic.twitter.com/lUXpzntbFn

— Zach Hicks (@ZachHicks2) December 15, 2021