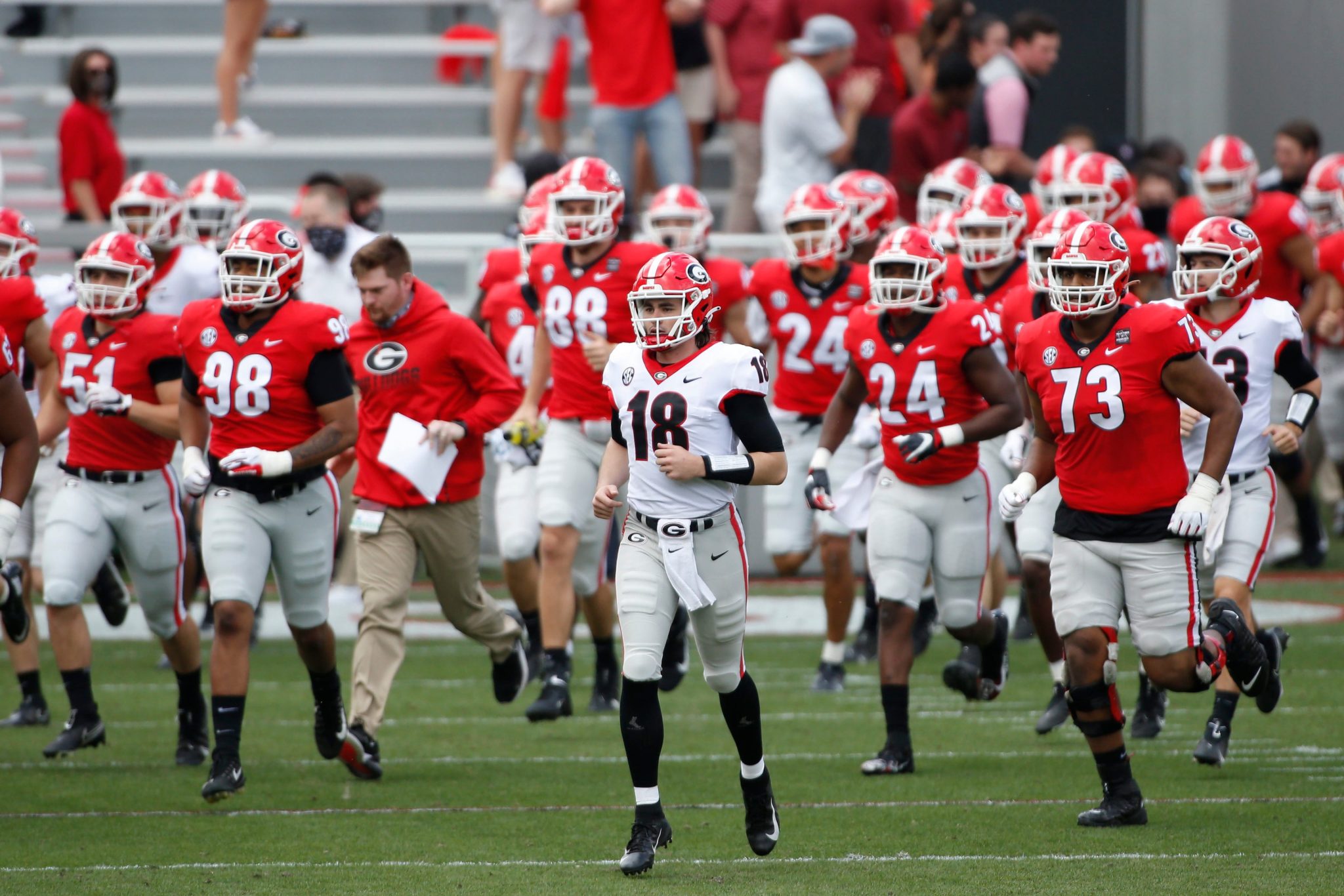 GEORGIA
JT Daniels' positive test removes any hope of a quarterback switch
For all the fans clamoring for Kirby Smart and Todd Monken to see the quarterback position the way they do, and finally, mercifully, end the silver screen-style promotion of Stetson Bennett IV as a national championship quarterback — well, that ship has sailed. And you can thank JT Daniels' positive COVID-19 test for snuffing out that hope.
Since Smart puts such a premium on practice reps ahead of a game, it's difficult to see him giving Daniels a chance in the Orange Bowl, since he will likely miss the majority of the practices in the week leading up to the game. Any number of negative tests in the coming days likely won't give Daniels a chance to see the field. After all, that was Smart's reasoning in October when it appeared Daniels was healthy, but still lacked plenty of practice time, or at least as much as Bennett received with the starting lineup.
This puts more weight on Smart's belief that Bennett can be the quarterback to lead Georgia to Indianapolis, and what's more, that the other QBs on the roster are also good enough to be in the mix as backups. Smart routinely brings up all 4 quarterbacks when asked about Bennett or Daniels specifically, and continues to promote Carson Beck and Brock Vandagriff as capable QBs who can function within the offense and make smart decisions.
Smart this week had already taken a different tact when asked about revealing Daniels' practice routine, but multiple reports suggested that he was, indeed, receiving first-team reps.
While Daniels has appeared in 6 games for Georgia with 3 starts this season, Bennett has managed to grab hold of the job.
For the crowd that has clamored for Daniels and has used the Alabama game as Exhibit A for why Bennett can't win a Playoff-caliber game, this puts that argument on pause, at least until Indianapolis if Georgia gets past Michigan.
This also takes away Smart's safety net to make a move at halftime, for example, if Bennett makes multiple mistakes in the first half of the Orange Bowl. That would be the ultimate in-game coaching decision for Smart to jump-start the offense with a move to Beck or Vandagriff. It's difficult to see Smart doing that since he didn't do it with Daniels in Atlanta.
For as many 5-star defenders Smart continues to lure to Athens, building one of the premier defenses in college football and a historic unit in the SEC, quarterback decisions continue to shape his legacy. Now, the Daniels development has forced him to really go all-in on Bennett, and it also puts pressure on Monken and the staff to fix the mistakes from the SEC Championship Game.
Bennett could make all this moot by playing like he did at Tennessee when Daniels wasn't even a question to consider. Bennett could face Michigan's vaunted pass rush, and scramble for first-down conversions, and make other athletic plays that set him apart from Daniels. The defense and running game could also take pressure off Bennett and Smart by making their jobs easier.
But Georgia fans have seen this movie before, and there isn't yet enough scar tissue to keep them from wondering what might have been.
The only way this isn't an issue is if Bennett plays one of the best games of his career, and Georgia wins. Smart still maintains that while Bennett made "bone-headed" mistakes against Alabama, he wasn't the only one, and those mistakes evidently weren't enough to get the hook from the sideline.
We're about to find out how Smart and his staff fix mistakes, and handle a tightrope quarterback situation without much of a safety net.