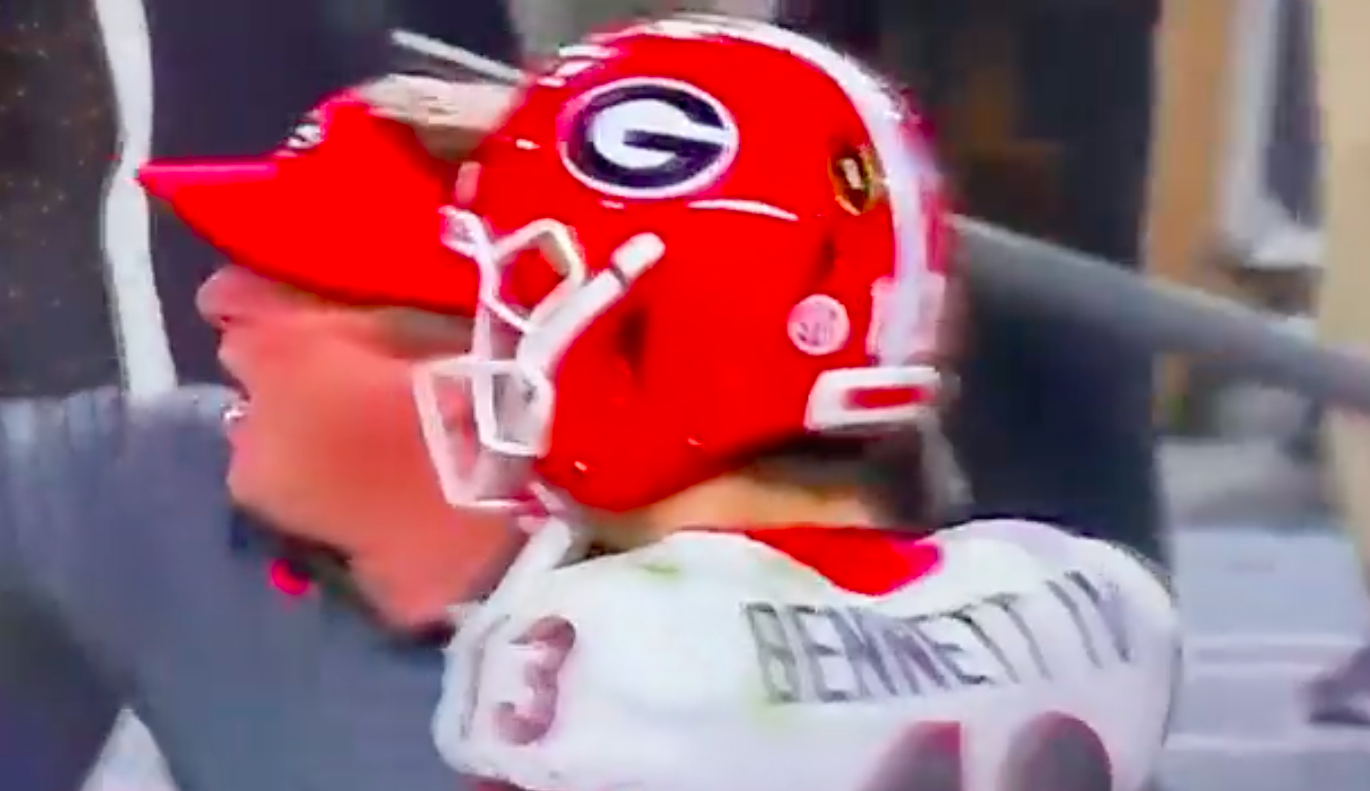 GEORGIA
Kirby Smart's blowup at Stetson Bennett IV had a very specific purpose related to the national championship
I'm not much of a lip-reader.
My late dad, however, was a pro. One time when I was in middle school, we entered a father-son free-throw shooting competition. My dad didn't have his best day at the charity stripe, and being the punk kid I was, I felt the need to vent about it to a friend 15 minutes later when he was out of ear shot. Needless to say, my dad saw that I threw him under the bus and without getting into too many details of my public scolding, know that I learned my lesson(s) that day. Never speak ill of your parents, especially when your dad is a self-described "excellent" lip-reader.
But back to the original point. I, unlike my dad, am not much of a lip-reader. However, sometimes in this job, we're tasked with a little lip-reading to connect some dots. When Kirby Smart teed off on Stetson Bennett IV at the end of the first half of the Orange Bowl with the Dawgs up 27-3, we can assume that he didn't say "that's the way, uh huh, uh huh I like it."
Heading into the locker room with a 24 point lead. You're either elite or you're not. pic.twitter.com/TUwY5mQonl

— Jon Tweets Sports (@jontweetssports) January 1, 2022
So let me take my best stab at what Smart said in that moment, using context clues and minimal lip-reading skills.
"Stetson?! What are you doing?!? I don't care if it's 684-0. You can't be so casual at the end of a half! If you do that, Alabama will do the 41-24 thing to us again!!"
Again, that's minimal lip-reading. That's context clues. That's knowing the Smart, a Nick Saban disciple through and through, has shown the same type of "every play counts" energy in the late stages of blowout wins at Vandy. That's understanding that Bennett was in the midst of a career day, and still, the last thing Smart wanted going into the Alabama rematch was his quarterback thinking he was perfect.
It's pretty simple. Smart has everything riding on this decision.
Well, I don't suppose everything is riding on it. He isn't about to head to death row if he can't finally beat the G.O.A.T. It's not like Smart's wife and kids are about to bolt, pending the result of the national championship. I mean, it's not like Smart's dad is going to be waiting in the Lucas Oil Stadium tunnel, ready to publicly scold him if he loses.
But Smart has UGA in a place that it's been in just twice since Herschel Walker left Athens for the USFL. There's no debate about whether Smart will start Bennett or JT Daniels. Smart will triple down and roll with the Orange Bowl MVP. He put his reputation — and 5 years worth of scrutinized quarterback decisions — on the line with Bennett.
Build him up? Nah. Tell me this guy lacks confidence:
Stetson Bennett doing the Whitest Carleton ever after a TD is the most perfect way to end 2021 pic.twitter.com/1vLGexrDxM

— The Slumpbuster (@SlumpBusterPod) January 1, 2022
Bennett is who he is at this point. You're still more likely to confuse him for Cory Matthews than a national championship winning quarterback. But if the latter is going to happen, Smart knows that The Mailman will have to deliver perfect decision after perfect decision. He doesn't have that margin for error.
For what it's worth, there's actually some debate as to who was really at fault for the strange way that the final seconds of the Orange Bowl first half played out. It was Smart who didn't call that last timeout, and perhaps not getting the play in time prevented Bennett from racing to the line of scrimmage to stop the clock after the first down.
Don't forget about the 2017 Rose Bowl. It was Georgia that cashed in when Oklahoma inexplicably did a squib kick with 6 seconds left in the half, only to watch Rodrigo Blankenship drill an all-important 55-yard kick to make it a 2-possession game at the end of the first half. That was monumental in a game that went to overtime.
At this point, nobody has to tell Smart or any Georgia fan that you don't give plays away against Alabama. At that point, up 27-3, the mindset was no longer specific to Michigan. That's true whether they admit that or not. And sure, Smart might've had an outburst because the idea of going into halftime up 4 scores instead of 3 might've been his mindset, but against that UGA defense, that wasn't in doubt.
Doesn't matter. Don't leave points on the board.
To Bennett's credit, that was one of the few instances in which his decision-making was questioned against Michigan. He didn't get swallowed whole by Heisman Trophy runner-up Aidan Hutchinson, nor did he succumb to the outside noise about his ability to stretch the field. With the exception of setting up a potential field goal attempt at the end of the first half, Bennett did everything that Smart and Todd Monken could've asked.
That's why the tone at the end of the second half was much different than it was at the end of the first half. Smart and Bennett weren't involved in a 1-way heated exchange. They were involved in a 1-way exchange of tossing oranges to the Georgia players:
Kirby Smart and the Dawgs were launching oranges 😂#CFBPlayoff pic.twitter.com/dgBYFaXnQm

— SportsCenter (@SportsCenter) January 1, 2022
Kudos to Smart for not blasting Bennett for showing poor form on those orange tosses.
"Stetson?!? What are you doing?!? That's not even the right sport!!!"
Bennett and Smart both deserved to appreciate that moment. Lord knows both have taken their lumps to get to this point.
They'll be synonymous with whatever result unfolds in Indianapolis. If that's a victory with Georgia finally ending the 1980 jokes, no scolding will be needed. Shoot, no lip-reading skills will be needed, either. We'll all know exactly what Smart will say to Bennett if the confetti does indeed fall on the Dawgs by night's end.
"That's the way, uh huh, uh huh I like it."