GEORGIA
LOOK: Texas QB Sam Ehlinger wore the most disrespectful armband in Sugar Bowl history vs. UGA
Sam Ehlinger made statements during and after Texas' Sugar Bowl win against Georgia, first earning MVP honors with his play before declaring the Longhorns "back" immediately after the game.
But the quarterback made another subtle statement that Georgia fans certainly won't like.
As pointed out on Twitter by Jordan Heck, Ehlinger's armband featured a playcall that reads more like an insult than a formation and set of routes. You can see it for yourself as the No. 8 playcall in the image below, but be warned that the language is vulgar.
RELATED: Kirby Smart's record is eerily similar to Mark Richt's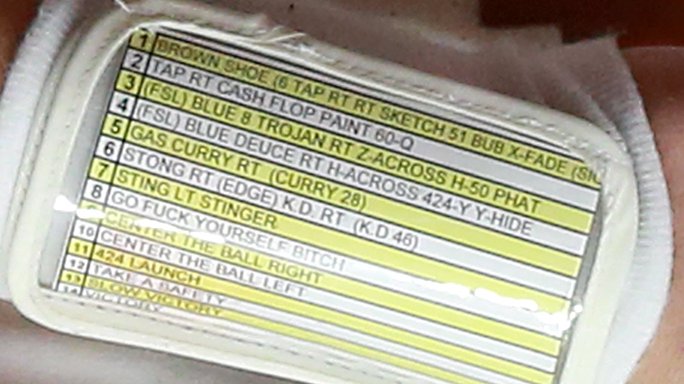 Players might tell each other things like "Go f*** yourself bitch" from time to time, but it's pretty bizarre to see it on an armband. No. 15 Texas almost certainly ran the play during its 28-21 victory, in which Ehlinger rushed for three touchdowns and the No. 5 Bulldogs scored just seven points through the first three quarters.
Now that we know such a play is in Texas' repertoire, we really want to know what it is.