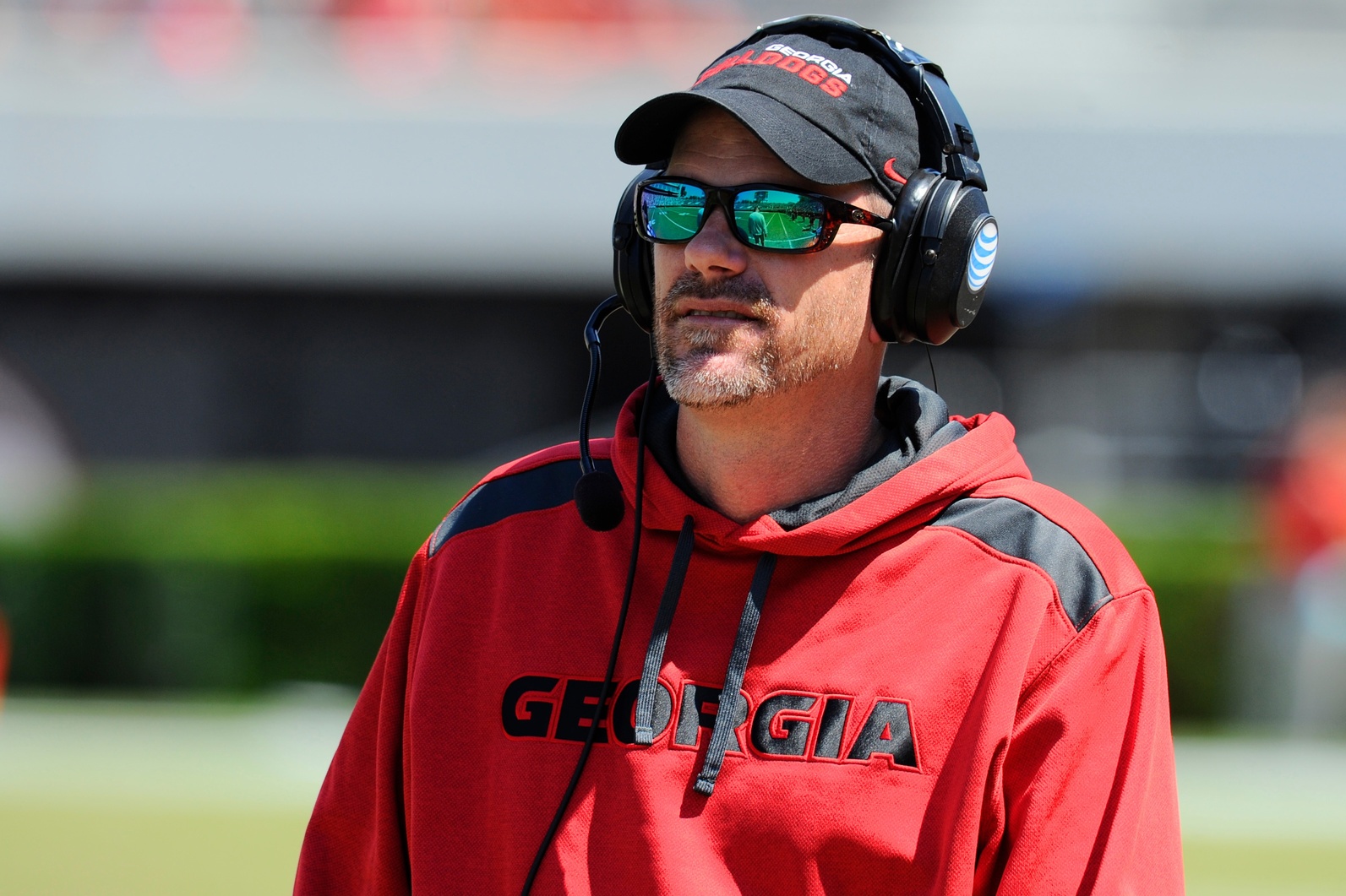 GEORGIA
How did losing OC Mike Bobo affect Georgia's offense this year?
Of the many losses Georgia has suffered this season, most notably the season-ending injury to star RB Nick Chubb, none may be more under-appreciated than the departure of OC and QB coach Mike Bobo.
Bobo left Georgia to become head coach of Colorado State, replacing likely SEC Coach of the Year Jim McElwain, who took the same job at Florida. Bobo's 4-5 record might not look like much now, but his impact is still being felt in Athens, where Brian Schottenheimer is calling plays.
Schottenheimer is no stranger to offense or the position. He's a former Florida Gators quarterback and was an NFL offensive coordinator from 2006 until Mark Richt hired him in early January to replace Bobo.
While Georgia's run game has regressed slightly in Bobo's absence, 209 rushing yards per game this year compared to 258 rushing yards per game last year, it's hard to blame that on the OC with the team's Heisman Trophy candidate going down early in the season.
The real problem is in the passing game and quarterback position.
| Year (games) | Passing yards per game | TDs/ INTs | Comp. pct. | Yards per attempt | QB rating |
| --- | --- | --- | --- | --- | --- |
| 2015 (9 games) | 193.4 | 11/8 | 59.5 | 7.3 | 129.8 |
| 2014 (13 games) | 199.9 | 24/6 | 67.4 | 8.1 yards | 156.1 |
| 2013 (13 games) | 314.2 | 31/12 | 63.8 | 8.9 | 155.7 |
| 2012 (14 games) | 285.1 | 37/11 | 63.7 | 10.0 | 172.8 |
You can argue all day about the talent Bobo had at the quarterback when he was in Athens compared to what's there now, but at the end of the numbers don't lie. The Bulldogs QB's have spiked in interceptions (1.625 TDs/1 TD, a dip from 4/1 last year) while declining in touchdowns, completion percentage, yards per attempt, and most noticeably QB rating, without Bobo on the sidelines.
Aside from 2014, when Georgia had RB Todd Gurley and Chubb in the backfield, the Bulldogs have dramatically decreased their output in the passing game, not a good sign for a team missing its best offensive weapon at the running back position.
The adjustment period after losing Bobo, their OC from 2007-2014, wasn't expected, but some of the struggles, but it's unlikely Richt foresaw this dramatic of a regression. If he had, maybe he wouldn't be fighting for his job.
"There's been plenty of times when we struggled while Mike was here too. I don't think everybody remembers that," Richt told reporters prior to Georgia's victory over Kentucky. "When you leave, everyone loves you. But I've always had a lot of faith in Mike the whole way through, you all know that. It's been well-documented. And I've got a lot of faith in Schotty too."
The Bulldogs play Auburn on Saturday as the team's only hope for explosive plays on offense may solely rest with "Wild Dawg" formation.
In Year 1 After Bobo, the passing game just isn't there.