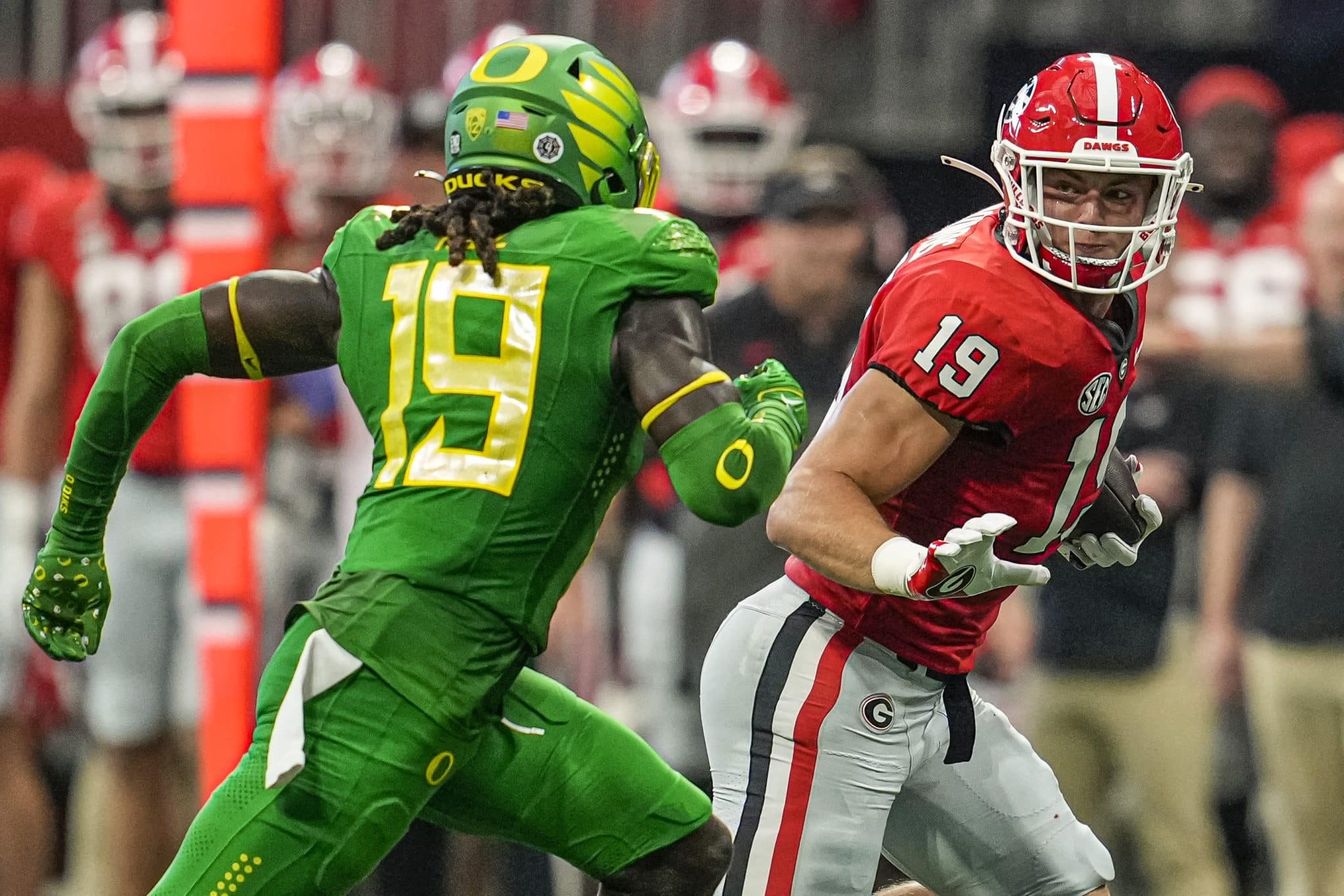 GEORGIA
New year, same Dawgs on display in statement win against Bo Nix and the Ducks
ATLANTA — If you were a Georgia skeptic entering 2022, you cited one of the following reasons.
For starters, a team who lost 5 defensive players in the 1st round of the NFL Draft was dealing with an identity shift. A UGA defense who lost all but 44% of last year's production (No. 122 in FBS) was going to regress after last year's historically dominant showing.
On top of that, UGA lost Dan Lanning to Oregon. The former UGA defensive coordinator was supposed to know a few tricks to shut down his former team on Saturday in the Chick-fil-A Kickoff game. Or at the very least, his experience with the Dawgs was supposed to give Oregon a puncher's chance.
If you were a Georgia skeptic, you might've even cited the Stetson Bennett IV factor. As in, there was no way the former walk-on was going to deliver an encore after his Disney movie culminated with a 4th quarter comeback to beat Alabama in the national championship.
Yeah, about that.
All of those things were an afterthought by the middle of the 2nd quarter of Saturday's beatdown of Oregon. Georgia didn't just cruise past a lesser-talented Oregon foe. It beat the brakes off the Ducks.
How lopsided was it? Well, Bennett walked off the field having pitched a perfect game. Here was his drive sequence before taking an early shower:
Touchdown
Touchdown
Touchdown
Touchdown
Touchdown
Touchdown
You get it. Lots of touchdowns happened (for the red and black). The Mercedes-Benz Stadium crowd let out a sarcastic cheer when Oregon got its first defensive stop of the day … 49 minutes into action.
Dare I say, an even better version of Bennett happened. Like, the guy who finished No. 4 in FBS in quarterback rating looked every bit like a 24-year-old with a national title under his belt already.
Bennett's poise was on full display. Whatever Todd Monken dialed up, Bennett trusted. More importantly, he executed. A career-high 368 passing yards included just 6 incompletions and 0 sacks taken. He even kept plays alive and found Ladd McConkey in a play that resembled peak-Bo Nix.
On Saturday, peak-Nix was a distant memory. It was clear which scrutinized quarterback was in his element and which one wasn't. While Bennett read linebackers and waited for his receivers to get underneath the coverage, Nix forced throws and turned the ball over.
In his Oregon debut, Nix looked every bit like the guy who entered having averaged 4.99 yards per attempt in 3 losses against Georgia. It didn't matter that UGA was working in some young new contributors like Smael London Jr. and Malaki Starks. It was Starks who had arguably the highlight of the day with a twisting interception.
This INT by Malaki Starks ?? pic.twitter.com/xwO02oM61K

— SEC Network (@SECNetwork) September 3, 2022
Did I say that was the highlight of the day? Whoops. I probably should've mentioned what Darnell Washington did as a 6-7 tight end.
Darnell Washington is a freak lmao pic.twitter.com/BeybQVKHR2

— Billy M (@BillyM_91) September 3, 2022
Mercy. That's not fair.
It's not fair that UGA lost 15 players to the NFL Draft and came out with that kind of showing in a "neutral-site" game against the preseason No. 11 team (I realize Oregon might not live up to that ranking but that's still telling). When you recruit nothing but top-3 classes, you can do that sort of thing. When you develop talent the way Kirby Smart has, you don't roll your eyes when you hear him fire off a "next man up" cliché.
Next man up was Kenny McIntosh shedding the "RB" association and racking up 117 receiving yards, 119 of which came after the catch. While he looked like the second coming of James Cook, it overshadowed the fact that UGA didn't have a run longer than 12 yards and it lost the rushing battle 140-129. Did it matter? Not at all.
It didn't matter that Brock Bowers, fresh off an All-American true freshman season, only had 2 catches for 38 yards. Irrelevant was the fact that preseason All-American Jalen Carter had just 1 tackle, or that Nolan Smith only had 2 tackles. Arik Gilbert's biggest contribution of the game was some nice blocking on the outside (he did get to pose for pictures with the Chick-fil-A Kickoff leather head helmet afterwards).
Smart awkwardly got to rock that leatherhead helmet — Smith should've put it further up on Smart's head — when he took the podium to thank the remaining fans who stuck around well after the blowout win was decided. He said that the pro-Georgia crowd gave the Dawgs a huge advantage. It wasn't quite like the last time Smart took to the microphone to ensure that "some property would be destroyed tonight."
Nah. Georgia already ended the 1980 jokes. When you come out and pummel a Top 25 team with such ease, there's no need to overstate it.
Saturday's showing didn't suddenly make Georgia's repeat path clearer. After all, only 3 programs have done that since that aforementioned 1980 season. There's a reason why Smart, who was part of that last team to repeat, was so open in discussing his team's battle against complacency. Smart's breakout sessions to discuss falls from grace in sports, business and history might not be the difference in UGA joining that exclusive club, but whatever he did in the last 8 months yielded the exact opening result he could've hoped for.
Time will tell if Smart will push the right buttons for another run to the top of the podium. If UGA plays its cards right, it'll return to Mercedes-Benz Stadium 2 more times this year, once for the SEC Championship and another for the Playoff semifinal.
On Saturday, though, Georgia skeptics swallowed a daunting pill — the year of the Dawg ain't over yet.