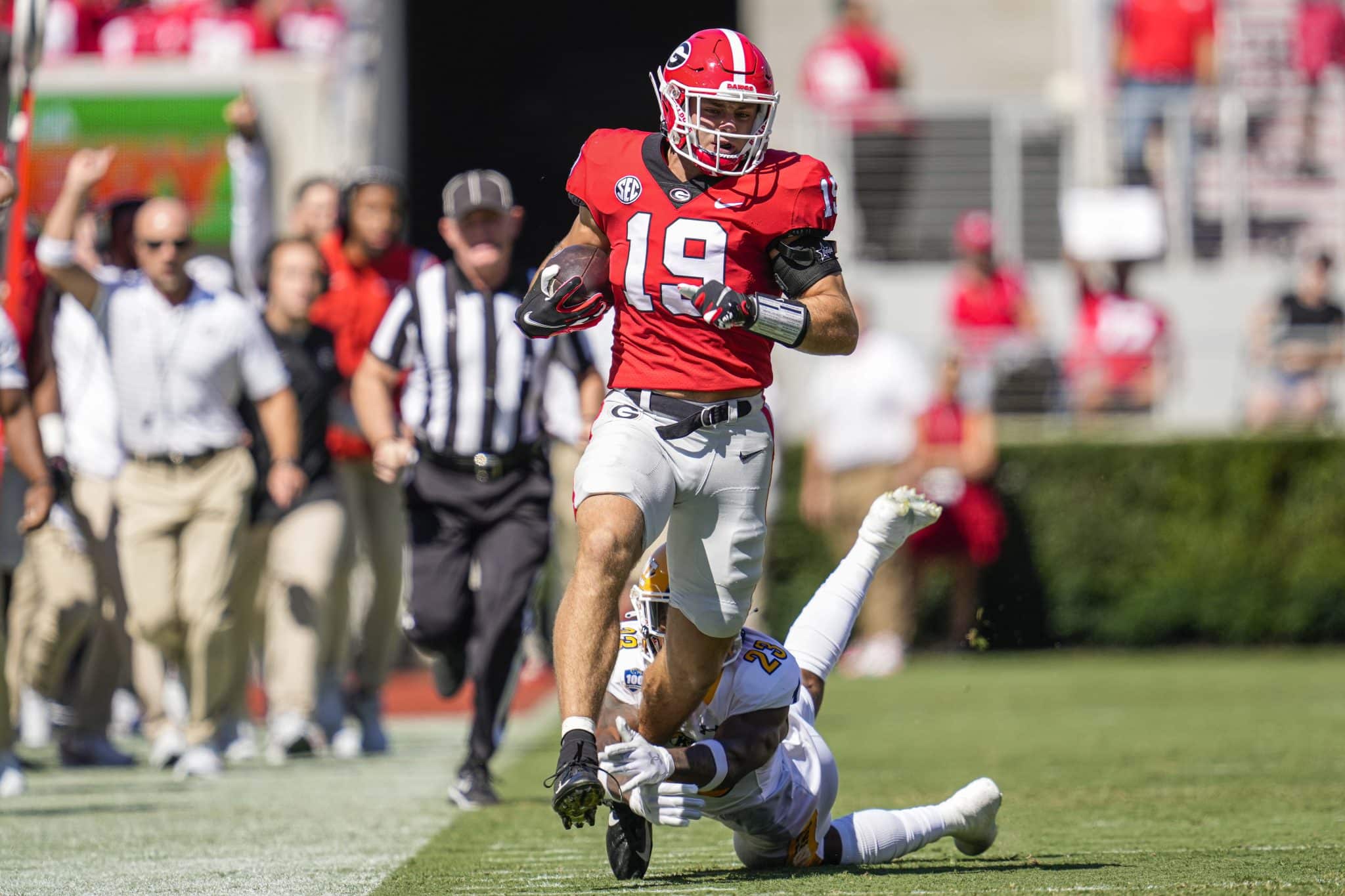 GEORGIA
Rapid Reaction: Rat poison? No. 1 Georgia sloppy in win over Kent State
If Georgia coach Kirby Smart was looking for a few teachable moments, he found them Saturday.
The Bulldogs left Sanford Stadium with a 39-22 win over Kent State, but the headline will be the dropped passes, the turnovers, the defensive letdowns and more. In a game that Georgia was favored to win by over 40 points, it struggled for the better part of three quarters before finally putting away the visiting Golden Flashes down the stretch.
The Dawgs' struggles started on special teams, when sophomore Ladd McConkey muffed a Kent State punt early in the first quarter. The visitors converted that turnover into 3 points to cut into Georgia's 7-point lead. It was the first points the Bulldogs had allowed in the first quarter this season.
On its next possession, Georgia turned the ball over again. This time it was walk-on turned Heisman contender Stetson Bennett, who tossed his first interception since Georgia's loss in the 2021 SEC Championship game. The pass was underthrown near the Kent State goal line.
McConkey dropped another long pass running free behind the Kent State secondary that could have gone for a touchdown, and Bennett threw a pass behind freshman wide receiver Dillon Bell that had the potential for a score. McConkey capped his forgettable first half with a fumble.
Even the Dawgs' typically stingy defense showed holes, allowing 22 points to the Golden Flashes, who stayed within striking distance of the top team in the country into the fourth quarter. It's the most points Georgia allowed in a regular-season game since Nov. 21, 2020, a 31-24 win over Mississippi State.
There were a few highlights:
— Tight end Brock Bowers, continuing to establish himself as one of the top players in America, began the afternoon with a 75-yard touchdown run. It was his first of 2 rushing touchdowns in the game. He has 3 on the ground in the past 2 weeks.
— The Bulldogs' pass rush got to the quarterback a couple of times early. Jamon Dumas-Johnson was credited with 2 sacks and Nolan Smith with 1.
— Georgia also blocked a Kent State punt that resulted in a safety.
But that was about it.
Bennett finished near 300 yards passing and recorded a rushing touchdown for the fourth consecutive week. Kicker Jack Podlesny was perfect in 3 field-goal tries.
Overall, though, it was a wake-up call for a team that begins the bulk of its conference schedule next week against Missouri. The Bulldogs will be heavily favored in their next 3 games, but a monthlong slate of Florida, Tennessee, Mississippi State and Kentucky looms larger today than it did a week ago.