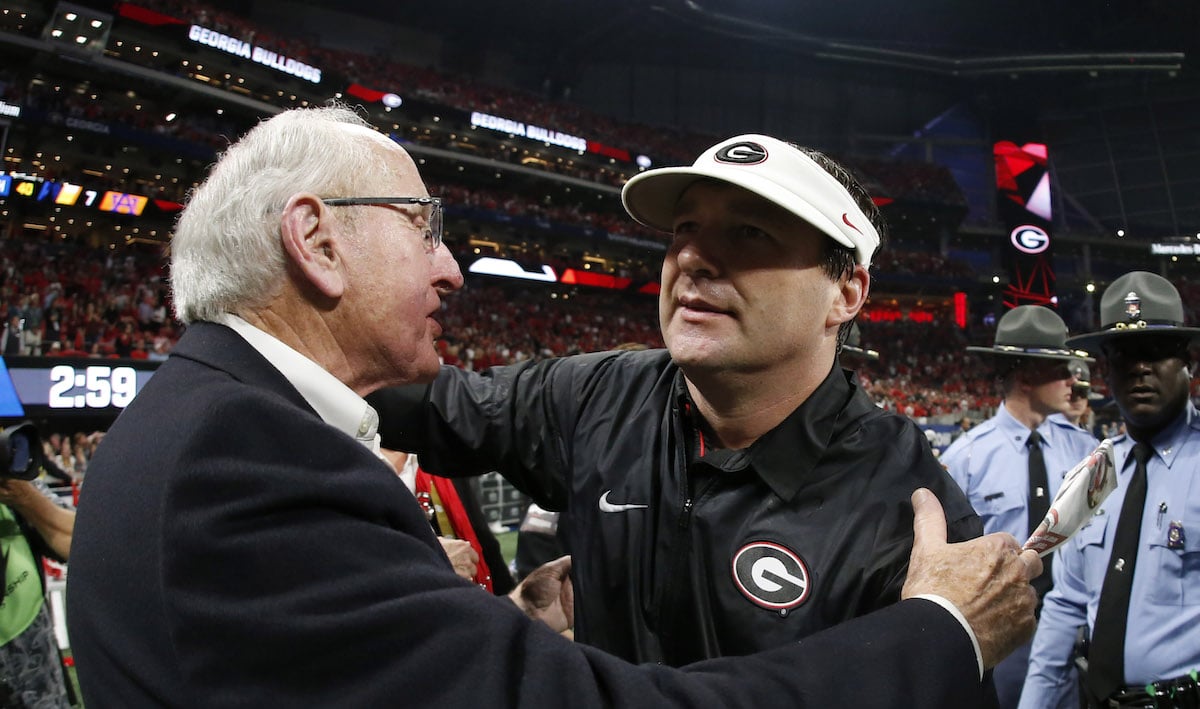 GEORGIA
Hayes: There was only one Vince Dooley
Of all the glorious stories of the college football legend that was Vince Dooley, none defined who and what he was more than a cool October night in Nashville in 1987.
Dooley stalked the sidelines at Vanderbilt, barking at his Georgia team and desperately trying to get their attention to avoid a loss to one of the SEC's worst teams. They'd already lost 2 gut-punch games that season to Clemson and LSU, and were trailing by 2 touchdowns (21-7) to the SEC's annual tomato can.
Dooley, 90, who died peacefully Friday in his home in Athens, knew he was late in his coaching career. He had taken the Georgia job in 1963 as a 31-year-old, 12 days after President Kennedy was assassinated.
His wildly successful turnaround of the moribund program was coming to a close, and that 4-year run from 1980-83 — the Golden Years of Georgia football — was diminishing further in the rearview.
So when he felt pains in his chest and knew something was wrong, there was really no alternative for the former Marine: Keep coaching.
"I remember yelling at someone and thinking, 'Well, what a way to go out," Dooley told me years ago. "I'm having a heart attack, and we're losing to Vanderbilt."
Georgia outscored Vanderbilt 45-3 to win going away, but not because the game was stopped so Dooley could receive medical attention. And not because Dooley left on a stretcher and was moved to a local hospital, and the Bulldogs played inspired ball because of it.
He coached the game. Yep, coached the damn game — and didn't tell anyone about it.
"I had a wife and 4 kids and I had a job to do," Dooley said.
I laughed. He didn't.
"No, really," Dooley said. "I wouldn't joke about something like that."
He went to his doctor that following Monday, had angioplasty surgery on Wednesday and by Saturday, was on the sidelines as Georgia came back to beat Kentucky.
A year later, barely 5 years removed from the Golden Years when Georgia won 43 of 47 games and tied 1, he retired at the age of 56 as the 2nd-winningest coach in the history of the SEC with 201 victories.
He won 6 SEC titles and the last national title (1980) before long-suffering Georgia fans experienced the top of the mountain again with last year's national championship.
Dooley stayed on as athletic director after retiring from coaching, and along with former SEC commissioner Roy Kramer and a few other influential power brokers in the league, helped navigate the SEC into the championship game era.
He didn't like the championship game at first. In fact, he hated it. Shoot, what coach in his right mind wouldn't?
Why allow some team, which may or may not have anything to lose, take a big swing at a team with everything to lose?
But he got on board and helped convince other coaches to do the same with what wound up being the greatest move in league history. The SEC exploded from there, growing from a regional conference to a national powerhouse.
Dooley retired as Georgia's athletic director in 2004, and 15 years later, the field at Sanford Stadium was named in his honor. He's a member of the College Football Hall of Fame and the Georgia and Alabama Halls of Fame.
In recent years, he was the most popular — and at times very visible — retiree in Athens. He loved Civil War history, and not long ago, the Georgia Historical Society named a distinguished fellowship after him.
When he arrived at Georgia in 1963, after coaching the freshman team at his alma mater Auburn, he and his wife Barbara bought a small home in Athens.
They never moved.
He was on the field last season when Georgia coach Kirby Smart raised the national championship trophy. They embraced and shared a sweet moment of transition, from 1 championship season to another — 41 years in the making.
"I'm so happy Coach Dooley could be here," Smart said that night. "Just a wonderful man."
And a wonderful life.