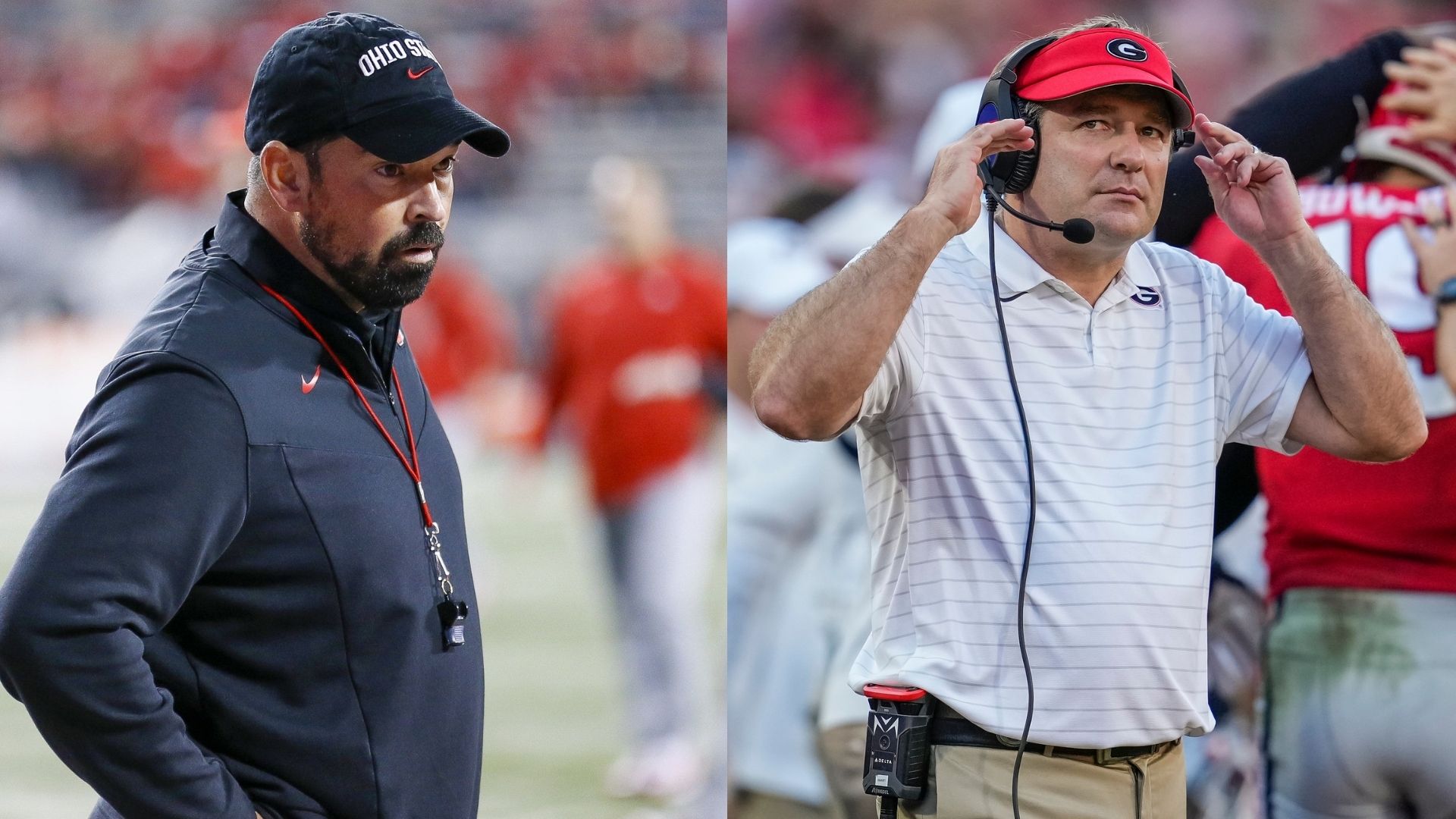 GEORGIA
So ... Georgia-Ohio State for a title? Let's see it
Basically from the moment that Michigan State stepped onto the field against Ohio State, it was clear who belonged and who didn't. The Buckeyes' offense cut through Mel Tucker's defense like a hot knife through butter on your Thanksgiving table. And as everyone does, Ohio State helped itself to seconds and thirds.
By the time the halftime whistle blew on Saturday in Columbus, Ryan Day's team was stuffed full of every national compliment and deservedly so. Going up 49-0 against a top-10 team is no small feat, especially for a team who had lost its only other game against a team currently in the Playoff Top 25.
And naturally, the rest of us had already turned the page. Ohio State, finally, showed it was ready to sit at the adult table with Georgia.
Buckeyes and Dawgs for a national title? That became a whole lot more intriguing on Saturday.
It's not just the fact that Ohio State won its first meaningful game of the year. It's how it happened. It was watching that elite Buckeye receiver trio make plays all over the field. It was watching CJ Stroud look as dialed in as any quarterback has been all year. It was watching the Buckeye offensive line dominating at the point of attack.
Stroud ➡️ Olave

Ohio State strikes first! pic.twitter.com/nq2zSqkGxK

— ESPN College Football (@ESPNCFB) November 20, 2021
Roughly 5 minutes into the second half, Kirk Herbstreit and Chris Fowler estimated that Stroud had only been hit once all day, much less actually hurried or taken down for a sack.
No, that wouldn't be replicated against Georgia's all-world defensive line. Jordan Davis, Devonte Wyatt and Jalen Carter don't go a series without making a quarterback feel them, much less an entire half. Have they faced an offense like Ohio State's, though? No. Tennessee's was the closest thing to that, and a flu-hampered UGA defensive line had a 53-minute stretch between its 2 touchdowns allowed.
Saturday showed exactly why Ohio State-Georgia would be an incredible strength-on-strength matchup.
Skeptics would say Ohio State's passing game against Michigan State's secondary was also a strength-on-weakness matchup. The Spartans came into Saturday ranked dead last in passing yards allowed per game, though they were No. 56 in FBS in pass efficiency defense.
But let's get back to that original point — the Buckeyes' receivers. Chris Olave, Garrett Wilson and Jaxon Smoth-Njigba all hit the century mark on Saturday. They're all in position to finish with 1,000-yard seasons.
(Remember that Jameson Williams wasn't gonna start for Ohio State, so he transferred to Alabama … and he entered Saturday as the SEC's leading receiver. Yeah. That's a talented room.)
How would Derion Kendrick and Kelee Ringo handle those guys? With how well Olave can get separation out of the slot, that might be the first game in which UGA truly missed West Virginia transfer Tykee Smith. So far, we really haven't seen a passing game gash Georgia, and it's not from a lack of effort. The latest Georgia trailed in a game all year was with 9:43 left in the second quarter, yet the Dawgs allowed an FBS best 5 passing touchdowns in their first 10 games, and they were No. 2 in FBS with 5.3 yards per pass attempt allowed.
Michigan State wasn't the team who was going to get pressure with a 3- or 4-man rush. Georgia can. That, as much as anything, is why those pass defense numbers are at an elite level for Kirby Smart's defense.
There's also another obvious point here. Michigan State is talented, but in the 247sports talent composite, the Spartans only rank No. 37. They overachieved this year. I mean, they opened the season by being an underdog against Northwestern.
Where are Ohio State and Georgia in that department, you ask? No. 3 and No. 2. Now that's what I call a fair fight.
Nobody is going to confuse the Ohio State defense with Georgia's, but the Buckeyes did respond well to that Oregon loss. They had the best run defense in FBS in the month of October and against Heisman Trophy hopeful Kenneth Walker, it was held to 6 carries for 25 yards. Of course, going up 21-0 in the first quarter is a nice way to take an opposing running back out of a game.
Georgia hasn't let up 21 points in a game all year, and Tennessee scored the only first quarter touchdown against the Dawgs in 2021.
Strength. On. Strength.
Some would say that the Georgia offense isn't a strength with Stetson Bennett IV as the starter. In a vacuum, yeah, you'd take Stroud over Bennett. And in a vacuum, you'd also say "you're gonna have to put up some points to beat Ohio State." Obviously. It's worth noting that Georgia entered Saturday No. 10 in FBS in scoring with Bennett leading the country in accuracy in passes of 20-plus yards (via PFF). UGA might not be an offensive juggernaut, but anyone who dismisses that group is probably doing so because of the 2020 version of Bennett in Todd Monken's offense.
That's lazy. Also lazy would be saying that Ohio State's offense is a fraud. Not after Saturday. That was perhaps as loud of a statement as we've seen in college football this year.
Time will tell if Ohio State will indeed earn that matchup with Georgia, and vice versa. If both teams continue on their current tracks, they could likely earn those top-2 seeds (we know the selection committee isn't afraid to wipe away head-to-head so don't rule out the Buckeyes jumping Oregon as soon as this Tuesday). Ohio State still needs to beat a top-6 Michigan team, and Wisconsin, who boasts one of the top defenses in the country, would await the Buckeyes in Indianapolis.
A lot can get in the way of a dream Georgia-Ohio State matchup. Lord knows Alabama is capable of blowing that up for both teams. That's the nature of the Playoff. As great as Georgia and Ohio State have been the last 4-plus years, they have yet to meet. Maybe it's wishful thinking to imagine that 2021 will change that.
But if your mind went there by the end of the first half on Saturday, well, it's safe to say you weren't alone.