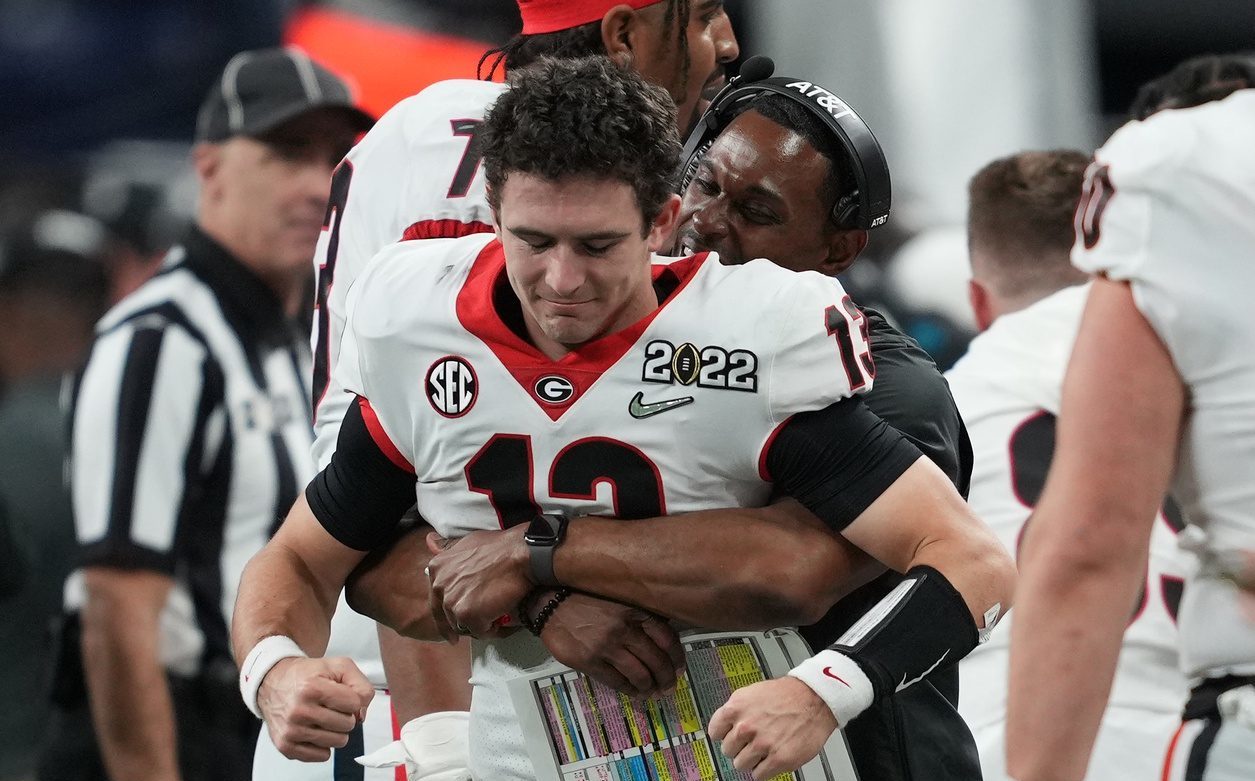 GEORGIA
Stetson Bennett writes the final chapter of the best storybook tale in Georgia football history
Move over "Run Lindsay Run" and the "Hobnail Boot," Stetson Bennett has written the story that will live on for decades in Georgia lore.
The quarterback who no one believed in showed unbelievable moxie, and an unbridled perseverance to believe in himself, and most of all, have his teammates believe in him, to win a national championship. Bennett, who as a 3-year-old vowed to his father to be the starting quarterback at Georgia, produced an underdog story that not even script writers could produce from tiny Blackshear, Georgia (population 3,649) to the confetti in Indianapolis as Georgia prevailed over Alabama on Monday night. The College Football Playoff national championship ended with Georgia 33, Alabama 18.
Forget JT Daniels, Bennett first sat behind D'Wan Mathis, Jamie Newman and watched as Georgia brought in high-profile QB recruits like Carson Beck and Brock Vandagriff and as a walk-on, he was buried on the depth chart. Through it all, Bennett believed in himself, believed in the program and his teammates, and simply stuck it out. He stuck it out through being the scout team quarterback, then transferred to Jones County Junior College and came back. All the while with Georgia on his mind, and championship dreams in his soul.
Overlooked yet undaunted, Bennett was fueled by his whole heart and a deep belief in himself and his abilities to not be denied. The heart and belief gave him the backbone to produce a national championship performance that will live on for ages.
He smiled through tears on the sideline and in the post-game celebration on the field, and was at a loss for words to describe being the quarterback to lead Georgia to its first national championship in 41 years.
"I just knew there's going to be no way we were going to let a turnover like that stop us from winning a national championship," Bennett told ESPN. "There's no way, I wasn't going to let that happen. I wasn't going to be the reason we lost."
It was how Bennett erased a costly turnover on a sack that set up a go-ahead touchdown by Alabama with a dramatic and flawless game-winning drive where he went 3-for-3 passing for 68 yards that showed his ultimate grit.
Goodbye "2nd-and-26," hello 2nd-and-18. That was the play Bennett bounced back from a first-down sack, and lofted a beautiful pass to Adonai Mitchell for a 40-yard touchdown catch in the end zone to give Georgia the lead for good with 8:09 remaining.
Credit coach Kirby Smart and offensive coordinator Todd Monken for dismissing the critics, who wailed for Daniels, the 5-star Southern Cal transfer who has the NFL future and longer professional expectations. Even during the game, they cried and called for Daniels. Put your pride aside, Kirby, they said. The defense is playing lights out, Bennett made the critical mistake, it's time to put Daniels in. Remember, just like Nick Saban did with Tua Tagovailoa for Jalen Hurts. No, Smart and Monken stuck by their man, and it paid off.
They were defiant in their belief that Bennett is, indeed, a national championship-caliber quarterback who gave Georgia the best chance to win.
Before the Orange Bowl, Monken said of Bennett, "If you look at the plays he's made, he's made national championship plays. He has. … There's no doubt in my mind we can win the national championship, and we have — there's no doubt in my mind we can win it with Stetson Bennett. There's no question."
Now they all have a bona fide example that will live on in the memories of the Georgia faithful, from Blackshear to Athens and everywhere in between across Dawg Nation.
What does he say to the next underdog?
"I hope it gives somebody a little hope, just keep fighting, keep your mouth shut, work hard, life's tough, you just gotta fight through it," Bennett said.
After Monday night in frigid Indianapolis, Bennett made the final statement that no one will ever count him out again. He was not only the reason Georgia didn't lose the national championship, he was the reason the Dawgs won it. In impressive fashion.
Stetson Bennett IV. A Damn Good Dawg.