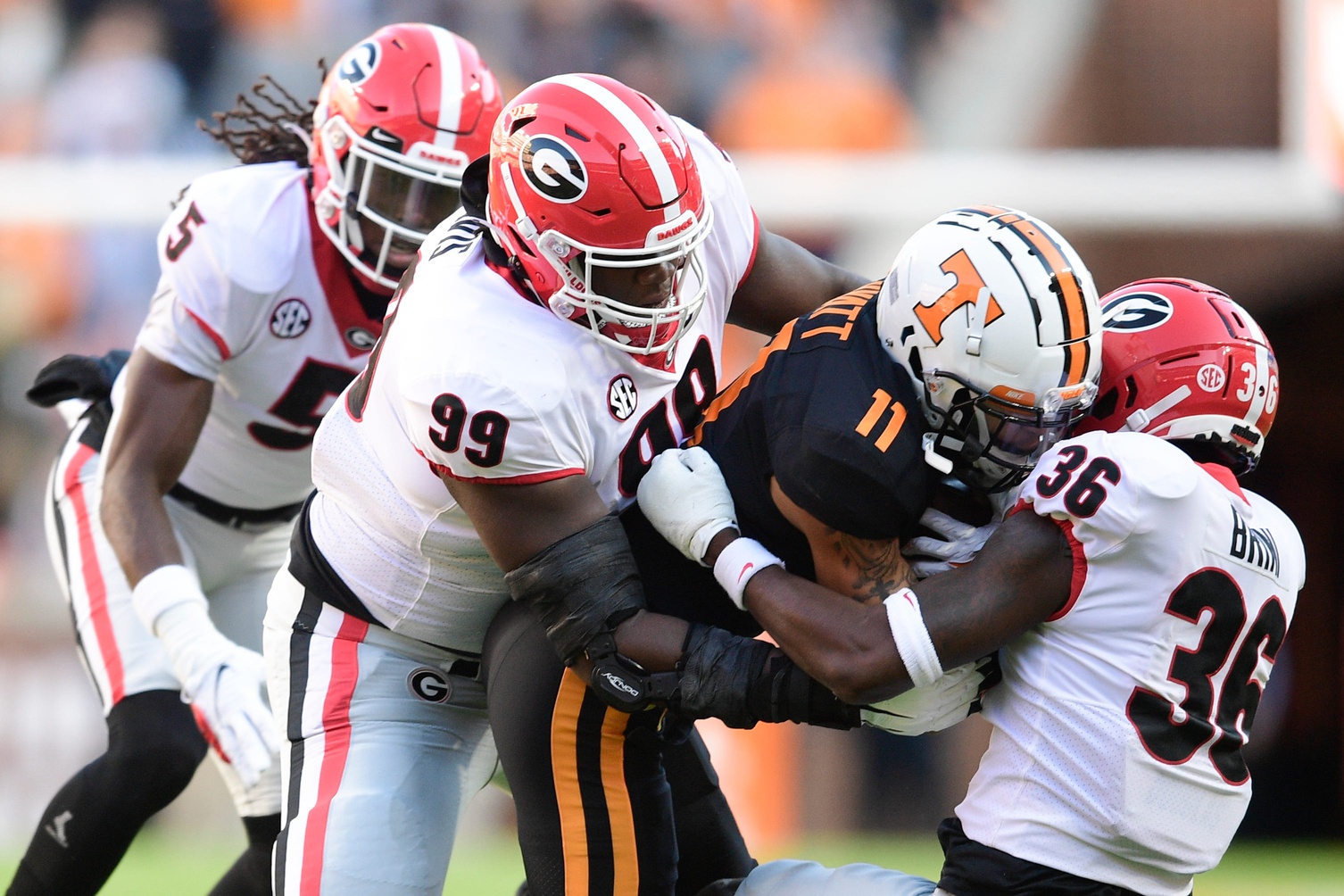 GEORGIA
Tennessee couldn't provide a blueprint to hang with Georgia, and that's bad news for everyone else
For a moment, there was hope.
Take that word — "hope" — in whatever direction you want.
If you were a Tennessee fan, "hope" was watching Hendon Hooker start off 11-for-12 for 96 yards and a touchdown against a Georgia defense who hadn't allowed anyone to hit pay dirt in the first quarter all season.
If you were a fan of Alabama, Ohio State, Oregon or some other national title hopeful team, "hope" was watching Georgia commit a pass interference penalty on a pass deep down the left sideline to help set up a Tennessee touchdown.
But hope is a fleeting, perhaps unrealistic thing when it comes to spending 60 minutes with Kirby Smart's team. Sure, Tennessee held a second quarter lead against the Dawgs — that was the first time UGA trailed in the second quarter in 357 days — who were dealing with the flu bug that 8 of Georgia's 70 traveling players caught. The problem is that still, there's not a blue print for a legit, 60-minute battle against the Georgia defense.
Blueprint? What blueprint?
All Tennessee did was show the rest of the country that there's still nobody on Georgia's level.
Wait, you want to point out that Tennessee scored more points (17) and racked up more yards (387) than any Georgia opponent this year? Alright. Let's perhaps also point out the fact that the Vols went 53 minutes and 32 in between touchdowns.
That's not a blue print; that's a beatdown.
And it's not that the Vols were totally stymied. Cedric Tillman went off for 200 yards. Against the No. 1 passing defense in America, yeah, that's a nice day at the office.
But in the end, the Vols found themselves doing what so many others have done. That is, playing hurry-up offense in the final seconds against a bunch of Georgia backups.
Tempo worked for a minute, and against a Georgia defensive line dealing with those flu issues, one would think that would be the exact blueprint needed. Devonte Wyatt, Jordan Davis and Jalen Carter all had moments in which they needed to be helped off the field. Did it matter? Not really. Tennessee still couldn't really find big plays in the running game, and that wasn't necessarily just because Tiyon Evans was sidelined.
If the blueprint to test Georgia was tempo and balance, Tennessee didn't exactly confirm that to be the case.
If the blueprint was getting an early lead and forcing Stetson Bennett IV to make plays with his arm, Tennessee didn't exactly confirm that to be the case, either.
Skeptics of Georgia like Danny Kanell pointed out that so far, the UGA quarterback had yet to complete more than 14 passes in a game. Bennett did that on Saturday with relative ease. He finished the day early with 17 completions, which went for 213 yards and a passing score. He also added 40 rushing yards and a touchdown run.
Bennett didn't hold Georgia back. Instead, he did what he's been doing all year. He recognized mismatches at the line of scrimmage, like when Tennessee got caught with a linebacker on James Cook. The result? An easy 6.
The route? Clean.
The throw? Perfect.@GeorgiaFootball goes 90 yards in 3 minutes. 🔥 pic.twitter.com/qGPcyBbJFm

— CBS Sports (@CBSSports) November 13, 2021
Georgia might not have had a 50-50 split, but Bennett attempted 29 passes, which went for 213 yards. Compare that to the 41 rushes for 274 yards. It wasn't just the backfield doing the heavy lifting. Of course, Cook himself looked darn near unstoppable no matter where he lined up.
That touchdown was really all she wrote. UGA scored 34 consecutive points and quieted a raucous crowd.
Oh, that's right! That was supposed to be the other blueprint! That is, see how UGA looks in a hostile atmosphere. After all, the Dawgs had only played 2 true road games all year before Saturday, and 1 of them was at Vandy. So naturally, it was a totally undisciplined effort, right? Nope. Five penalties for 55 yards, and not a single one of those was a pre-snap infraction by the offense.
I repeat, there is no blueprint. Not yet, at least.
It's mid-November, and dare I say, we're not going to see the blueprint to beat UGA next week against Charleston Southern, and in all likelihood, we won't see it the week after that against Georgia Tech.
That doesn't guarantee the Dawgs are on their way to a national championship. It does, however, mean that it'll be up to Alabama or some other contender to finally discover what that blueprint is.
Maybe it'll take a mobile quarterback like Bryce Young. Then again, Hooker wasn't lacking mobility. He was, however, lacking protection. Given the offensive line issues that Alabama has had, we probably shouldn't assume that the Tide will have the blueprint.
Maybe it's an elite, scheme-driven offensive coordinator like Oregon's Joe Moorhead. Then again, Tennessee wasn't lacking the right schemes. It was, however, lacking the execution against Georgia's defense. Given the inconsistency that Oregon's offense has had since beating Ohio State, we probably shouldn't assume that the Ducks will have the blueprint, either.
What about Ohio State? Meh. Call me when the Buckeyes score points against a legit contender.
This isn't like the 2017 Georgia team because that defense wasn't as dominant as this 2021 group. Pull up any number — or just watch them — and you'll see that. This group doesn't have a true freshman at quarterback, either. No offense to Jake Fromm, but Bennett's ability to use his legs provides an extra element that the 2017 group didn't have.
For many, Saturday was a setback. I'd argue it wasn't really a setback for Tennessee. This is Year 1 with Josh Heupel. The Vols are still in good position to surpass those preseason expectations after a mass exodus.
Saturday was a setback for those contenders who hoped that Heupel could consistently find a way to sustain scoring drives against Georgia and actually play a 60-minute game.
Late in Saturday's blowout, the CBS broadcast turned to a standalone shot of Brad Nessler and Gary Danielson in the booth. Nessler sheepishly asked Danielson if there was anything that could stop Georgia. Danielson paused, took a deep breath and said "the flu?"
Nope. Not even that blueprint came close to working on Saturday.
Georgia's road to a national championship rolled through Knoxville with nothing more than a tiny speed bump in the first quarter. That blueprint, though? It's still nonexistent.
Perhaps it's wishful thinking to assume one will appear this season.