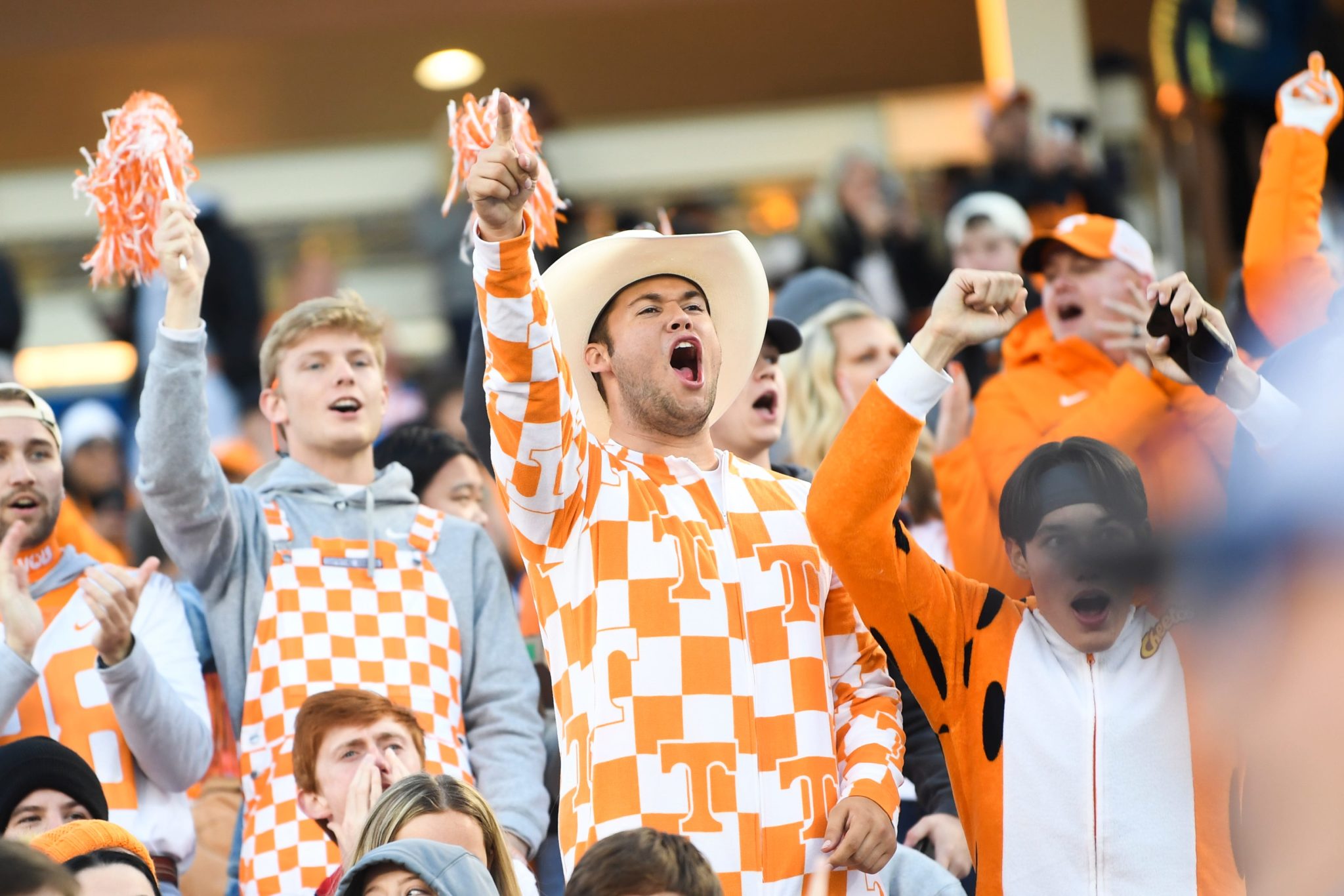 GEORGIA
The Georgia-Tennessee jokes never get old ...
There is a decent chance some of what you are about to read about Tennessee is actually true. Maybe. …
I attended UGA from 1976 to 1979 and was frustrated that I could not recall a single game vs. Tennessee when I was in school. Today I discovered that the Dawgs did not play the Vols during those 4 years. There was no SEC East or West until 1992, and SEC opponents home or away rotated in and out every few years.
Upon graduation, I bought my first season tickets in 1980, second level looking straight through the goal posts from the newly enclosed tracks end zone. I aspired to keep those seats for life unless I could be between the 30-yard lines. Alas, in 1984 I took a job in Chicago and gave up those sweet season tickets.
But I digress.
Some might recall that 1980 was a rather memorable season for the Georgia Bulldogs, as we hope the 2021 season will turn out to be.
At 7:30 p.m., on Sept. 6, 1980, the 16th-ranked Bulldogs opened the season vs. the Vols at Neyland Stadium before 95,288 fans. In the third quarter Georgia trailed 15-2, and a freshman by the name of Herschel Walker was a bench-warming second-string tailback yet to take the field.
Head coach Vince Dooley told his offensive coordinator to put the bench-warmer in, with the instruction, "Don't be afraid to let him carry the ball."
The second-stringer did okay. From the 16 yard line he took a pitch and ran over hard hitting Vols safety Bill Bates, who finally met a player who could hit even harder than he did.
Many will remember the Larry Munson call, "My God, a freshman!"
Herschel scored another touchdown that night to give the Dawgs a 16-15 victory on the way to a kinda memorable freshman year and a kinda memorable Georgia season.
Herschel and Bill Bates were later teammates on the Dallas Cowboys. When asked to do the now banned Oklahoma drill, Bates would smoke any Cowboy they threw at him.
When Herschel stepped in, Bates asked that some hot Cowboy cheerleader take his place so he could spend more time with his family.
Do not let facts get in the way of a good story.
In 1981, Lewis Grizzard went to the Herschel Walker home in Wrightsville, Georgia, but not to interview Herschel.
He interviewed Herschel's Mama.
She told Lewis she did not want Herschel to play football. She was not afraid he would get hurt. She was afraid Herschel would hurt somebody else.
To this day Bill Bates wishes Herschel had listened to his Mama.
On Oct. 6, 2001, first-year UGA coach Mark Richt and redshirt freshman quarterback David Greene entered Neyland Stadium to take on No. 6 Tennessee at noon.
In the 4th quarter, with 44 seconds left, the Vols scored a touchdown to take a 24-20 lead.
Quarterback Greene orchestrated a 2-minute drill compressed into 38 seconds for the ages.
After driving down the field with crisp short to mid-range passes and well-used timeouts, with 6 seconds left Greene threw to a wide-open Verron Haynes in the end zone on a play still known by many as P-44 Haynes.
Georgia upset the Vols 26-24 before a bunch of orange fans who got quiet real fast.
That play led to another famous Larry Munson call. Many still remember that as the Hobnail Boot Game. The win broke a 5-game Georgia losing streak in Knoxville.
* * * * *
Lewis Grizzard told this joke about when he was a UGA student:
"All you needed to do to get a UGA degree was drive down any major Athens street with your window down, and they would throw you a diploma. That was not true. You had to come to a complete stop first."
That is hardly true at UGA today. The Hope Scholarship has made it difficult to get into any University of Georgia system college.
Things have not changed much at the University of Tennessee since Lewis was still with us.
This year at the Ole Miss game the school gave "Express Your Rage Kits" to fans that included golf balls and mustard bottles.
From 2018 to 2020 you could play football for the Vols or only be recruited to play there and (allegedly) get McDonald's bags full of cash.
In October 2021, the former Vols head coach in charge of the alleged McDonald's bags full of cash threatened to sue Tennessee over a variety of disputes. Perhaps he requested reusable and less detectable canvas bags with Vols logos but was denied.
A man named Kevin Mays lopped off his pinky during a 2017 recruiting event he attended courtesy of the University of Georgia. Kevin's son signed with Georgia instead of Tennessee where Kevin went to school and was a lifelong fan. In 2019 Kevin sued the University of Georgia because the folding chair they offered him apparently attacked his pinky.
The Vols are gaining a reputation for frivolous lawsuits that might lead to badly needed tort reform legislation in the State of Tennessee. No one, including me, will be sorry if bottom-feeding lawyers in any state have to find legitimate ways to earn a living.
* * * * *
In 2014 UT took great pride in getting fans to agree to wear either white or ugly orange to create checkerboard patterns in Neyland Stadium stands. This was a challenge, as Vols fans can struggle to comprehend instructions the school mails to them.
An off-the-record University of Tennessee official who wants a job at the University of Georgia, as does everyone at the University of Tennessee, today gave me this inside information.
The first 100,000 Vol fans attending the Nov. 13 game vs Georgia will receive a "Free Safe Fan Rage Survival Kit."
The Kit will consist of a packet of wiffle golf balls and a box of fast food restaurant-sized packets of mustard.
Said the unnamed Bulldogs official wannabe:
"Tennessee wants their fans to express rage safely."
Instructions included in the kits read as follows:
"Wiffle golf balls are as likely to hit another Vol as they are to hit the enemy you are throwing at, albeit at a less dangerous velocity than with the golf balls we gave you before Ole Miss.
"Please do not hurl entire packets of wiffle golf balls, as we only have enough packets for the first 100,000 fans."
"Please do not hurl entire boxes of mustard packets, as we only have enough boxes for the first 100,000 fans."
The instructions close with:
"Let's show the gullible world that Vols are the classy people that only Vols think we are."
"Go Big Orange!!!"
"Rocky Top you'll always be Home Sweet Home to me!!!"
This was all for naught, as few Vols can read. But now we are repeating ourselves.
Do not let facts get in the way of a good story.
Go Dawgs!!!