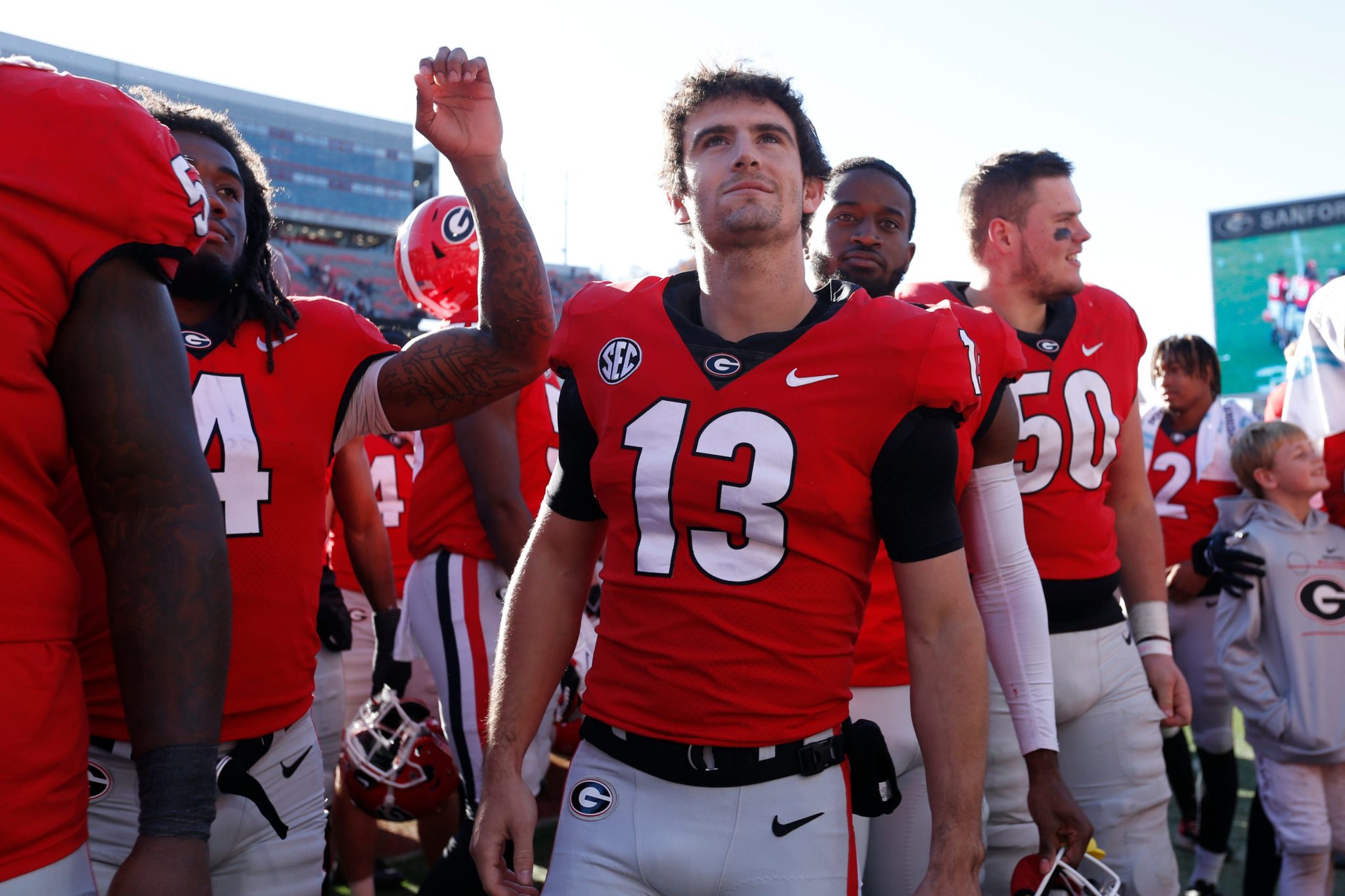 GEORGIA
UnderDawg Stetson Bennett IV is 1 chapter from the best Georgia story ever told
If you created a piece of fiction set in Georgia, you could scarcely invent a more Georgian-sounding character name than Stetson Bennett IV. Perhaps it would work for a judge on an episode of Matlock.
Bennett, though, is no product of the imagination. He is on the verge of creating a reality even better than fiction. And you could scarcely invent a more Georgian story.
By this point, the pictures of Little Stet in Bulldogs gear are inescapable on game telecasts. As are the anecdotes. His stated goal at the age of 3 was to one day play football for Georgia. It was, after all, where his parents when to college.
But the dreams of 3-year-olds don't tend to have much basis in reality – this is the age when having a pizza party on the moon seems plausible. Bennett is on the verge of exceeding even those outlandish dreams.
With 1 more win, Georgia will capture its first national championship in 41 years. And to make it that much sweeter, the Dawgs would do so at the expense of the program that prevented them from snapping that drought 4 years sooner.
That a former walk-on quarterback could be the one leading this roster full of blue-chip recruits at every other position is the most implausible element of the story. But when you look back at how Bennett actually got to this point, perhaps we shouldn't be so surprised.
Betting on himself, Episode I
Coming out of Pierce County High School, 4 hours south of Athens, Bennett was the 286th-ranked recruit in Georgia according to the 247Sports composite rankings. (That's largely because other services ignored him altogether – 247Sports itself tabbed Bennett as No. 197 in the Class of 2017.)
If he intended to stay home and play college football, FCS schools like Mercer and Kennesaw State were the most realistic options available.
But Stetson Bennett IV didn't grow up wanting to play college football. He grew up wanting to play for the Georgia Bulldogs.
Bennett accepted a preferred walk-on offer, figuring he'd work his way up the chain by the time he graduated.
Though he impressed the coaching staff by mimicking Baker Mayfield on the scout team prior to Georgia's matchup with Oklahoma in the 2017 Rose Bowl, the self-confident Bennett never deluded himself. When Georgia signed 5-star recruit Justin Fields to compete with Jake Fromm for the starting job, Bennett knew he'd be holding a clipboard.
He was ready to prove himself no matter how far off the beaten path he needed to travel.
Jonesing for JUCO football
Ellisville, Miss., isn't quite the middle of nowhere. Interstate 59 connects it to the world at large, and it's a convenient place for a pit stop for those driving the route from New Orleans to Birmingham.
It is, however, far-flung from the football palaces of the SEC. But a town of some 4,500 residents isn't a bad place to decamp when your focus is entirely on football.
Bennett decided Jones County Junior College was the place to kickstart his career.
"Him and his parents came over when he finished spring ball at Georgia," Jones coach Steve Buckley told SDS. "We laid it all out and showed him what we did offensively."
That was enough for Bennett, who wanted to get enough reps to earn a Division I starting job – wherever it may be.
"The plan was not for him to go back to Georgia," Buckley said. "He saw the writing on the wall with Fromm and Fields. But at the same time, I don't think he questioned his own ability."
Neither did Buckley, who was taking his own leap of faith. He had video of Bennett in high school, but other than that he was going on the recommendation of Georgia's coaching staff.
"Sometimes film lies," Buckley said. "We didn't know what we had until he could start throwing."
Because Bennett tore his labrum in spring practice at Georgia, Buckley never saw him throw a pass until the Tuesday before Jones' season opener. Yet he still knew Bennett was going to be his starter.
"He possesses that self-confidence that you can't coach and can't teach," Buckley said.
That confidence did not come across as arrogance to teammates.
"Stet was consistent. He was a leader," Buckley said. "He was really, truly one of the guys. He wasn't 'the quarterback from Georgia.' He was just Stet Bennett, from Georgia. He was just like one of us."
With the first month of the season essentially serving as Bennett's training camp – all his actual camp reps were walk-throughs – it took awhile to build timing with his receivers.
But once it got there, the Bobcats rolled. Jones reached the Mississippi Association of Community Colleges championship game thanks to Bennett's 314 passing yards and 65 rushing yards in a 38-36 semifinal win.
Bennett's season grabbed the attention of Louisiana-Lafayette coach Billy Napier, who was prepared to let him compete to become the Ragin' Cajuns starter. And that's where the story would have concluded if not for another twist of fate.
Fields, stuck behind Fromm on the depth chart after his freshman season, decided to transfer to Ohio State for the spring semester. Georgia needed depth in the quarterback room, and figured the transition would be smoothest with the guy who already knew the program and the playbook.
Kirby Smart offered Bennett the chance to return to Athens, this time with a scholarship.
Buckley advised his quarterback against that move. Though it would have served Jones well in recruiting to produce a Georgia quarterback, it was Bennett's future that Buckley was looking out for.
"I told him, 'I don't think you ought to do that. I don't think you're going to play there. They're signing you to be a backup,'" Buckley said. "I was being honest, and I thought it was my role as a head coach to be honest with him."
The 247Sports scouting report of Bennett's film at Jones was downright tepid, pegging Bennett's ceiling as an SEC backup.
"Lacks stature and has average arm strength. Was not super productive in junior college with a high interception rate and low yards per attempt," the report noted. "Projects as a backup quarterback who will provide depth at the Power 5 level."
Bennett didn't see things that way. The same confidence that helped him get the starting job at Jones without throwing a pass convinced him that the starting job at Georgia was his to lose.
Betting on himself, Episode II
After sitting a season behind Fromm, Bennett finally had his shot to compete for the starting position. But he needed to fend off a far more touted transfer in former USC quarterback JT Daniels in order to get it.
As it turned out, Bennett did beat out Daniels – but only because Daniels got hurt in practice leading up to Week 1. And both were behind D'Wan Mathis on the depth chart.
Mathis was out over his skis in the 2020 opener at Arkansas, though. With the Bulldogs down by an unseemly 7-2 score in the second quarter, Smart made the switch to Bennett.
Everything clicked, and Georgia rolled to a seemingly simple 37-10 win.
Bennett stayed Georgia's starter until hurting his shoulder in a loss to Florida. Daniels took over for the final 4 games of 2020. The Dawgs went 4-0 as Daniels averaged 307.8 yards per game with 10 touchdowns and 2 interceptions.
It seemed quite clear Daniels was going to lead the way in 2021.
Again, to everyone but Bennett.
"He's starting right now because he's a self-starter and self-believer," said Buckley, his JUCO coach. "Who would have thought he'd be the starting QB for Georgia in the National Championship Game? Just him and his family."
Bennett won the starting job going into Week 1 and has yet to relinquish it despite a good deal of fan outcry for Daniels.
But if the Bulldogs are really going to do this thing, this is the right script. It's meant to be the Georgia boy with the Georgia name who grew up in red-and-black leading the way, no matter how unlikely it's seemed every step of the way.
"I thought he was crazy going back to Georgia and I let him know that," Buckley said. "But Stet loves Georgia. Mix that with some talent, and he has something a lot of 4- and 5-stars don't have.
"Let's face it, he's talented. He checks all the boxes you want in a quarterback, except that he's 5-11 and a half."
Monday night, he'll try to check the biggest box yet: national champion.