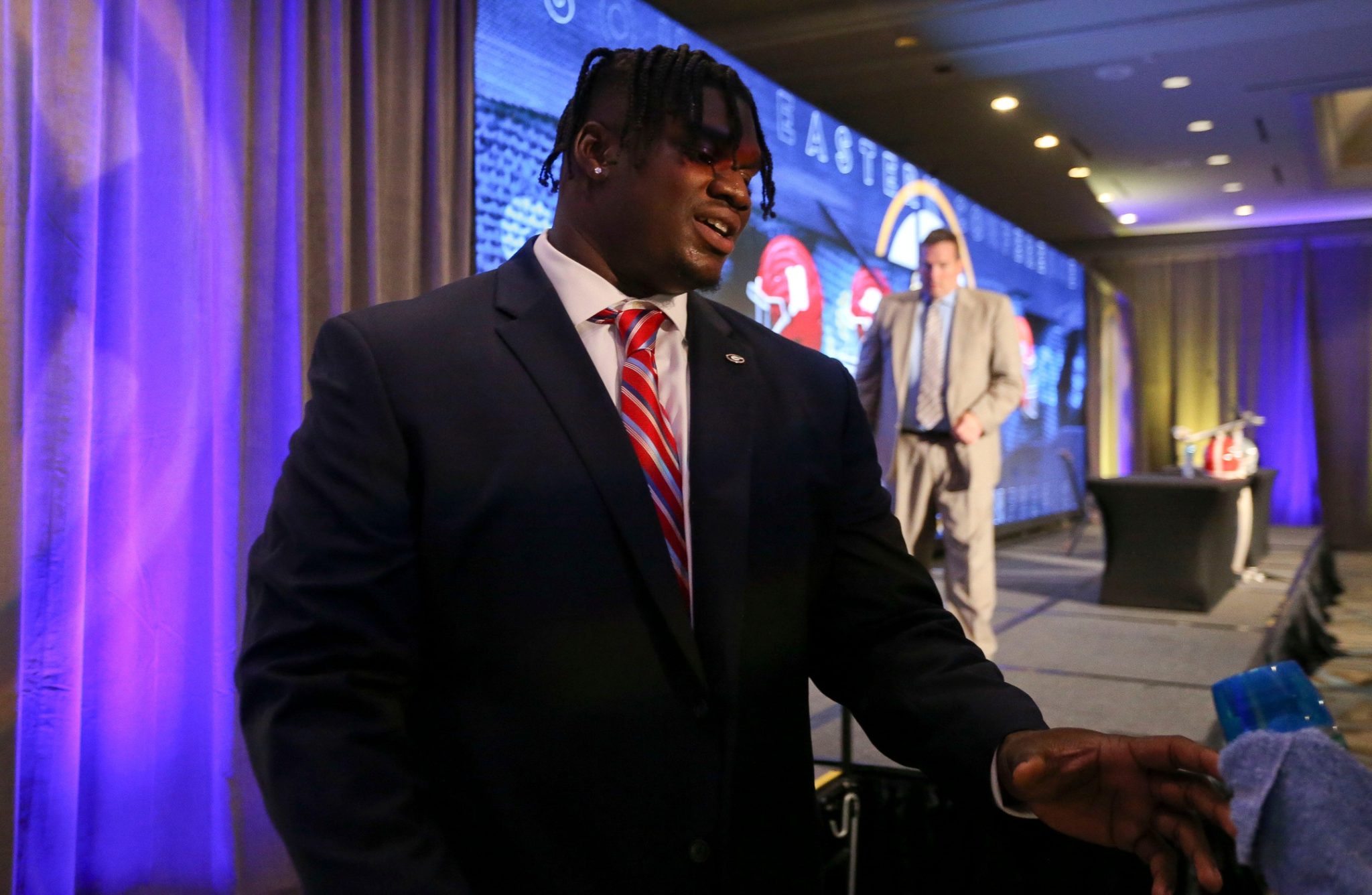 GEORGIA
You won't find a college football player as engaging (and selfless) as Georgia giant Jordan Davis
HOOVER, Ala. — Kirby Smart said in his opening statement at SEC Media Days that "if you get an opportunity, you won't find a better interview than Jordan Davis."
Thankfully, we got the opportunity. And yes, the Georgia coach was right.
Spend a half hour with Davis and your day is better. Forget the phrase "gentle giant," though Davis is certainly a giant at 6-6, 350 pounds (give or take 10 pounds), and he looked every bit of it rocking his dark suit, white shirt, red tie and red Gucci sneakers. The second-team All-American defensive tackle is every bit as engaging as he is selfless.
Oh, and he's extremely valuable as a defender. More on that later.
With the cameras on him Tuesday in the main media area of the Winfrey Hotel, Davis was comfortable enough to point at a reporter he knew and smiled as they asked a question. Or when a media member also talked about going to high school in Charlotte, Davis interjected with a "you went where?"
Davis can talk about anything. Whether that's his love for Swedish Fish or the relationship he has with fellow Georgia defensive lineman Devonte Wyatt, Davis is the rare combination of entertaining and intelligent when he speaks.
It was Wyatt who Davis called up when he made his decision to return to Georgia for his senior year. Davis didn't treat his Peach Bowl performance, which included a blocked kick and he pressured the quarterback a career-high 3 times with a sack, as an opportunity to cash in on his rising NFL Draft stock.
He is, above all else, intentional with everything he does.
"Easy decision," Davis said. "Like I tell everybody. But the biggest factor was the team. I didn't want to leave the team so soon. I felt like I had a lot more on the table … I called Devonte Wyatt and I was like 'Devonte, we doing this?' And he was like, 'Yeah, we're gonna do it.'"
Smart said that there really wasn't much of a backstory with Davis' decision to return for his senior year. Yeah, he wanted to graduate (with his religion major) and achieve all the cliché team things, but there was a mature process involved.
"Jordan was very deliberate about 'I want to get information, Coach. I'm not making a decision prior to.' In this day and age, I don't know that that happens all the time," Smart said. "I think a lot of kids make their mind up, it's a predetermined decision, and he didn't do it that way."
The pass-rushing element is where Davis wants to improve. He's never going to be a high-volume guy in terms of sacks as a 350-pound nose tackle (he has 5 in 32 career games), but the Peach Bowl version of Davis? That's what Georgia wants to see more of.
Jordan Davis with the BLOCK pic.twitter.com/oAPlNJyHI6

— Barstool UGA (@ugabarstool) January 1, 2021
Davis certainly can't improve much as a run defender. Look beyond the 16 tackles and 1 tackle for loss last year. Instead, look at the fact that Georgia had the No. 1 defense in America, and Davis had Pro Football Focus' No. 10 run defense grade among Power 5 interior defenders. That's why Davis got that All-America love, and it's also why he's so respected within that Georgia locker room.
Ask Davis about what stats he values and yes, he'll say he just wants to win. What else will he say?
He knows that as the face of the Georgia defense, he'll have more attention on him. That question was asked to Davis. His response was the byproduct of someone who truly understands his role as the space-eating force in the middle.
"Being on a watch list is cool and being on everyone's radar, but that's kinda what I want," Davis said, "Because if they're on me, that means somebody's free."
The Sunday grade sheet matters to Davis, too. If he does his job well, he likely won't have a steal-the-show moment. That's not his focus, even as the sport transitions into the Name, Image and Likeness era. He got rid of social media, and only brought it back this week for SEC Media Days.
Ask Davis about NIL and he'll give you an honest answer.
"I definitely think the NIL thing is a great addition to the NCAA. It gives us an opportunity to use our platform for profit, but in terms of me, I haven't touched it. I'm confused by it, honestly. It's a lot," Davis said. "But, yeah, I haven't really done anything. My main focus is just playing because you can't get an NIL deal if you're not good at football. So the main focus is just playing football."
Smart, however, had plenty of thoughts on that at SEC Media Days. He's embracing it, and on Tuesday, he even thought to bring up some sage advice he got from rapper Quavo, who texted the Georgia coach about advising kids "don't be thirsty."
Ask Davis about Smart name-dropping Quavo and he'll bust chops.
"I think definitely (Smart) and Quavo having a connection is cool," Davis said, "but I don't think Kirby could name a song that Quavo has been on."
The relationship between Smart and Davis progressed. The Georgia coach spoke candidly about Davis' weight control, which he said has been anywhere from 330 to 370 pounds.
That's a work in progress for Davis, who admits he likes to indulge in a late-night snack or two while playing video games or making beats. The organic Swedish Fish are his new go-to. "I don't feel guilty when I eat it as when I eat the regular ones," he said. Davis has been working with Georgia's nutritionist throughout the offseason. The focus is more on Body Mass Index (BMI) than weight.
"We have this little bio-pod (phonetic) thing we do every two weeks, bi-weekly. Definitely, the weight, I'm trying to keep control of it," Davis said. "I'm doing more things. I'm drinking smoothies. I'm drinking vegetables. I hate vegetables, but I put them in a smoothie and drink them."
The goal is for Davis to increase his snap count. Last year, he only hit 35 snaps in 2 of his 7 games. One of those was the aforementioned Cincinnati game in which he played 39 snaps.
Davis would love nothing more than to build off that performance in the season-opener against Clemson in his hometown of Charlotte. Smart said getting to play in that game was one of the reasons Davis wanted to return to school for his senior year. After playing in 3 consecutive New Year's 6 bowls, all that's left for Davis is to end his career with a national championship.
Ask Davis about his encore season and he'll make you realize he's ready to soak it all in.
"I just wanted to savor the moment because I feel like I didn't really savor my last season or past seasons because I was so rushed," Davis said. "I feel like this time around I'm really taking my time this season and savoring the moment and enjoying and being grateful for the moment because not a lot of people can be in this position."
Dare I say, nobody is quite in the position of Jordan Davis.