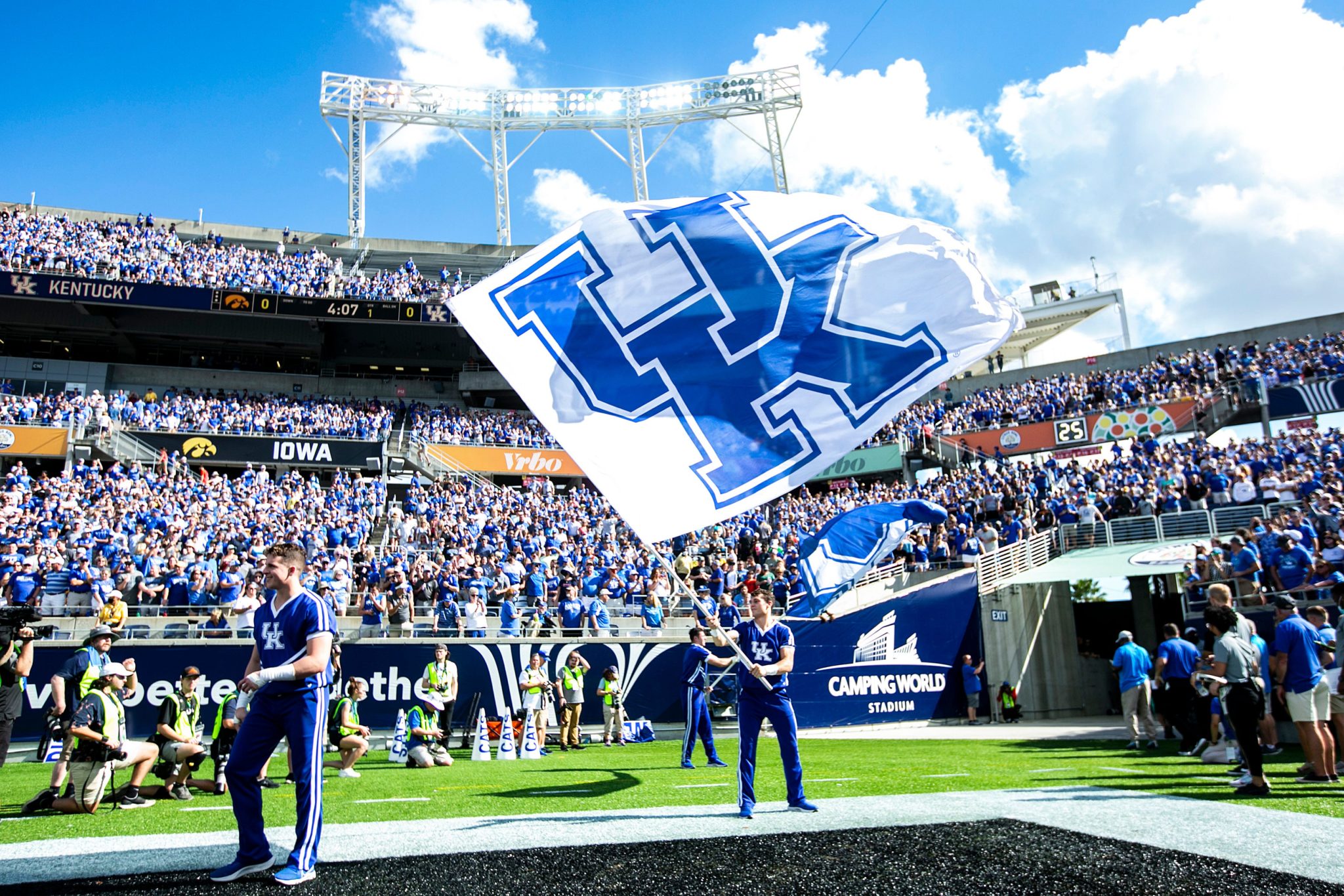 KENTUCKY
6 biggest questions I still have as Kentucky football heads to the offseason
Kentucky's spring game Saturday was the team's first public spring event in 36 months. The Wildcats have a pair of practices scheduled this week as they finish their spring slate and move into the long wait for fall.
Much of the history of Kentucky football consisted of teams with more roster holes than standout players. Those days are gone — Kentucky football is on the most solid footing it's been on since the early 1950s, just before Bear Bryant left town.
That doesn't mean there aren't still lingering issues and questions, though. Here are 6 heading into the summer.
1. Can Kentucky add some help in the secondary?
UK's secondary wasn't the strongest part of their 2021 team. The Wildcats were toasted in back-to-back losses to Mississippi State and Tennessee, and most of the pass plays called in those games looked like a relaxed summer 7-on-7. The Wildcats lost starting corner Cedrick Dort, safety Yusuf Corker and nickel Davonte Robinson. The Wildcats headed into the spring with 2/5th of their starters returning — corner Carrington Valentine and safety Tyrell Ajian. (Vito Tisdale also was returning, but he tore his ACL and MCL and is lost for the season.)
Kentucky is excited about returning frosh Jalen Geiger, but there are still several spots to fill. Sophomore Jordan Lovett was the defensive star of the spring game, with a game-high 9 tackles and a couple of passes broken up, including a gorgeous 4th-down break-up in the end zone. He's likely to figure in this group someplace. But Kentucky badly needs a proven veteran Power 5 cornerback who they can plug into a likely starting role. They might take 2 DBs in the transfer portal if they can find a good fit. The guys UK has don't look back — they just need several more of them.
2. Is UK OK at tackle?
Kentucky's offensive line has long been a strength, but depth concerns have whittled UK to a fine nucleus of interior linemen with Eli Cox, Kenneth Horsey and Auburn transfer Tashawn Manning slated to start inside. But tackle is a different matter. JUCO product Jeremy Flax struggled in limited action last season, but he's slated to hold down a spot likely at right tackle. At the moment, the left tackle situation is some combination of sophomore Deondre Buford and 5-star recruit Kiyaunta Goodwin. But there's reason to question Flax's readiness for SEC action, and both Buford and Goodwin are greener than the turf at Kroger Field. Kentucky probably wouldn't mind a plug-and-play tackle to at least add to the rotation. If not, there'll be some on-the-job learning on UK's offensive line this fall.
3. Are several good receivers better than 1 great one?
Kentucky committed to passing the football in 2021, despite having basically 1.5 SEC quality receivers. Nebraska transfer Wan'Dale Robinson was all he was supposed to be plus some. And senior Josh Ali battled injuries as a second solid target.
After that, UK's pickings got slim.
And while the 2022 UK roster has plenty more receiver talent, the question remains — can Kentucky cobble together a more effective offense from several contributing receivers than it did from 1 amazing one? Yes, transfer Tayvion Robinson looks like he could be the real deal. Frosh Dane Key shone in his spring game snaps. Kentucky has more depth at tight end than in recent memory. But at the end of the day, Kentucky needs to have 4 or 5 targets who could catch a pass with the game on the line.
Who those players are — and indeed, whether they'll be found — is a big question heading into the fall.
4. Which guys step up on the defensive line?
Kentucky lost all 3 starting defensive linemen from last season. Josh Paschal will be near irreplaceable and the heft of 357-pound Marquan McCall is not easily duplicated. The good news is that Kentucky has talent and was able to get them some snaps last season. Big-time recruit Justin Rogers had 16 tackles and junior standout Octavious Oxendine showed signs of developing into a force before his season was ended by a midseason injury. But who else steps up? Sam Anaele had a sack in the spring game, sophomore Tre'vonn Rybka has impressed people around the program, and Ohio State transfer Darrion Henry-Young could be a standout. The good news is that the personnel is there, but the question is who will step up?
5. Can Kentucky keep Mark Stoops?
With his 2nd win of 2022, Mark Stoops will pass Bear Bryant (60) for most victories at Kentucky with 61. By all indications, Kentucky's early commitment to Stoops and financial support of his progress has meant plenty. That said, at the present time, there's no real evidence that the sport's big dogs have ever truly gone all-in for Stoops, whose 2021 salary of $5.26 million ranked 6th in the SEC.
Sooner or later, a job made ideal by the combination of prestige and money will pop open — Iowa? Ohio State? One of the top SEC jobs? Given Stoops' rising profile, he's going to get a big-time program making him an offer that he can't refuse. So can he refuse it?
6. Can Kentucky hope to jump Georgia or should the Wildcats be more focused on warding off Tennessee, Mizzou, Carolina, etc?
It is worth wondering if anybody can compete with Georgia. But if UK is ever going to make a move to the top of the East, a year when the Bulldogs lost a ton of veteran talent and have to travel to Lexington is at least mildly intriguing.
But meanwhile, given UK's pass-coverage difficulties of 2021, a pessimist could reasonably say the Wildcats should focus on holding off Tennessee, South Carolina and Missouri. The Wildcats will have to travel to Knoxville this year — the good news is they won the last time they were there, the bad news is that was the first time since 1984. For much of Big Blue Nation, the hope of catching Georgia gained a little traction … but for those who love bad news, the fear of a step back still lingers.