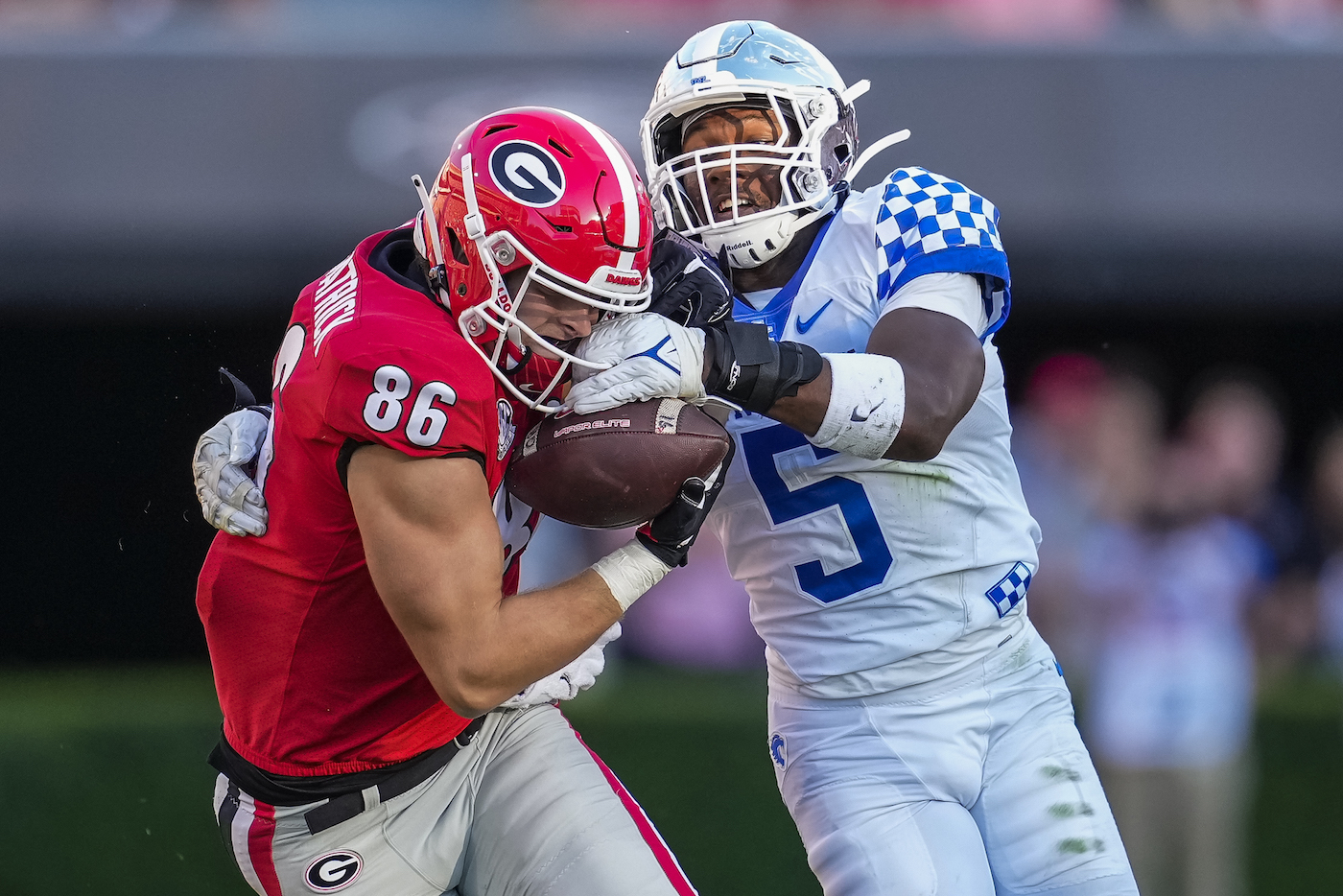 KENTUCKY
7 way-too-early predictions for Kentucky's defense in 2022
Mark Stoops will be at it again in Lexington in 2022. One of the most respected defensive minds in the SEC, if not college football entirely, he'll be blending returning veterans and incoming additions into a tenacious Kentucky defense where the whole generally exceeds the sum of the parts.
Stoops lost plenty of talent from his 10-win squad in 2021. How will this year's UK defense shape up? Here are 7 way-too-early predictions about the Wildcats' defense for the 2022 season.
1. Kentucky will allow more than 26 points per game for the first time since 2017
There are a variety of factors that account for this change. Yes, Kentucky will take a small step backward defensively in 2022. Given the loss of virtually their entire front and a significant chunk of a fairly average secondary, that feels hard to avoid. Kentucky also will have the most potent (and balanced) offense they've had for over a decade.
That will lead to both more quick-strike scores (which puts the defense back on the field) and a few more non-competitive games (which yields some defensive numbers in garbage time).
All in all, Kentucky figures to give up the most points they have since 2017, when they allowed 28.2 points per game. This doesn't mean the Wildcats won't be successful, just that it might look different than it has in recent seasons seemingly full of 20-17 and 17-14 wins.
2. DeAndre Square will be Kentucky's 3rd 300-tackle defender of the 2000s
Kentucky will get a super senior season from linebacker DeAndre Square, who finished 3rd in the team in tackles last season. After 4 seasons in Lexington, Square has 245 career tackles, placing him easily within reach of 300 career tackles. While old-time SEC tackle stats are massive due to being racked up in a run-heavy era (see UK leader Jim Kovach's 521 (!?!) stops), only Wesley Woodyard (395) and Danny Trevathan (374) have 300 tackles for UK in the 21st century. Square is pretty much guaranteed a spot on that list, which is a fitting spot for a guy who has been a fixture at Kentucky for perhaps their best four-year span since the Bear Bryant era.
3. Octavious Oxendine will have an All-SEC season
Kentucky lost starters Marquan McCall, Josh Paschal and Abule Abadi-Fitzgerald, but does return Oxendine, who was just coming into his own with a 2-sack performance against LSU before an injury ended his 2021 season. He had 15 tackles and 3.5 tackles for loss in part-time minutes over the first half of UK's season. The 6-1, 318-pound defensive tackle has enough burst to help Kentucky's veteran linebacker corps disrupt offenses. Given that most of Kentucky's rotation players on the d-line will have even less experience, Oxendine's combination of size and talent will make him a pivotal component of the UK defense, and an All-SEC selection.
4. Kentucky will force enough turnovers to break even on turnover margin in 2022
One of the weirdest trends of the 2021 SEC season was Kentucky consistently remaining at the bottom of the FBS rankings in turnover margin (they finished at -11) while posting their second SEC winning season since 1977. Turnovers can be symptomatic of significant issues … or just flukish luck.
There's a pretty good case to be made that a fair chunk of Kentucky's trouble was simply luck.
For instance, UK forced just 3 lost fumbles all season. Exactly 4 FBS teams forced fewer. The Wildcats also had just 9 interceptions, almost well into the lower half of FBS squads, and ahead of just 1 other SEC squad.
While Kentucky's defense will probably give up more points and big plays in 2022, they'll probably also force more big plays. Pencil UK in for around 18 turnovers forced, which will help them break even in turnover margin and could help Kentucky surprise skeptics this fall.
5. DB Jalen Geiger will have a breakthrough season
Kentucky lost 3 prominent players from their secondary rotation, with the end of the college careers of safety Yusuf Corker and nickel Davonte Robinson, as well as the injury loss of Vito Tisdale in spring practice. The Wildcats do return some significant contributors, but one player to watch is junior Jalen Geiger, who had 18 tackles and a pick-6 last season. Stoops likes experienced defensive backs, and while some of his DB rotation won't have that luxury, Geiger will.
He's a versatile defender, fast enough to play corner, physical enough to play safety. He'll have a starting role — and probably a starring role — by the end of Kentucky's season.
6. Kentucky will again hold opponents to under 4.0 yards per carry and 130 rushing yards per game
While Kentucky's pass defense has been very hit and miss, the run defense has done a solid job. In 2021, Kentucky held opponents to under 4.0 yards per carry and just 122 rushing yards per game.
Given the continued infiltration of passing coaches into the SEC, the return of Kentucky's outstanding linebacker corps (Jacquez Jones, Square, and all-freshman pick Trevan Wallace, among others), and Kentucky's continued offensive improvement, the Wildcats figure to be stout on the run again.
The early guess is that Kentucky will be basically as good on the ground in 2022 as they were in 2021. The pass could be a different story, but UK figures to hold their own in run defense.
7. Defensive coordinator Brad White will get an NFL job after the season
This one won't go well with the Wildcats, but Brad White has proven his bona fides in running a consistently top-flight defense. Given some of the personnel issues he's worked around, it would be ridiculous to assume that an NFL team isn't paying attention. White has been highly regarded throughout his 4 seasons in Lexington, 3 of which he's spent as coordinator. He turned down the LSU defensive coordinator job last offseason, but it's fair to expect that he'll have to listen when the NFL comes calling — the same NFL that took the previous coordinator, Matt House, from UK.