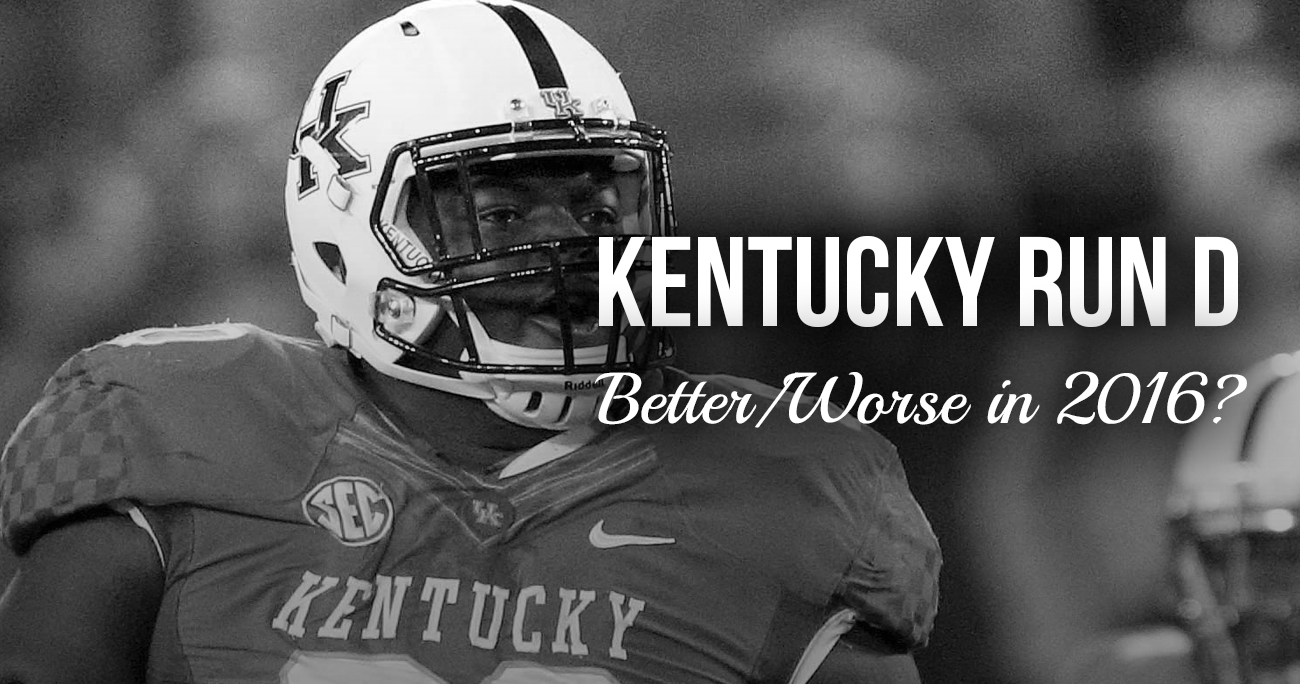 KENTUCKY
Better/Worse in 2016: Kentucky run defense
Kentucky fell one win short of automatic bowl eligibility for the second consecutive season in 2015, and as is the case with most sub-.500 campaigns, there's no shortage of blame to go around.
The offense was inconsistent and sputtered at times, but it was the defense that ultimately wore down as the season progressed. The Wildcats allowed more than 31 points per game in a stretch that saw them lose six of their final seven games last fall.
That means some might take a glass-half-full view of the fact that five of the players who started the season finale in the front seven are no longer on campus.
Even with a host of new faces in the starting lineup, this is a make-or-break season for Kentucky defensive coordinator D.J. Eliot. He's under pressure to turn this unit around, and should he fail to do so, his boss, Mark Stoops, may be on the hook as well.
2015 STATS
Rushing yards allowed per game (SEC rank): 196.1 (12th)
Most yards allowed in 2015: 314, Louisville
Rushing TDs allowed (SEC rank): 24 (tied for 3rd-most)
100-yard rushers allowed: 6
FRONT SEVEN
The Wildcats employ multiple fronts with a defensive end/linebacker hybrid that creates 4-3 and 3-4 looks, depending on the situation. Denzil Ware (below) spent some time in that position as a freshman (39 tackles, 5.5 tackles for loss), and with five sacks in the spring game, he'll be counted on to make more plays in his sophomore season.
A couple of transfers from Big Ten programs will bolster the linebacker spot as Courtney Love (Nebraska) and De'Niro Laster (Minnesota) should both compete for starting spots. Josh Allen and Jordan Jones should be ready for larger roles this year as well.
On the interior, juniors Matt Elam, a former five-star recruit by some services, and Regie Meant will need to take a step forward. Or, considering the issues Kentucky had in short-yardage situations, perhaps a couple of steps.
SECONDARY Enforcer
Replacing safety A.J. Stamps, the team's second-leading tackler, will be a key component to shoring up the run defense.
Darius West was his backup last fall, and he'll battle it out with Marcus McWilson for the chance to start alongside Mike Edwards (pictured, right).
Cornerback Chris Westry certainly has the size at 6-4, and Stoops joked this spring that he hopes he doesn't grow into a linebacker, but at just 185 pounds, he's still more feared in the passing game.
GREATEST CONCERNS
Can the new faces mesh into a cohesive unit, and will there be enough of them to provide the necessary depth? Last fall, no team allowed more yards on the ground in November than Kentucky's 895. There just weren't enough bodies to survive the pounding of an SEC schedule.
Georgia, without Nick Chubb, ran for 300. Louisville added 314 in the finale.
The transfers, two redshirt freshmen (Alvonte Bell and Eli Brown) and eight newcomers, headlined by linebacker Kash Daniel and tackle Naquez Pringle, will bring plenty of numbers back to the front seven.
Kash Daniel (@KashDaniel15 – @PvilleTigers – @UKFootball) Picture Edit ?? RT ?? Like ?? pic.twitter.com/o2nWS1NZIq

— Elite Roster (@eliteroster) January 26, 2016
Just how many of the freshmen are ready to play right away will be the $64,000 question.
"There's been too many opportunities we've let slip away," Stoops told the Lexington Herald-Leader. "We've been close. Our football team is tired of being close; we want to get over the hump. We want to get over the edge and it comes with a lot of hard work. The recruiting is taking care of itself. We're recruiting at a very high level. We're building the depth we need to have in our program."
2016 will help determine whether or not he's right.
ONE STAT THAT MUST IMPROVE
Kentucky absolutely needs to improve in short-yardage situations.
In 2015, opponents converted 30 of 41 attempts on 3rd-and-short. That 73.2 percent conversion rate was the worst in the league by a wide margin.
Peyton Barber converted 3rd-and-short three times on Auburn's final scoring drive — including the pivotal touchdown — in the Tigers' 30-27 victory over the Wildcats.
Ralph Webb converted a pivotal 3rd-and-1 to help Vanderbilt run down the clock in a 21-17 victory that, in reflection, cost the Wildcats a bowl bid.
The margins are so thin, just one of two stops could have meant the difference in playing in a bowl game for the first time since 2010.
BETTER OR WORSE IN 2016?
There are a few things working against any potential for improvement for the Wildcats' rush defense. First, the sheer number of new faces in the starting lineup will provide a challenge. It will undoubtedly take some time for the front seven to gel.
The schedule doesn't do Kentucky any favors, either. The season opener is against former offensive coordinator Shannon Dawson's new team, Southern Miss, which led Conference USA in rushing last season. Trips to Alabama and Tennessee could also be rough days for their defensive stats against the run.
That said, the major contributing factor to 2015's poor numbers was a lack of depth, and that shouldn't be an issue in 2016. The overall stats might not be much better, but the Wildcats have a chance to be better late in the season.
And if they manage that, Eliot's seat may cool off enough for him to keep sitting in Lexington.