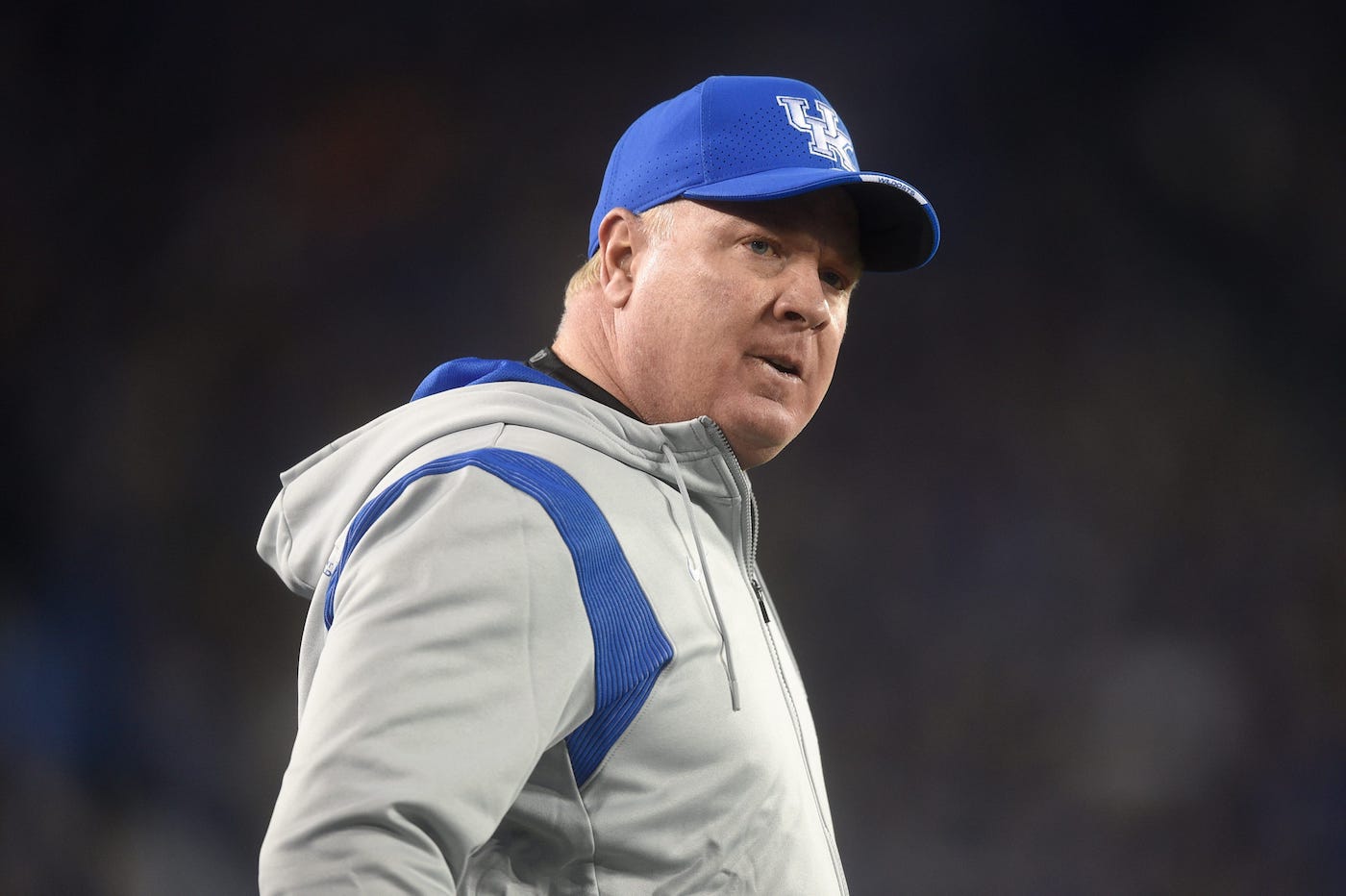 KENTUCKY
Hayes: Bottom line, Kentucky can replace John Calipari. It cannot replace Mark Stoops
I'm going to say this in the most efficient of ways, eliminating any doubt of where everyone in Big Blue Nation should stand.
You can replace John Calipari tomorrow.
It will take years to replace Mark Stoops.
"This program wasn't born on third base," Mark Stoops told reporters this weekend. "Some may, but I can promise you, this football team didn't wake up on third base."
Someone check on Cal, please. Make sure he's holding that bandage tight across his nose to slow the bleeding.
This is what happens when you don't read the room, step out of your lane and whine like a petulant teenager. John Calipari, the Kentucky basketball coach, wants his brand spanking new practice facility, and damnit, he wants it now.
Even at the expense of Stoops, the Kentucky football coach.
So that was Cal, proclaiming late last week that UK was — in case anyone had questions — a basketball school. Then he took it a damaging step further, one that frankly should never, ever, be excused by Stoops or the UK administration.
Cal proclaimed, "Alabama is a football school. So is Georgia. No disrespect to our team, I hope they win 10 games and go to bowls. But this is a basketball school."
Once someone utters "no disrespect to," what typically follows is unmitigated disrespect. This was that — and piled high with negative recruiting ammunition for every Kentucky football rival.
It was just last February that Stoops and his staff beat college football king Alabama head-to-head for top-100 recruits OT Kiyaunta Goodwin and WR Barion Brown. It was a definitive statement that the program, under Stoops, could now swing big with the SEC's heavy hitters.
Now every SEC coach can use this Calipari headline as the unquestioned reality on the UK campus: football takes a backseat to basketball.
"I did a lot of work, we did a lot of work," Stoops said. "That's in defense of my players and the work that we've done. Believe me, we want to continue to push, but don't demean or distract from the hard work, dedication and commitment that so many people have done to get to this point. I don't need to apologize for that, and I won't. But we want more."
Now is the appropriate time for Kentucky athletic director Mitch Barnhart, one of the top administrators in all of college sports, to set things straight. Publicly.
Now is the appropriate time for UK president Eli Capitolto, who many believe is the most sports-invested president in the SEC, to set things straight. Publicly.
If they don't publicly back Stoops and all he has built, they could easily lose him.
Who knows how much longer Kirk Ferentz sticks around Iowa, but I can assure you this: If he leaves, Stoops, a former Iowa defensive back, will be the first call.
Who knows if Mike Norvell will make it at Florida State, but I can assure you this: If Norvell fails, Stoops — who worked for 3 years at FSU as defensive coordinator under Jimbo Fisher — will be among the first called (just like the last time FSU was looking for a coach, and Stoops declined).
And that's just the beginning. Stoops has stayed at Kentucky over and over because Kentucky has been patient and loyal, and has paid him well.
But no coach needs this. No coach needs to bust his butt to build a program worthy of top 10 recognition, only to be gut-punched by someone at his own school — so that same someone can use Stoops as a doormat to get what he wants.
It's embarrassing for Stoops, and embarrassing for Kentucky — and incredibly short-sighted by Cal.
In 107 years of football, Kentucky has had 4 double-digit win seasons — 2 in the past 4 years from Stoops.
Meanwhile, Calipari has done what Tubby Smith, Rick Pitino and Joe B. Hall did before him: Followed the elite foundation built by legendary Adolph Rupp and won a national title. There have been 7 UK basketball coaches in the modern era; 5 have won national titles.
UK could fire Calipari tomorrow, hire Billy Donovan, and have more success (and national titles) than Calipari has delivered.
UK could lose Stoops tomorrow, and then what? Here's a hint: Joker Phillips, Guy Morriss, Hal Mumme, Bill Curry.
Stoops has Kentucky on the verge of breaking through to the SEC elite. He has recruited and developed rosters that compete with SEC heavyweights — despite an inherent recruiting disadvantage.
Kentucky isn't Alabama or Georgia, or LSU or Florida, or any other SEC heavyweight. Kentucky has flourished for years under Stoops in the recruiting wake of SEC blue-bloods, and only now, with the advent of NIL legislation, can Stoops truly take this program someplace unique.
He just completed the best recruiting class in school history, a top 15 ranking that includes a handful of prospects that had offers from mega college football powers — but chose Kentucky.
His team will begin this season with expectations as high as the golden years of Bear Bryant in the early 1950s, before momma eventually called him home to Tuscaloosa.
"When you start talking about the program and others that we compete against, to me, I don't do that," Stoops said. "I stay in my lane."
The last thing Kentucky needs is Stoops to stray from his Kentucky lane.
It would take years to replace him.