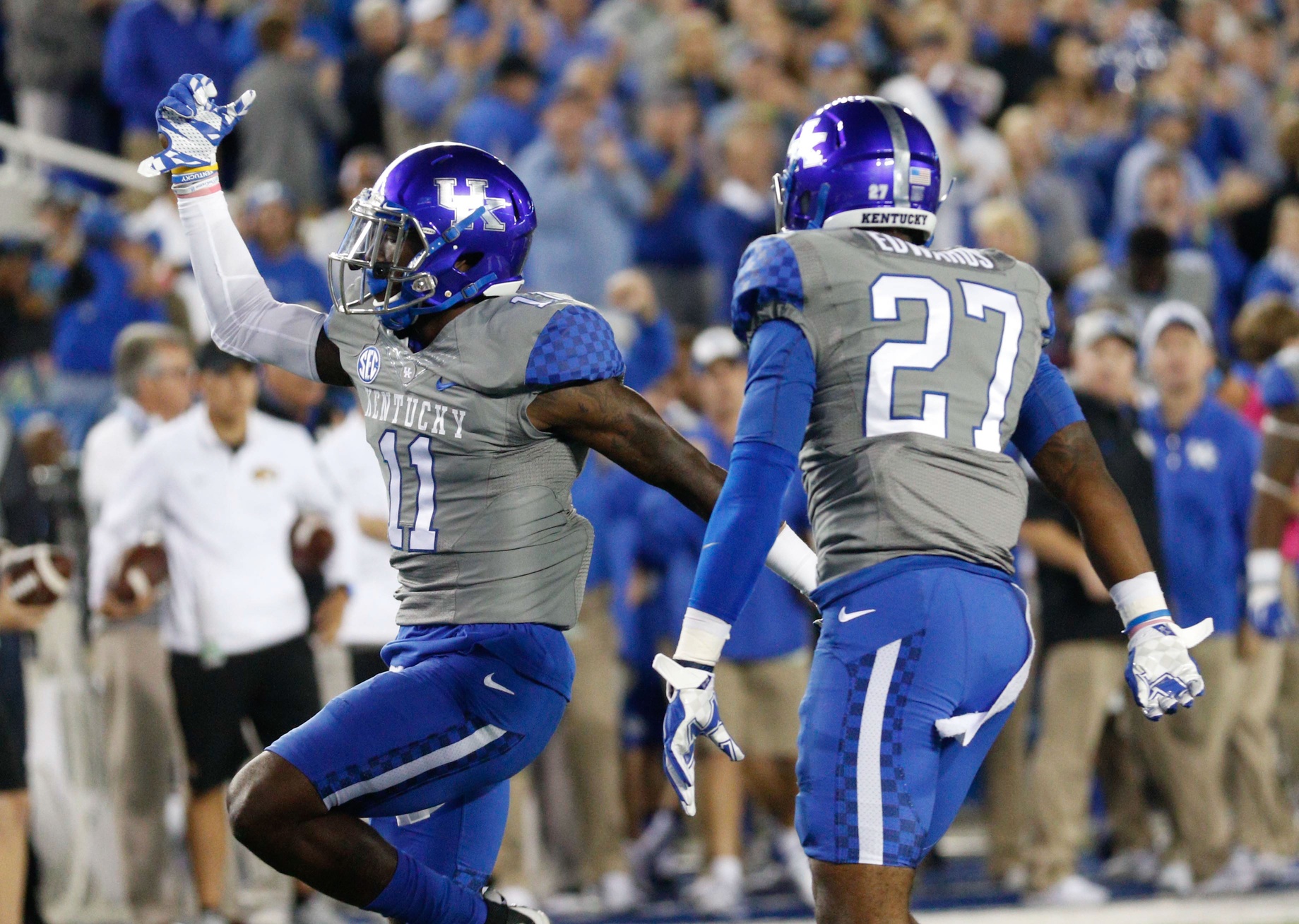 KENTUCKY
Kentucky 5 impact players to watch vs. Louisville
Relief finally came Saturday for the Kentucky Wildcats, as they snapped a five-game losing streak by beating the Charlotte 49ers.
Now with a little momentum heading into their matchup with Louisville to find out who the best football team in Kentucky is, these five Wildcats will have to make an impact in order for UK (5-6) to become bowl eligible:
1. QB Drew Barker: There's no question who the most important player on the field for Kentucky will be, recently named starting freshman QB Drew Barker.
STOOPS: (Drew) looked very comfortable back there. He was just playing football. He needs more reps. With his first start, I was pleased.

— Kentucky Football (@UKFootball) November 23, 2015
Against Charlotte Barker finished 16 for 29 for 129 with no TDs and no INTs. Not exactly an impressive stat line, but it was the first game Kentucky has gone without throwing an INT since Sept. 26.
2. RB Jojo Kemp: Kemp is averaging a respectable 5.8 yards per carry, but in Saturday's game Kemp ran for 165 yards on just 11 carries for 3 TDs (an average of 15.0 yards per carry). In his past two games, with Stanley Williams on the mend, Kemp has 218 yards and four touchdowns on just 19 carries.
Louisville better put a stop to his impressive November if they hope to win Saturday.
3. RB Stanley Williams: The Cardinals rank second in the ACC and 17th nationally in rushing yards allowed per game with a little over 120 rushing yards. Last week the Wildcats ran 44 times for 415 yards and 6 TDs in their first win since early October. Something's got to give.
In last year's matchup against Louisville, Williams ran for 126 yards and two touchdowns in his best game as a freshman. Look for the Wildcats to lean on their top RB again this year as he closes in on 1,000 yards. He's at 818.
4. S Mike Edwards: Last week's freshman SEC Player of the Week Award winner should continue to finish his first year strong at home on Saturday. Against Charlotte he returned his only interception of the season for a TD to put Kentucky up 51-3.
Louisville coaches have been back and forth between sophomore QB Kyle Bolin and freshman QB Lamar Jackson, so Edwards should have chances.
"Not sure who will start at quarterback, " Louisville coach Bobby Petrino said at his Monday press conference. "In the game the other day, they made good plays at times and they made bad plays at times. We've got to get out on the practice field and figure it out on the practice field."
5. LB Josh Forrest: In what will be the senior linebacker's last game in Lexington, hopefully Forrest can send his Kentucky career off on the right note. The Wildcats' leading tackler (by over 20) and leader in sacks hasn't gotten a sack since Oct. 3 against Eastern Kentucky.
He had eight tackles against Louisville last season.