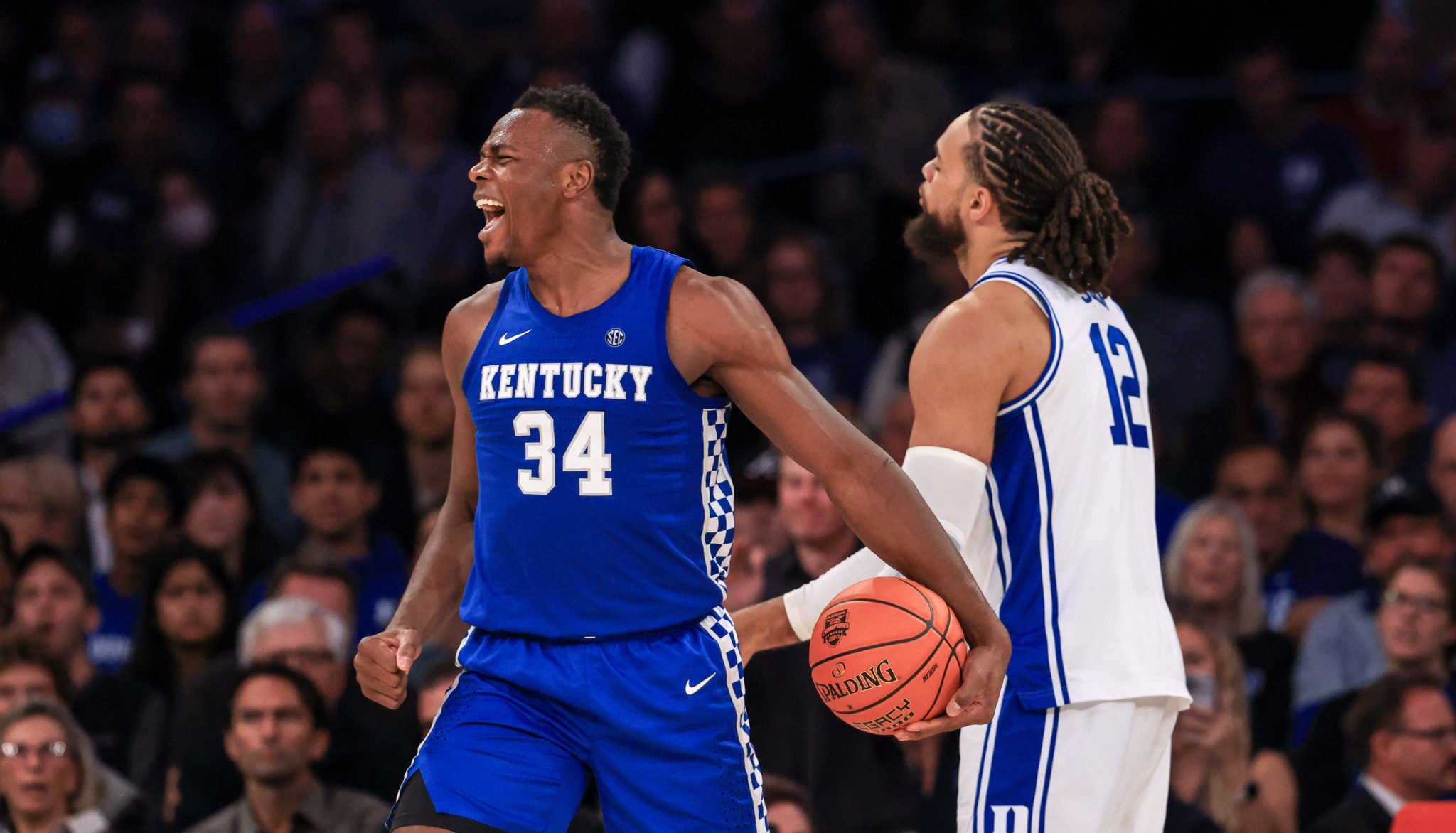 KENTUCKY
Kentucky basketball: Even in loss to Duke, plenty to like for Wildcats
After a 2020-21 season to forget, Kentucky opened the 2021-22 season with a 79-71 loss to No. 9 Duke, but it was a long way from the hopeless struggles of last season. For the first time in at least a decade and a half, Kentucky was led by a couple of experienced juniors — admittedly, they were juniors who were playing their first games in UK uniforms. But Oscar Tshiebwe (17 points, 19 rebounds) and Sahvir Wheeler (16 points, 10 assists) showed that they have the right stuff. When Kentucky's younger players join them, this UK team could be something special.
On Tuesday, Duke answered every Kentucky run, largely with a pair of standout freshmen. Freshman forward Paolo Banchero showed his All-American potential, putting up 22 points and 7 rebounds, particularly impressing with a silky mid-range jump shot. Freshman guard Trevor Keels scored a game-high 25 points, often with physical drives to the basket. Of course, it was the opening game of Duke coach Mike Krzyzewski's final season at Duke, a fact which was mentioned roughly 18,000 times on the ESPN telecast. Many within Big Blue Nation would note that the game officials apparently decided to award Coach K an early retirement gift with Duke attempting 23 free throws to 7 attempts for Kentucky.
Duke outshot Kentucky 47% to 32% in the first half. But on the strength of a dozen points from Georgia transfer Wheeler and a trio of treys from Davidson transfer Kellan Grady, the Wildcats kept it close, trailing just 39-35 at the half. Duke stretched its first half lead to 7 twice, but both times, Grady answered with a 3-pointer.
Kentucky raced to an early second-half lead, holding a 48-47 edge on a follow dunk from Keion Brooks with 16:33 to play. At that point, several Duke starters, including Banchero and Wendell Moore were visibly struggling with leg cramps. But Duke went on a 22-6 run, finished with a Banchero jumper making it 69-54 Duke with 9:19 to play.
Kentucky dug deep with another run, cutting the edge to 69-65 on a three-point play by Tshiebwe with 6:07 to play. Duke answered with a pair of Keels baskets sandwiched around a Banchero 3-point play. Kentucky would not get closer than 6 for the rest of the game as the Blue Devils cruised home.
Again, Tshiebwe was a revelation. His 19 boards were the most of any Kentucky player in his first game, topping Sam Bowie, Cotton Nash and Roger Newman's old mark of 17, the last of which came by Bowie against Duke to open the 1979-80 season — the last year before Krzyzewski took the head coaching job at Duke.
His 17 points were largely off his dozen offensive rebounds. The problem was finding another post player who could help him. Freshman Daimion Collins played 2 uneventful minutes, as did freshman Bryce Hopkins, and sophomore Lance Ware had 2 points and 2 rebounds in his 9 minutes of play.
At this point, Kentucky prefers to use Keion Brooks (9 points and 3 boards in 17 minutes) or Jacob Toppin (4 points, 6 rebounds in 23 minutes) with Tshiebwe. It may leave the Wildcats thin in the post, as both Brooks and Toppin are more wing-post tweeners than true post players.
Wheeler had a terrific first half (12 points, 5 assists), but a rougher second half (4 points, 5 assists, 5 turnovers, 2-for-7 shooting). Still, even when his shots weren't falling, his leadership means he'll be a mainstay. So will star freshman TyTy Washington, but he had an off night in his college debut, shooting 3-for-14 for his 9 points. Washington will come on, and Grady and super senior Davion Mintz both had moments as perimeter shooters. Iowa transfer CJ Fredrick is supposedly getting healthy and close to returning, and sophomore Dontaie Allen has shown perimeter skills in the past.
Kentucky played from behind for most of Tuesday's game, but the Wildcats fought hard and deployed a cast of veteran players who should keep the Wildcats competitive while the youngsters grow into college basketball. Kentucky's program is far too storied for moral victories, but after the roughest season in program history, Tuesday night was a loss that pointed its way to many future wins.