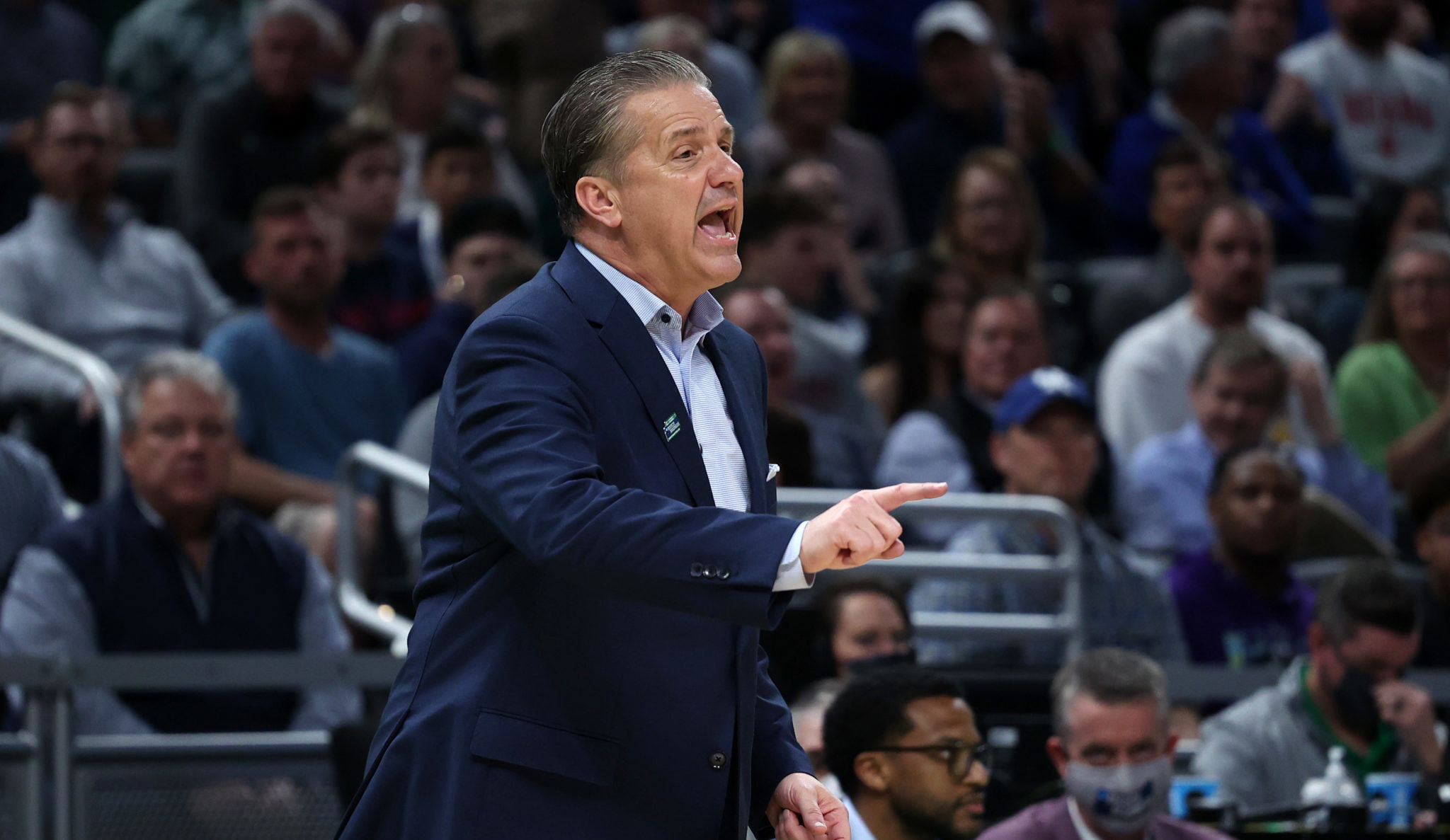 KENTUCKY
Kentucky basketball: The summer of BBN's discontent pending as Cal grumbling intensifies
At a program like Kentucky, numbers matter.
Numbers like these: 2,353 wins, 8 NCAA Tournament titles, 17 Final Four appearances, 53 SEC regular-season titles, 33 SEC Tournament titles. And now 1 dissatisfied fan base.
Because of the numbers that matter, new ones have arisen — like 1,108, which is the number of days (as of Sunday) since UK won an NCAA Tournament game. Or 62, which is the number of losses since Kentucky's last Final Four appearance. Maybe even 15, for the NCAA Tournament seed of Saint Peter's, the proud Peacocks who picked up their first NCAA Tournament win by embarrassing Kentucky in epic fashion.
As things stand, Kentucky fans might divide John Calipari into two distinct eras. First, the good Calipari — the guy who brought Kentucky back from Billy Gillispie-induced irrelevancy, who recruited John Wall, DeMarcus Cousins, Anthony Davis, Karl-Anthony Towns, who took UK to 4 Final Four appearances in his first 6 seasons in Lexington, and who was the hottest coach in college basketball. That Calipari apparently fled the premises sometime early in the second half of his 38-0 team's shocking semifinal loss to Wisconsin on April 4, 2015.
The bad Calipari has 0 Final Four appearances and the aforementioned 62 losses in 7 seasons since. He has missed out on recruits he used to grab, has won 9 NCAA Tournament games in 7 seasons (as opposed to 22 in those first 6 seasons). He struggled through a 9-16 season in 2021, which was UK's worst in almost a century. In the past 5 years, Kentucky has a single regular-season SEC crown and a single SEC Tournament crown. And Calipari and the Wildcats have been bypassed in the sport's pecking order, watching Kansas pass UK on the all-time win list, and Duke, North Carolina and Kansas claim NCAA titles since Kentucky's last Final Four game. For that matter, Auburn and South Carolina have been to the Final Four more recently than Kentucky.
Kentucky fans, by reputation, are a fairly thankless lot. The expectations in Lexington are never less than sky-high. Suffice it to say that a few times, fans were mildly exasperated even with the "good Calipari." Assembling rosters full of talented freshmen only to rinse and repeat a year later was always a challenge, even when Calipari could use the McDonald's All-American game rosters as his personal prospect list. But that was long ago.
Calipari's biggest recent signee, Shaedon Sharpe, is all but guaranteed to leave Kentucky after early-enrollment without ever playing a second. Kentucky's most recent team succeeded largely because West Virginia transfer Oscar Tshiebwe tapped into some sort of basketball zeitgeist to play at absolutely complete intensity and effectiveness daily. Meanwhile, Kentucky featured multiple non-scorers in some of the most court-clogging offensive moments ever. When senior shooter Kellan Grady was playing like Klay Thompson and super frosh TyTy Washington was at his best, Kentucky looked like a faint shadow of its prior glory. But when Washington hurt his leg and Grady lost his mojo, Kentucky spent most of its first-round NCAA game against Saint Peter's banging its head on a wall of bad shooting.
Given the decline in Kentucky's recruiting class raids, the Wildcats have tried to make up the difference in the transfer portal. And the results have been generally good. Tshiebwe — who many around the program are hopeful will return for another season — was superb. Grady, before a late-season swoon, looked like a guy who had played his way from Davidson into the NBA. Sahvir Wheeler was Kentucky's primary ballhandler and the closest thing to a calming hand on offense. Prior transfers Davion Mintz and Jacob Toppin have been pleasant surprises, if not exactly the caliber of players UK used to recruit.
But the roster exodus hasn't slowed. Washington is gone to the NBA, and Sharpe is all but certain to join him. Forward Keion Brooks is also testing the NBA waters. Reserves Bryce Hopkins and Dontaie Allen have both entered the transfer portal. Kentucky's two freshman signees are 5-star recruits per 247sports, but the Wildcats are now scouring the depths of mid-major basketball to try to add a few key late bloomers … and hope for a miracle of chemistry.
Results aside, what has changed with Calipari? Not much, although the same tendencies that were accepted and even endorsed a decade ago feel rather stale. Calipari never met a microphone he didn't like, and his desire to cast the narrative of Kentucky basketball becomes a heavier burden in recent times of trouble. Consider even a long-time Calipari supporter like Matt Jones:
Here's what the fans want

1. Don't have the worst season in school history followed by the worst NCAA Tourney loss in school history

2. If you do, show humility, make changes and don't talk to fans who complained like they are unreasonable simpletons https://t.co/HZz3FgNUbj

— Matt Jones (@KySportsRadio) April 7, 2022
In case his take on Calipari's public imaging wasn't clear, Jones had more to say.
If I could give Calipari 1 piece of non-basketball advice:

Stop being cute. Stop the "you people are crazy", "we are the gold standard" and ESPECIALLY "I haven't seen him" nonsense

Just show us you are passionate and want to win HERE above all else. Then BBN goes to war for you

— Matt Jones (@KySportsRadio) April 7, 2022
Given the lifetime contract that Mitch Barnhart signed with Calipari in June 2019, the intelligent talk is about making changes. But with the UK coaching staff revamped ahead of the 2021-22 season, it's unlikely that there's real movement there. Calipari continues to lean on a loosely structured dribble-drive offense, often built with teams with only a designated shooter or two. His teams play man-to-man defense virtually exclusively. Kentucky's baseline inbounds play (yes, singular) hasn't changed in roughly 12 years. In a one-possession setting, Calipari will not call a timeout to set up any type of play.
Change looks out of the question, really. Sure, another capable perimeter scorer or two will probably be added to UK's roster. Maybe assistants like Chin Coleman will get more of a voice in game planning and Xs and Os coaching. But the lingering question remains: What if Calipari simply is what he is?
In many ways, Calipari is still a man in an ideal position. Kentucky is talented, long on resources and prestige, and had the Wildcats bested Saint Peter's, the Peacocks' ensuing success suggests that the Wildcats also might have eased on into the Elite 8, but with more upside that the 15 seed once they arrived there. Many of the way-too-early preseason Top 25 predictions for next fall feature UK in a highly-ranked position.
But the hot seat is never really cool in Lexington and Calipari is approaching late years of Tubby Smith levels of warmth. Having invented the wheel once in terms of building some of college basketball's best teams, he seems to be in little hurry to come up with a new blueprint. So from now until November, it's a long hot-stove season for UK basketball. And Coach Cal is the one who has the warmest summer of all. When near-inevitable change collides with one of the sport's biggest egos, what happens next is anybody's guess.