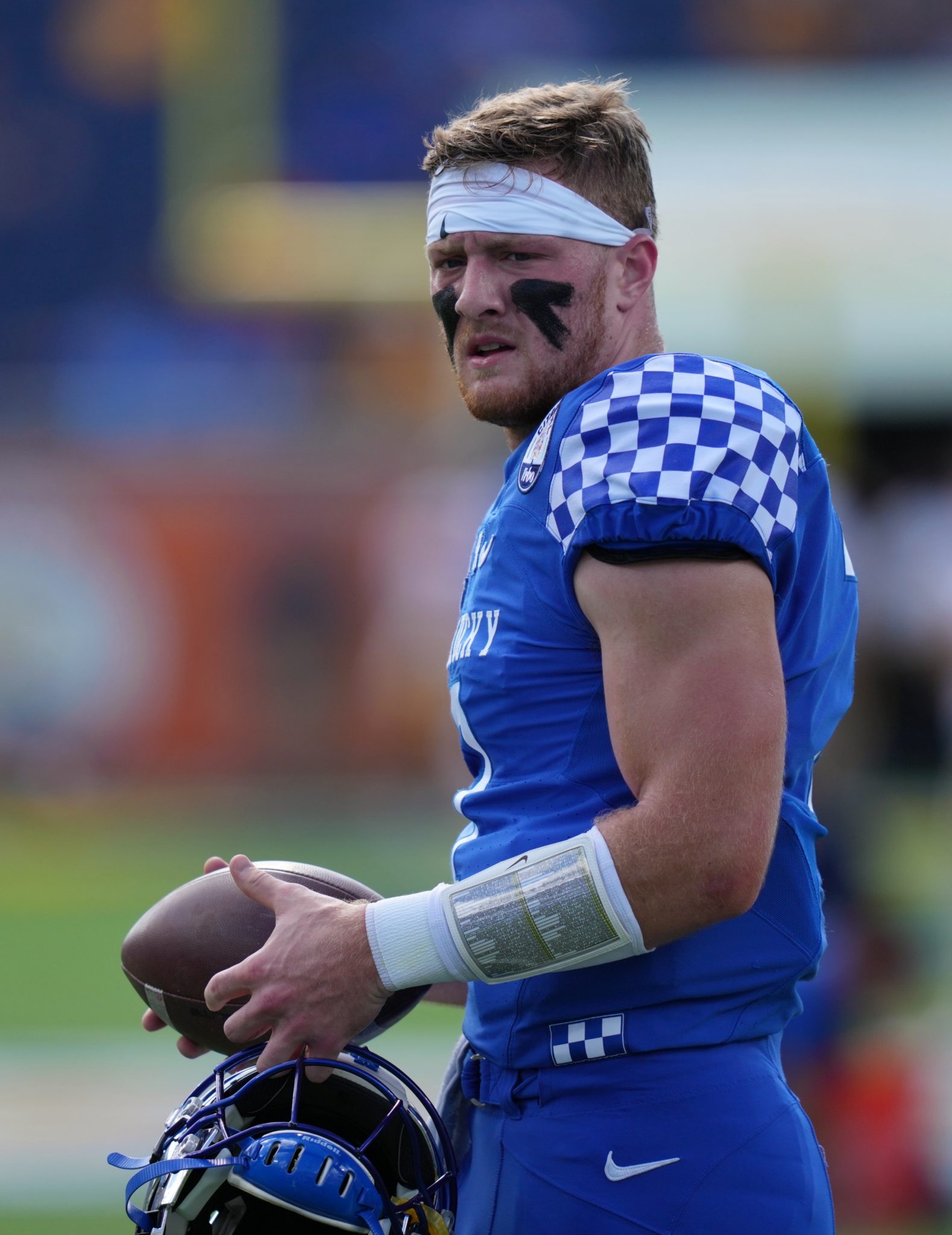 KENTUCKY
10 most critical questions Kentucky must answer in 2022
While it's a good time to be a Kentucky Wildcat (a pair of 10-win seasons in the last 4 years, Mark Stoops preparing to set a program record for coaching wins, an impressive recent run of NFL Draft picks, etc), it doesn't mean the 2022 season doesn't have some lingering questions. With fall camp just around the corner, here are 10 questions the Wildcats have to answer in 2022.
1. What's up with Chris Rodriguez and how important is he anyway?
Rodriguez, a senior bowling ball of a back who was 2nd in the SEC in rushing in 2021 with 1,379 yards, elected to return to Kentucky for his senior season. He recently pled guilty to a DUI, but there are continued rumors of other off-field issues that could sideline Rodriguez for some or all of the 2022 season. Kentucky will likely address the rumors shortly, and some around the program remain optimistic that Rodriguez will miss only a couple of games. But if Rodriguez is really out? In a recent conversation, one longtime observer around the program admitted that he thought Rodriguez could be a 2-win difference (10-2 vs. 8-4, perhaps). While Kavosiey Smoke and JuTahn McClain (not to mention frosh La'Vell Wright) all have shown bursts of potential, Rodriguez's proven track record makes his status issue No. 1 in the Wildcats' offseason.
2. How will Rich Scangarello work out as coordinator?
Kentucky hired Liam Coen a year ago to jump-start a sluggish offense, particularly in terms of the passing game. Coen worked well with QB Will Levis and WR Wan'Dale Robinson, boosting UK 10.5 points and more than 100 passing yards per game from 2020. But he's back in the NFL, and veteran assistant Scangarello is over from the San Fransisco 49ers to take over the job. Coen was masterful at getting more from less in the passing game — particularly getting Robinson a ton of touches despite the fact that he was UK's only real weapon in the passing game for much of the season. Stoops' prior offensive coordinators haven't been exceptionally successful, so it'll be interesting to see what kind of game Scangarello calls, and how he helps Levis keep the "oomph" in Kentucky's passing game.
3. How much can Levis improve?
Kentucky brought in the Penn State transfer and basically handed him the starting QB job. Levis was uneven at times, but he showed flashes of massive talent, passing for 2,826 yards and 24 scores while rushing for another 376 yards and 9 TDs. Levis did throw 13 interceptions and sometimes forced plays, but some of that had to be leading an offense with 1 healthy and productive receiver for half the season. Some was also the learning curve of going from the sideline at State College to the Day 1 starter in Lexington. Many NFL Draft analysts think Levis could be a 1st-round pick next year, and given the uncertainty around Rodriguez, Kentucky needs Levis to iron out some of the minor flaws and be their first 3,000-yard passer since 2010. How much more he can do could well tell the story of UK's season.
4. Who's going to bail out this secondary?
Kentucky's secondary had some significant problems in 2021, including losses to Mississippi State and Tennessee when the opposing QBs completed virtually all their passes and just marched up and down the field. SEC offenses completed more than 71 percent of their passes against UK, and the Wildcats don't return CBs Cedrick Dort and Quandre Mosely, S Yusuf Corker or nickle Davonte Robinson. Also out for 2022 is emerging talent Vito Tisdale, who suffered a spring injury. UK does return starters Carrington Valentine (corner) and Tyrell Ajian. Sophomore Jalen Geiger came on to play more and better as 2021 continued, and Ole Miss transfer Keidron Smith figures to see plenty of snaps, as will Texas State transfer Zion Childress. But depth — particularly without Tisdale — is a significant concern. Kentucky has to defend the pass better in 2022, and jumping production from just 5 defensive turnovers forced in 8 SEC games last year largely will rely on the secondary.
5.Who's going to step up on the defensive line?
Kentucky replaces all 3 defensive line starters. That's the bad news. The good news is that it's a talented group of replacements. Highly touted tackle Justin Rogers will conitnue to see more snaps. But the impact player of the group could be greatly improved end Tre'vonn Rybka, who those around the program raved about in the spring. Sophomore Octavious Oxendine was having a nice 2021 season (15 tackles, 3.5 tackles for loss) until a midseason injury shut him down. Ohio State transfer Darrion Henry-Young could be part of this answer, too. There's plenty of talent, albeit not much experience.
6. Will Kentucky's Big Blue Wall be OK at tackle?
Kentucky's offensive line is one of the unheralded stories of the SEC. The Wildcats have cobbled some tough-as-nails in-state kids and a few under-the-radar recruits into one of college football's best offensive lines. But graduation and NFL losses leave Kentucky struggling to find new tackles. JUCO Jeremy Flax wasn't ready for extended time a season ago, but he has apparently turned over a new leaf in the offseason. Super recruit Kiyaunta Goodwin is very talented, but also very raw. Redshirt Deondre Buford might hold down the spot until Goodwin is ready, and fellow frosh David Wohlabaugh Jr. has a reputation as a bit of a mauler, which can't hurt. Protecting Levis and sealing the edge for Rodriguez and company will be key, but Kentucky's going to have some new faces doing so this fall.
7. Who steps up at receiver?
Kentucky has to replace Wan'Dale Robinson, which is a job for a couple of players, and fortunately, there are some good suspects. Virginia Tech transfer Tayvion Robinson is perhaps the biggest piece of the puzzle. The 3-year starter (1,555 career receiving yards) for the Hokies is dependable and explosive. And he'll get some help. Freshman Dane Key impressed in the spring game, and despite a rail-thin frame, he has SEC levels of explosiveness. Veteran DeMarcus Harris has shown flashes (12 catches for 150 yards in 2021), and redshirt frosh Chris Lewis could be the fall surprise of the bunch. Fall enrolee Barion Brown will be too good to keep off the field. While UK won't have 1 target who ends up with 104 catches like Wan'Dale did, it could end up with 3-4 who grab 42-plus passes, as opposed to only 1 last season.
8. Can Kentucky beat Georgia?
Having managed to end massive losing streaks to Tennessee and Florida, Kentucky has one giant left to slay — Georgia, last topped by the 'Cats in 2009. Could this be the year? While the Bulldogs are massively talented, they stand to be something of a rebuilding team this fall. The game is in Lexington, and the stars could align for a pivotal game here. Both teams will be playing their final SEC game of the season, and for Kentucky, the goal is to make this game mean something more than just another chance to take down a top program. Speaking of which …
9. Can Kentucky win 10 games for the 3rd time in 5 years?
At Kentucky, a 10-win season is rare enough that it's still a signifier of continued program improvement. And the only thing better than Stoops' 2 10-win seasons in 4 years would be another. Is that realistic? Kentucky really needs to win in Week 2 at Florida to have a shot. A late home game against Georgia will have Kentucky as a substantial underdog. The Wildcats also have to go to Ole Miss and Tennessee. In a topsy-turvy SEC East, you could argue that UF and UT are the 2 biggest games on the Wildcats' schedule. Win those 2 and another 10-win season is entirely plausible. That would allow for a loss at Ole Miss and another random unexpected loss someplace along the line (which always seems to happen), provided that a bowl win would still be the 10th victory.
10. Can Kentucky keep Stoops?
The good news for Kentucky is that Stoops, particularly if he posts a strong 2022 season, will be marked as someone worth coveting for a rebuilding program. The bad news is that Kentucky has to keep him. There is some apparent friction between AD Mitch Barnhart, who has held his job for 2 decades, and the football and basketball staffs, who are struggling to implement competitive NIL policies in the most massive grey area in the history of the NCAA. Add that promised upgrades in football facilities are kind of crawling along timewise, and that the SEC is going to be much tougher very, very soon (Texas, Oklahoma, potentially Clemson and Florida State), and Stoops might be inclined to listen to an offer he can't refuse.