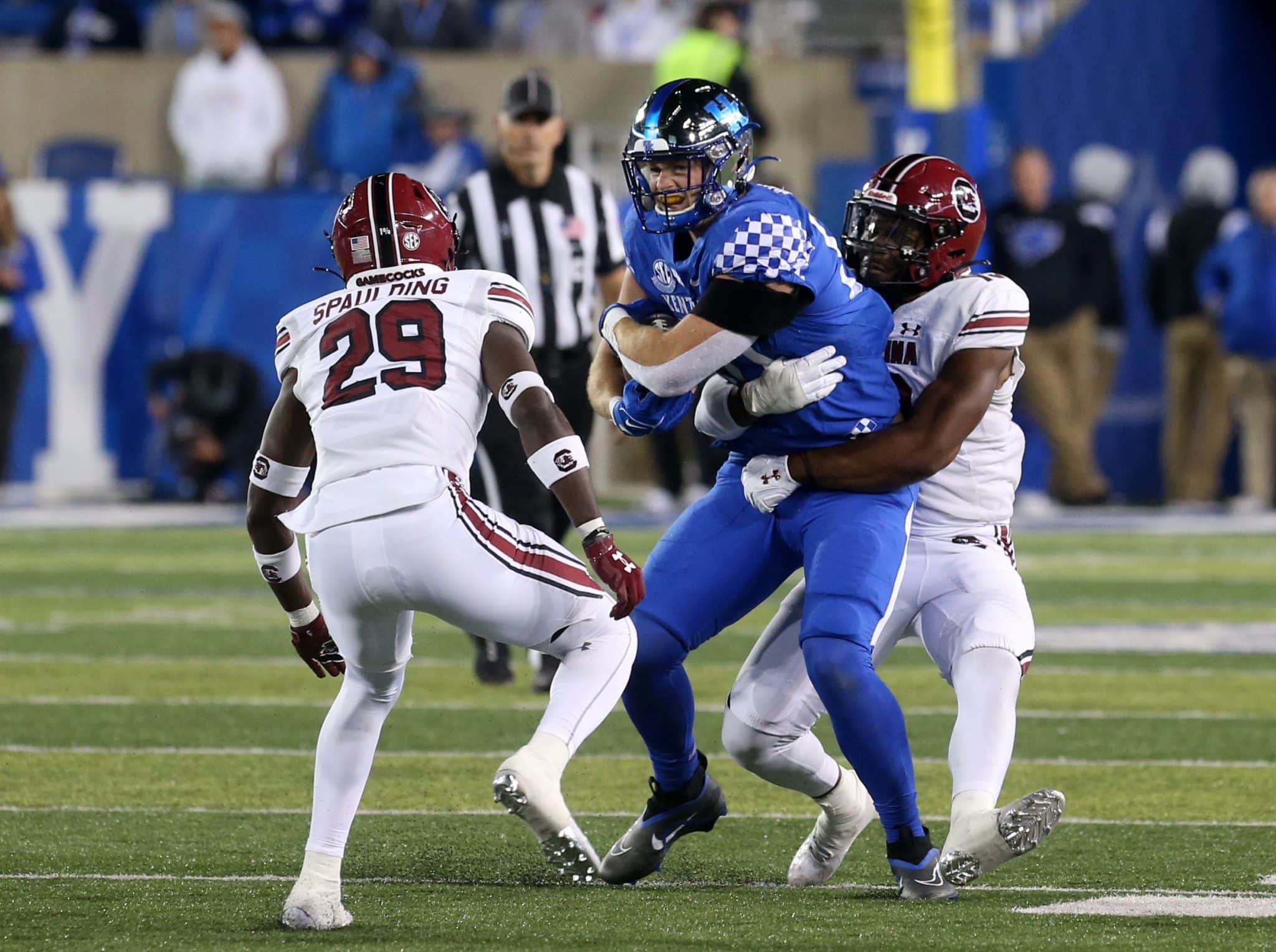 KENTUCKY
Kentucky football: 5 bold predictions for the matchup with Mississippi State
Before Mark Stoops or Mike Leach, Kentucky generally had 2 SEC games per year that offered a barometer of the Wildcats' chances in the conference — Vanderbilt and Mississippi State.
Lose 1 (or both) of those and it could be a long fall. Win both and the 'Cats might have something. State has been Kentucky's permanent SEC West opponent since divisional play came into being in 1992, so the Wildcats and Bulldogs have seen each other through thick and thin. This is one of the better Mississippi State teams Kentucky has faced, and the Wildcats badly need a momentum-swinging win.
Here's 5 bold predictions for what might go down on Saturday night in Lexington as No. 16 Mississippi State (5-1) and No. 22 Kentucky (4-2) square off:
1. Will Levis plays
Admittedly, a week ago, I said he'd play against South Carolina. But that was based more on a thought that he'd pull a Kirk Gibson (1988 World Series, if you're too young to know), limp into the huddle, spit on his bad wheel and grind out a win.
This week, he's practicing. A week of healing and a week of pondering a Levis-less game means that Levis is back and if not at 100 percent, he's pretty darn close.
2. Kentucky will still run the ball a lot … and relatively well
Normally, Kentucky would love to sling the football around with Levis. But there are a couple of issues here. One is tempo — or more accurately, not falling victim to tempo. A year ago, Mississippi State held the football for 41 minutes, 10 seconds of its 31-17 win over Kentucky. State ran 74 plays while Kentucky ran 48.
Another issue is Levis — and the horrific protection he's had all season. If Kentucky's offensive line was the line from last season and Levis was healthy, UK might love to throw 40 or 45 passes. But since neither is the case, dial back on that.
Meanwhile, Kentucky actually is bringing back its ground game. As bad as the UK running game has been, the good news is that Kentucky has not yet rushed for less yardage in any game than in the game before. Last week's 121 yards (particularly if you take the negative yardage from 6 sacks away) was getting closer to what UK would like.
Put up 150 yards, run it 40 times and you're coming closer to what Saturday should yield. Mark Chris Rodriguez down for 125 of those yards on 30 carries.
3. Tayvion will play big
Transfer wide receiver Tayvion Robinson might be the key to Kentucky's offensive execution. In the 3 games when UK has scored 30 points, Robinson has 19 receptions for 349 yards. In the 3 games when Kentucky doesn't score 30 points, Robinson has 6 catches for 43 yards.
As the veteran heart of the receivers' group, Robinson will be critical against an aggressive Mississippi State defense. As the stats above suggest, if UK can get Robinson going, its offense will be significantly better. Put Robinson down for 75 to 100 yards and a touchdown.
4. State will dink and dunk for 350 yards passing
A year ago, Will Rogers had time to make a ham sandwich, prepare his tax return, defrost a freezer and let some paint dry whenever the Bulldogs went to pass. Kentucky somehow had 2 sacks against Rogers, but he went 36-of-39 passing in some of the cleanest pockets ever seen.
State is good at what it does. The Bulldogs lead the SEC in 10-plus-yard completions with 85, are 2nd in 20-plus-yard completions with 26 but fall to the middle of the pack quickly thereafter. Kentucky will give up some yardage. The Wildcats — particularly without Jacquez Jones — will be reluctant to blitz the Bulldogs, and State will click throughout the game in the air.
Kentucky's hopes are turning a few drives into field goals and picking up a timely turnover or 2 — something that didn't happen last year when UK lost the turnover battle 4-0.
5. The defense delivers late
Levis — assuming he can stay upright — should be good for some big-play offense. The prediction here is that he puts up 4 touchdowns, 2 on the ground for Rodriguez, 1 to Brenden Bates and 1 to Robinson.
Add in a Matt Ruffolo field goal (told you we were bold) and that stakes UK to 31 points. State has 28 of its own and is driving for a potential winning score late in the 4th quarter when Deone Walker picks up a strip-sack of Rogers that lifts Kentucky to a mild upset win while Mississippi State ponders playing Alabama next.