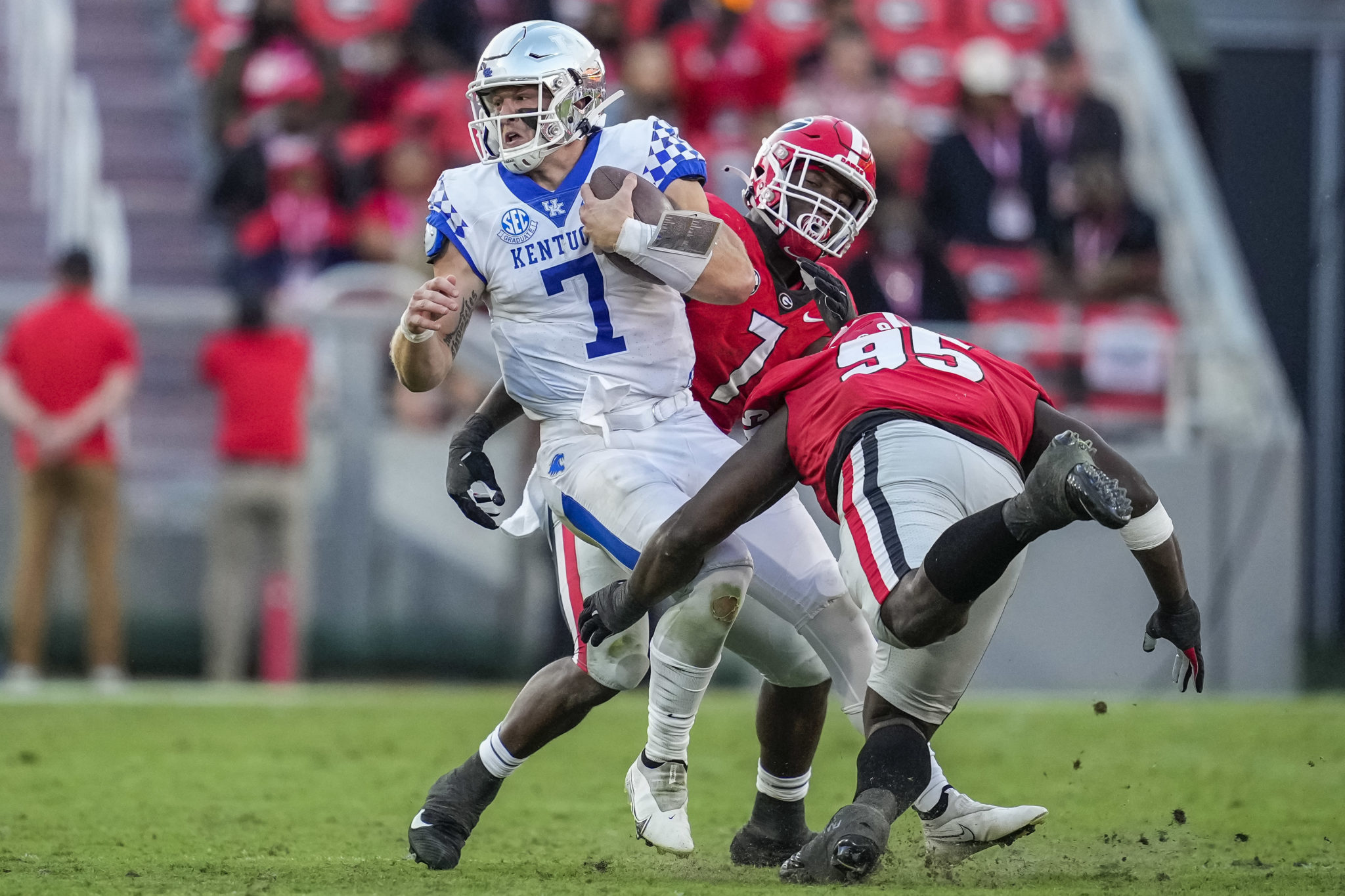 KENTUCKY
Kentucky football: 5 statistical trends the Wildcats must reverse in 2022
Kentucky doesn't have a lot about its football program that needs fixing. Going 10-3 for the second time in 4 years is a boost from a program that has often been mired in the lower echelons of the SEC. That's not to say it's all perfect. Even for the Wildcats — fresh off their first national preseason ranking in 44 years — there's room to grow. Here are 5 statistical trends UK needs to reverse to keep the program on the tracks in 2022 — and how they can be fixed.
1. Improve the turnover margin
Kentucky has to be one of college football statistical oddities. Most good teams take advantage of turnovers. Most bad teams are doomed by them. Kentucky finish last year 10-3 with a Citrus Bowl win … and a minus-11 turnover margin, tying it for 125th of 130 FBS teams. The 4 teams unlucky enough to finish below UK won 9 games … TOTAL. Kentucky won 2 games despite going minus-3 in turnovers in each, and won another 2 games despite going minus-2 in turnovers in each. Sometimes, it's better to be lucky than good. But UK would prefer to err a little more on the good side in 2022. The good news is that with Will Levis more comfortable and Chris Rodriguez Jr. likely shedding an odd trend of fumbles from last year, Kentucky can't help but do better.
2. Have the first 3,000-yard passer in a dozen years
One of the lessons of Mark Stoops' rise at Kentucky has been that passing the football can be more or less optional — at least sometimes. Kentucky reached bowls in 2019 and 2020 despite passing for just 114 and 121 yards per game — each stat being a distant 14th of the 14 SEC teams. The combination of new offensive coordinator Liam Coen and QB Will Levis saw Kentucky rise to 225 passing yards per game, which was 10th in the SEC. Now, with another NFL assistant running the offense and Levis back for another year, there's no reason UK can't have its first 3,000-yard passer since Mike Hartline in 2010. If Stoops' offenses could grind out wins with one arm tied behind its collective back, imagine what a legitimate passing game can mean. Admittedly, Wan'Dale Robinson is gone, but Kentucky has as many options at receiver as in its recent history and has a rising star at QB. 3,000 yards should be easily within reach.
3. Quit getting punished by the Ole Miss offense
Kentucky and Ole Miss don't play each other terribly often — only 8 times in the 2000s. But over the years, whether the Rebels were working the ground-and-pound or Lane Kiffin's aerial attack, they have lit up the scoreboard against the Wildcats. In 5 of those 8 games against Ole Miss in the 2000s, Kentucky has allowed 35 or more points, including 40 points 3 times. Kentucky is 0-5 in those outings and otherwise is 2-1 against the Rebels. Kiffin's squad beat UK, 42-41, in overtime in their last matchup. If Kentucky can break the 35-point trend, it's probably in pretty good shape for a crucial road win against the Rebels. The bad news is that Kentucky's Achilles' heel last year was pass coverage, and Ole Miss' closest matches on last season's schedule — Tennessee and Mississippi State — went 51-for-59 for 660 yards against UK. Kentucky hopes a pair of veteran transfers — one being former Rebel Keidron Smith — will give it superior pass coverage. Whether they do will probably tell the tale of this game, if not UK's season.
4. Stop the struggle against the East's Big 3
Sure, Kentucky can legitimately claim to have bypassed Vandy, Missouri, and South Carolina (although Shane Beamer and Spencer Rattler might object). But the SEC East's big 3 have remained pretty big to the Wildcats. Even during this 6-year bowl streak, UK is a combined 4-14 against Georgia, Florida and Tennessee. Yes, the Bulldogs are defending national champs, so that 0-6 is not surprising (it's actually 12 losses in a row against UGA). But the 4-8 mark against Tennessee and Florida is rough. During Kentucky's run, the Gators have won 10 games twice (just like UK), while the Vols haven't reached that mark at all. In fact, they've got a losing record over that run (36-37). But Kentucky needs to improve on the 2-4 mark against each in the past 6 seasons. Kentucky hasn't beaten UT and Florida in the same year since 1977. That was a 10-1 team that finished the year in the top 10. UT is back up a few notches, but the Gators are vulnerable. If Kentucky can knock off both on the road, that'll be a first in program history. And it would probably lead to a bowl that Kentucky hasn't been in since the Bear Bryant years. If the passing defense can come out strong, there's reason to think a balanced UK team has a real shot to pull off both. Without either, it's not hard to imagine the argument being that 4th in the East is UK's ceiling.
5. Break the first UK kick return score since 2009
Yes, that is correct. Kentucky's last kick return touchdown was by Derrick Locke in 2009. Stoops has favored using sure-handed walk-ons as return specialists. But with the Wildcats accruing the kind of depth they haven't had many times in their history, it's probably time to see some guys like Barion Brown or Jordan Anthony get a crack at the role. Last year, former walk-on Zach Johnson's best effort went for 27 yards. If Kentucky can steal an easy score in the kicking game, it could be the difference in a major bowl and a really major bowl after the 2022 season. (Incidentally, 2009 is also the last time Kentucky beat Georgia. Just saying.)