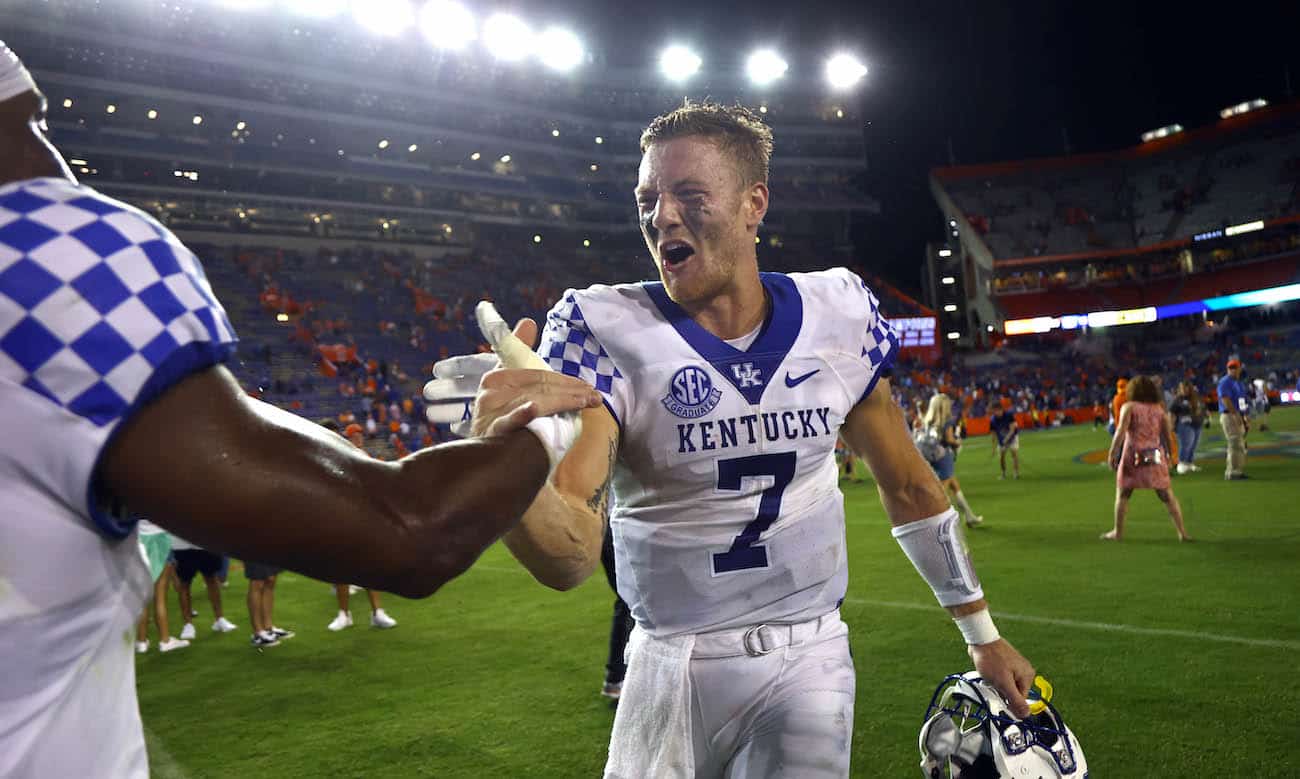 KENTUCKY
Kentucky football: Has the UK-Ole Miss game turned upside down?
In 2022, we've all had plenty of opportunities to get used to change in the world. But for Kentucky football fans, this weekend might be the push over the edge. First, Kentucky and Ole Miss are undefeated, battling to stay/reach the top 10 and maintain an actual shot at the College Football Playoff. That alone is outside the scope of what either team is really used to (although each team is 15-3 over its past 18 games).
But even more than that, the fundamental identity of these teams feels, well, upside down.
As is typical with Ole Miss and Kentucky, the game should be a battle between a wide-open passing attack and a grinding ground game. Just not the way we're all used to.
After all, since Lane Kiffin arrived in Oxford, his teams have passed for 345 and 275 yards per game, respectively. They passed for 320 yards and 4 touchdowns to edge UK 42-41 in the first COVID season game in an empty Kroger Field. Meanwhile, Kentucky's ground attack has been stout over a 4-year run that included a pair of 10-win seasons. The Wildcats averaged 199, 279, 197, and 200 rushing yards per game over that run. That included rushing for 408 yards in that 42-41 loss to Ole Miss in Lexington.
But this year?
Ole Miss ranks 11th in the SEC at 207 passing yards per game. And Kentucky is 13th in rushing at 81.5 yards per game (though that should change now that Chris Rodriguez is back). But that's not to say either team has struggled.
Kiffin's reputation for high-flying offenses hides the fact that his Rebels have finished 1st or 2nd in the SEC in rushing each of his first 2 years. They're No. 1 right now, even with an entirely new cast of running backs. The Rebels have reinvented themselves as a run-first juggernaut, averaging an SEC-leading 281 yards per game on the ground. That's actually 4th in the nation, behind two service academies and Minnesota. What on earth?
Rebel running backs Quinshon Judkins (429 yards, 5 TDs, 6.1 yards per carry) and Zach Evans (365 yards, 4 TDs, 6.2 yards per carry) have not exactly been deterred by splitting carries, as they're the No. 2 and 4 rushers in the SEC at the moment. Not that Rebels QB Jaxson Dart is exactly stuck in mud. Dart's 201 rushing yards nearly outpace UK's top rusher, Kavosiey Smoke (263 yards).
Kentucky is 4th in the SEC in passing, picking up 296.3 yards per game in the air. That's good for 26th in the country. The Wildcats have 3 300+ yard passing games in their first 4 games of the season. Ole Miss has 0 such games. Will Levis (68% completions, 1,185 yards, 10 TDs, 4 INTs) gives Kentucky an excellent shot at their first 3,000-yard passer since Mike Hartline's senior season in 2010.
Another reversal that might surprise casual observers is defense. After all, in the 2020 game in Lexington, UK and Ole Miss scored at will, piling up over 1,000 combined yards and 83 points. Kiffin's first Ole Miss defense allowed 38.3 points per game, inviting opponents to a football track meet. But since then, the Rebels held foes to just under 25 points per game in 2021, and have started 2022 allowing just 10 points per game in their first 4 games. Kentucky is allowing 13 points per game, so the scoreboards shouldn't be lighting up in Oxford.
But the final upside-down turn in the game? Could defensive-minded Mark Stoops be riding his passing game and trying to outscore suddenly grind-it-out Lane Kiffin?
"You gotta be who you are," Stoops said after Kentucky's last game. "Right now, we have a very talented quarterback and we have some explosive wide receivers, so we're creating some big plays."
Whatever happens, it's safe to say that expectations are out the window. Ground and pound Ole Miss against Air Raid 2.0 Kentucky? With status in the SEC's upper echelon on the line, it's safe to say that plenty of observers will be surprised.