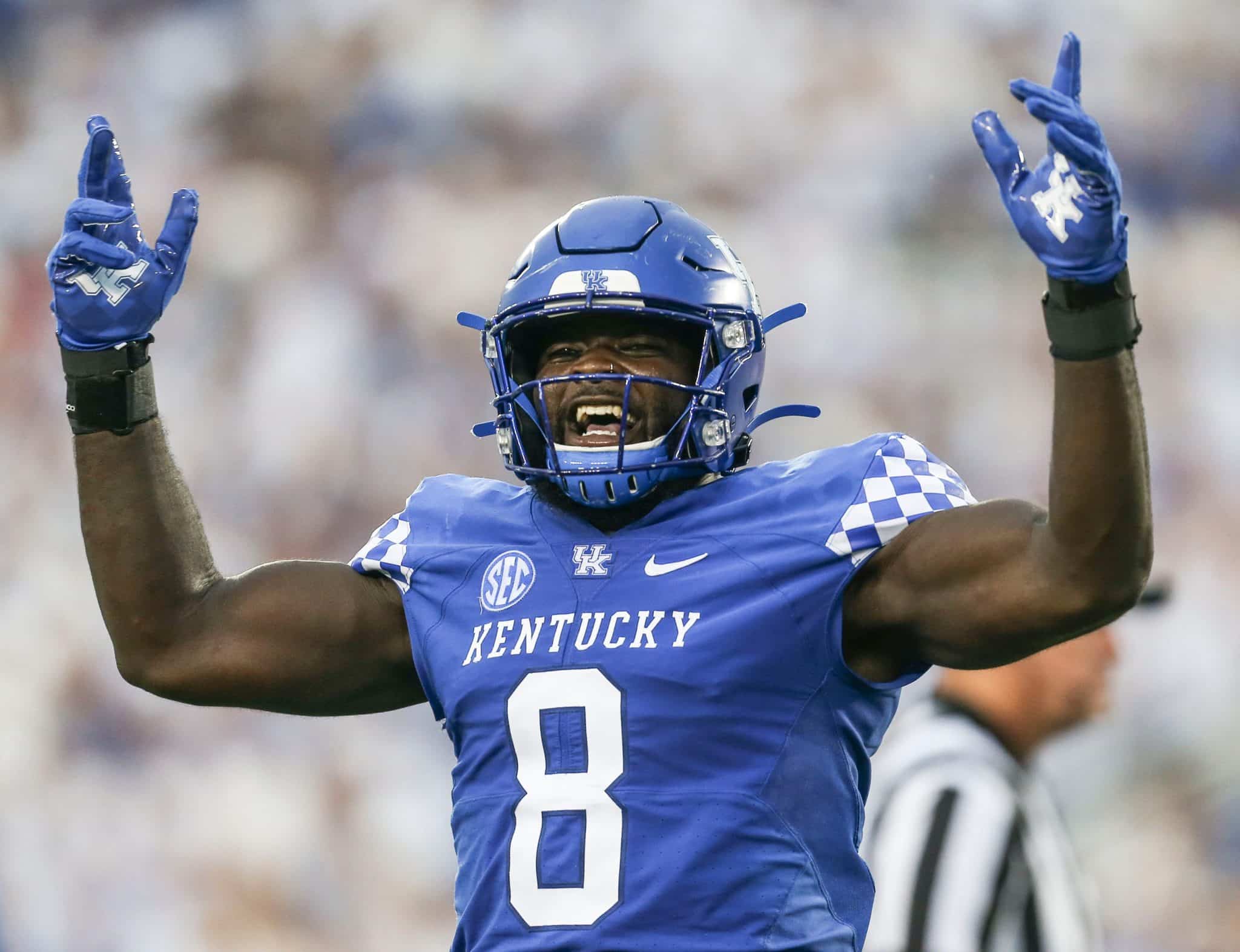 KENTUCKY
Kentucky football: Stock report after Week 1
With its 44-14 triumph over Ball State on Saturday, Kentucky played a season opener very much in keeping with Mark Stoops' recent tradition. The Wildcats' defense looked steady and ready; the offense, well, things were a little dicier there. At the end of the day, Kentucky showed impressive defensive fortitude and a wealth of tuneup offensive issues that will ultimately spell the difference between an underwhelming season and a potentially very good one.
Player of the Week: Ray Davis
Kentucky's senior transfer running back made a smooth transition to the blue and white, racking up 112 rushing yards on just 14 carries with a pair of touchdown runs. Davis also caught 3 passes and generally looked remarkably comfortable with his 3rd collegiate team. For a Kentucky offense that played a fairly uneven game, Davis did a great job avoiding negative plays, keeping the chains moving and demonstrating an ability to catch the football out of the backfield.
With online sports betting coming in just a few weeks in the state of Kentucky, check out the Bet365 Kentucky promo code for more information. This football season will be the first time that legal, regulated, online sports betting comes to the Bluegrass state.
If Kentucky plays a 13-game season (and if Davis stays healthy), Davis needs to average only 74 yards per game to post a 1,000-yard season. That surely would make him the 1st back to rush for 1,000 yards at 3 schools.
Freshman of the Week: Walker Himebauch
Kentucky plays very few freshmen, with only a handful even making the Wildcats' 2-deep depth chart. Which leads to the selection of Himebauch. If his name isn't readily familiar, it's because Himebauch isn't playing a particularly attention-grabbing spot. He's UK's short snapper. After a 2022 season where UK had horrific struggles with special teams, the Wildcats have separate players handling long snapping (punts) and short snapping (placekicking).
A year ago, Kentucky often struggled to kick extra points, either with awful snaps, botched holds or sometimes even shanked kicks. UK's special teams had a very solid Week 1, with newcomer Alex Raynor knocking a trio of field goals through the uprights and converting all 5 extra points. None of which happens without Himebauch, who was quietly making noise by adding some stability to an area in which UK looked lost a season ago.
Biggest surprise: A blah debut for Leary
Throughout fall camp, the conventional wisdom went that Devin Leary might be a better quarterback than Will Levis was at Kentucky. That may still happen, but Leary had an uneven debut as UK's starting quarterback. The numbers are unexceptional: 18-for-31 for 241 yards, 1 touchdown and 1 interception. The reality was even more unexceptional. Leary and center Jager Burton seemed to struggle with snap timing and placement, and much of the offensive continuity in the game came courtesy of Davis' running.
Of course, Kentucky is still very much tinkering with its offensive line (see below), and Leary is still working on chemistry with his receivers. This wasn't a disaster in any sense of the word, but as hyped as Leary's performance was in the preseason, Week 1 felt a bit underwhelming.
Biggest concern: A big injury up front
The loss of senior guard Kenneth Horsey in the 2nd quarter looks like it could be a big deal. Kentucky doesn't have a ton of offensive line depth or experience. Horsey was a veteran hand whom the Wildcats hoped to use to solidify the interior line in SEC play. Granted, no formal announcement was made immediately following Saturday's game. But given that Horsey was taken off on a golf cart in obvious pain, he may well have played his last football in 2023.
Frankly, Kentucky's offensive line would have been a concern coming out of this game with Horsey. While Leary was sacked just once on Saturday and Ball State had only 3 tackles for loss, Leary was still under duress frequently, which played a role in keeping the UK offense consistently a tick away in timing matters. With memories of 2022 meltdowns still lingering, moving ahead without Horsey is not good news for the Wildcats.
Developing trend: Back to TCB vs. the non-SEC
Kentucky's Music City Bowl loss to Iowa to end the 2022 season was its 1st nonconference loss since the 2017 Music City Bowl. UK amassed a nonconference winning streak of 20 consecutive games before that 2022 loss. The good news for the Wildcats is that in their 1st nonconference game since the bowl, they went right back to work. That streak points to both the downturn of Louisville and to Stoops' attention to detail in NOT losing games that the Wildcats should win. Kentucky's solid performance against Ball State indicates a team that will go back to the blueprint of nonconference success.
Key stat: 8 tackles for loss
A season ago, Kentucky struggled to knock offenses backward. The Wildcats ended the season with just 55 tackles for loss (14th in the SEC) and 20 sacks (tied for 11th). But Saturday, the Wildcat racked up 8 tackles for loss — and amassed most early in the game before a multi-touchdown lead forced UK into a more conservative offensive approach.
Linebacker Trevin Wallace led the charge with a pair of tackles for loss, but Alex Afari Jr. and Kahlil Saunders each was involved in 1.5 tackles for loss as well. The Wildcats sacked Ball State QBs twice, and they generally showed real improvement in creating negative plays with their defense.
First impression about Eastern Kentucky: Deceptively simple
EKU is an FCS foe located virtually next door. The Colonels were 7-5 a season ago and present no particular reason to be regarded as a threat. By opening with the trio of Ball State, Eastern Kentucky and Akron, UK bought itself 3 weeks to implement the Liam Coen/Leary offense. That's probably a good thing, as there's plenty to work on, particularly on Kentucky's shaky offensive line, where Horsey's apparent loss to injury will make a thin unit even thinner.
Additionally, EKU has a history of giving Kentucky a better game than reason would suggest. While UK is 5-0 against Eastern, the past 2 matchups were a 34-27 overtime win in 2015 and a 27-16 victory in 2017 in which Kentucky trailed in the 2nd half. So while Kentucky should be in good shape next week, there's recent history suggesting that the Colonels could well keep the game close.