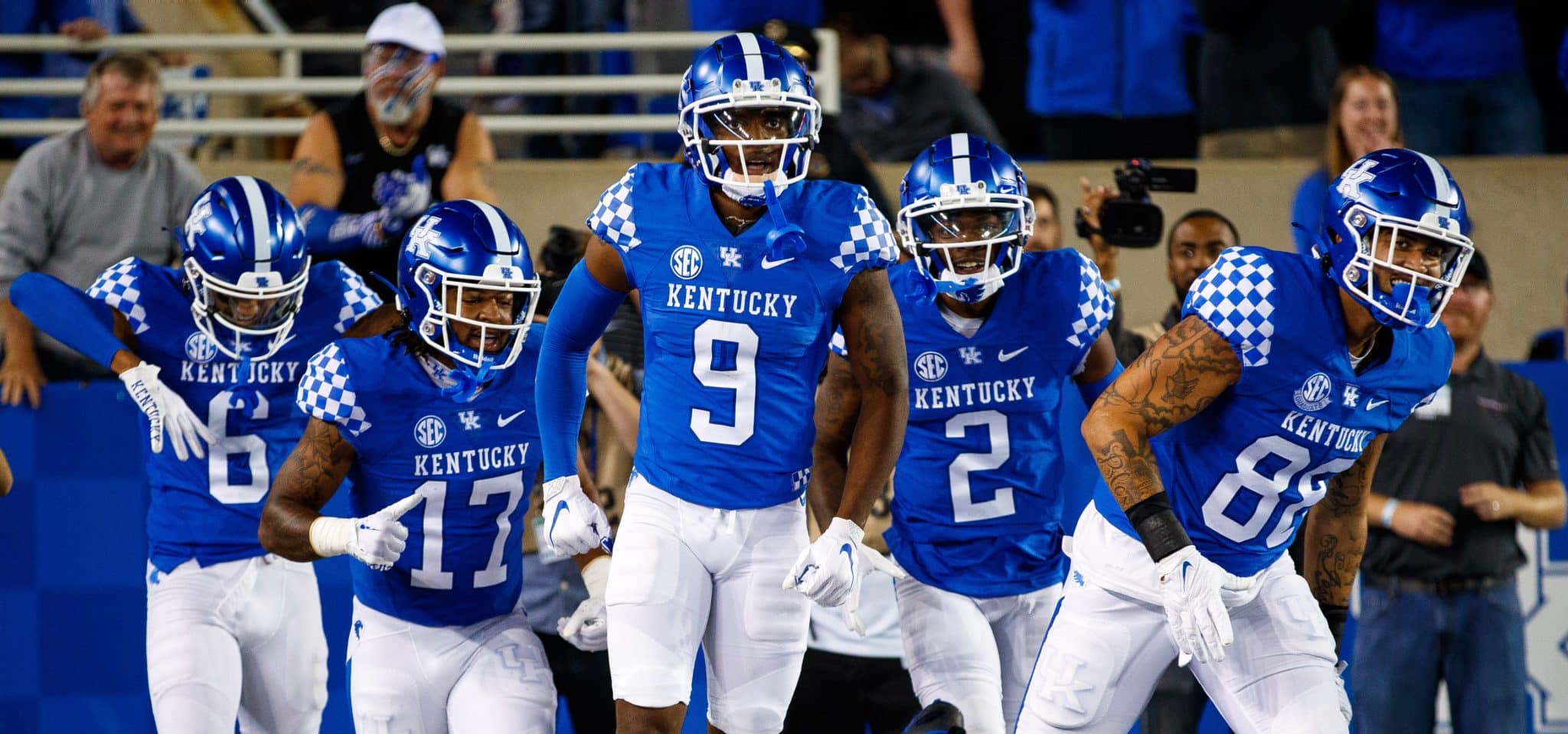 KENTUCKY
Kentucky football: What we liked and didn't like from Kentucky's ugly win over Northern Illinois
It was a lot tougher for No. 8 Kentucky on Saturday night than it was expected to be. Visiting Northern Illinois opened the game with a scoring drive and brought the fight to the Wildcats for much of Kentucky's 31-23 victory.
The good news is that Kentucky improved to 4-0 on the season.
The bad news is that the Wildcats' issues were pretty obvious, and that doesn't bode well when Kentucky returns to SEC play next week at No. 16 Ole Miss.
Here are the highs and lows of the Wildcats' win:
What we liked
1. Tayvion Robinson
The Virginia Tech transfer looked like a clear WR1 on Saturday for the Wildcats. Robinson's 7 catches for 147 yards included everything from a 69-yard TD grab to some nice short-yardage plays that moved the chains early in the game.
Robinson showed it all against Northern Illinois, from take-the-top-off speed to gutting out tough yardage between defenders.
2. Barion Brown
While Dane Key had stolen the true-freshman thunder in recent weeks, Brown showed some of his own big-play ability. His 4-reception, 102-yard, 2-TD day included both UK's first score of the game and a back-breaking 70-yard score out of the halftime locker room that gave the Wildcats a lead they would never relinquish.
Brown's next-level speed will make sure he's relevant in SEC play.
3. Will Levis
Kentucky's quarterback is quietly exceptional every week, even with a struggling offensive line and virtually no running game.
All Levis did Saturday was pass for 303 yards and 4 touchdowns, and he improved to 14-3 as a starting QB at Kentucky. Yes, head coach Mark Stoops would rather have 3 yards and a cloud of dust and defense.
But Levis is the unquestioned leader of Kentucky's offense, and the Wildcats' hopes for a big season are riding on him every week.
What we didn't like
1. The offensive line
Kentucky continues to have significant struggles in offensive line play.
On one of Northern Illinois' 5 sacks of Levis, senior tackle Kenneth Horsey got beat so badly that he fell over the prone body of Levis himself.
It was that kind of day.
Northern Illinois outrushed Kentucky 128-103, and the Huskies had 6 tackles for loss to just 1 for the Wildcats. Kentucky's offensive line had been a team strength, but the loss of tackle Dare Rosenthal might have caught the Wildcats slightly off guard.
Freshman Kiyaunta Goodwin hasn't seen significant snaps yet, and UK's struggles at tackle have moved Horsey outside when he was a significant contributor as an interior lineman. Kentucky needs to find 5 guys who can keep Levis upright and open up a few crevices in the running game.
2. The running backs
To be candid, the running game struggles aren't all on the linemen. Kentucky's backs have been less than impressive in hitting the holes that are created or pushing the pile for extra yardage.
Kavosiey Smoke has been the best of the group, but his costly fumble right before halftime allowed Northern Illinois to pull even at the half. The good news is that Chris Rodriguez will return next week. Hopefully, that will help a group that has 1 run of 20-plus yards on the season.
3. The defensive line
As previously mentioned, Kentucky had exactly 1 tackle for loss in the game, which actually came from defensive back Zion Childress. The Wildcats' defensive line rarely seems to make aggressive plays.
Many Northern Illinois runs resulted in 2nd-and-short or 2nd-and-medium situations that helped the Huskies keep the playbook open. Kentucky's defense is designed so that the defensive linemen are often engaging blockers that open up plays for the linebackers.
But UK found itself consistently not getting much pressure at all on the Northern Illinois passing game. Meanwhile, NIU averaged 3.9 yards per carry, which isn't awful work by Kentucky, although the Wildcats were still outgained on the ground for the 3rd time in 4 games.