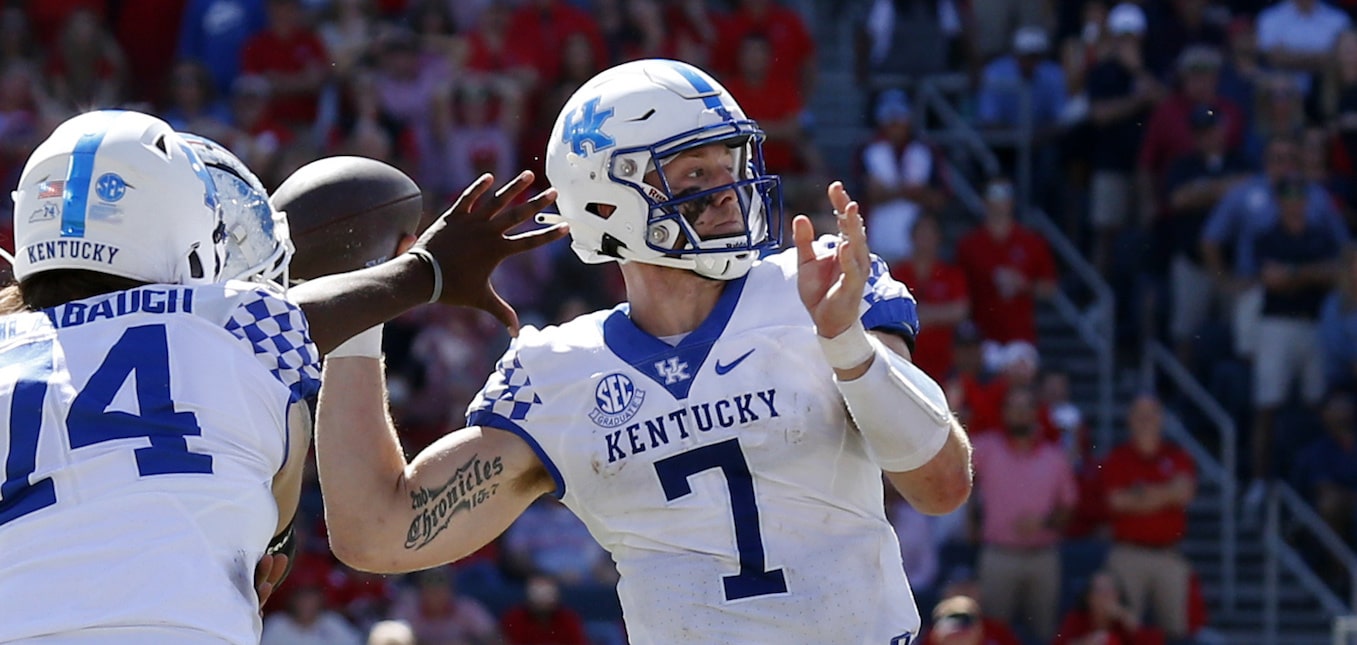 KENTUCKY
Kentucky football: Wildcats' path tightens but remains present despite tough loss
Heartbreaking.
Astonishing.
Leaving points on the field.
Getting 0 points from a pair of final drives inside the opposing 20-yard line in a 3-point loss.
Saturday's 22-19 loss to Ole Miss was brutal stuff. But it's not like Kentucky football hasn't seen any of it before.
That said, the Wildcats seemingly regressed in Oxford into the SEC's most snake-bit football program. Kentucky actually completed an apparent game-winning touchdown pass in the final minute, only to see a formation penalty bring the score off the board before UK turned the ball over on the next play, effectively ending the game.
That actually might have been a new chapter in the Big Blue chronicle of football misery.
But even with the heart-wrenching loss, Kentucky's path to a meaningful and even historic SEC season still remains intact.
It just tightens.
Kentucky, which moved down 6 spots to No. 13 in the new AP poll, figures to be favored this Saturday at home against South Carolina. The following week's home game against Mississippi State looks to be a tougher matter, particularly after the Bulldogs defense knocked Texas A&M around the field last Saturday. But Kentucky's path to a 6-1 start heading into its bye week remains intact.
It just leaves no room for error.
Against South Carolina, the major room for concern has to be emotional hangover. Kentucky lost a heart-breaking game to the 9th-ranked Rebels, but the Wildcats lost it largely as a result of massive self-inflicted errors.
While South Carolina has struggled this season, the Gamecocks are entirely capable of hanging with this Wildcats team if it continues to make massive special teams' gaffes and commit untimely turnovers. Also, the Gamecocks' win over FCS South Carolina State was moved up 2 days to last Thursday because of Hurricane Ian, giving South Carolina a couple extra days to prepare for the Wildcats.
Again, No. 23 Mississippi State — even at home — figures to be a stiff challenge. The Bulldogs took down UK in Starkville last year, 31-17, in a loss that threatened to undo Kentucky's progress. Mike Leach's passing offense is always difficult to defend, and State's defense under Zach Arnett has been aggressive and challenging. The Bulldogs scarcely broke a sweat last Saturday in knocking off a Top-20 A&M squad by a 42-24 count.
After its bye week, Kentucky will have to face 8th-ranked Tennessee in Knoxville and later host 2nd-ranked Georgia to end SEC play. Admittedly, the game at Missouri in between looks substantially more challenging than it did before last Saturday.
But to have a significant season, the Wildcats need to get to the bye at 6-1 and take down either Tennessee or Georgia. Even a 9-3 season will probably be seen as something of a disappointment after a Top 10 start to the season and a win at Florida. Meanwhile, a 10-win regular season would likely leave Kentucky in the thick of the SEC East race and in a New Year's 6 bowl game.
Kentucky still wasn't assured any of those things even if Will Levis' touchdown pass to Dane Key stood and the Wildcats won on Saturday. Again, Mississippi State and Missouri both showed more ferocity than expected last week, and both still lurk in the back half of Kentucky's schedule.
But with Georgia on the schedule, Kentucky's wiggle room basically disappeared.
Can the Wildcats have the kind of season that Big Blue Nation craves?
Absolutely.
But Ole Miss took the "have a bad game, take an ugly loss" spot off the schedule.
It's time to get down to business for the Wildcats.