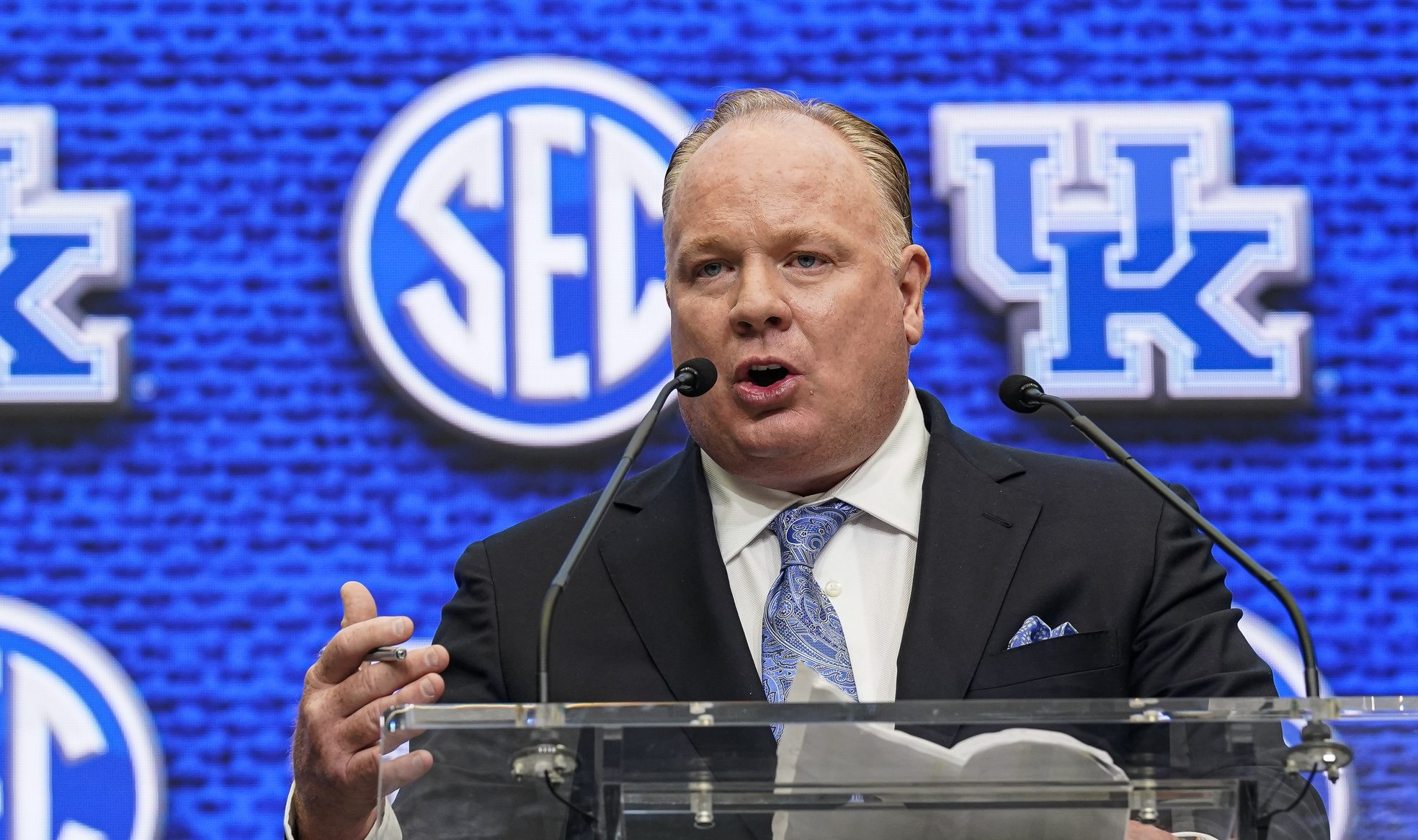 KENTUCKY
SEC Media Days: 'Build, select, develop' has Mark Stoops poised to catch a legend
It's pretty much a guaranteed part of life as the head football coach at the University of Kentucky. In the first question he fielded at SEC Media Days, Mark Stoops was asked about sharing the spotlight with a legendary Hall of Fame coach. Just as Blanton Collier or Charlie Bradshaw were doubtlessly quizzed about Adolph Rupp or Fran Curci about Joe B. Hall or Bill Curry about Rick Pitino, here it came again.
But this was different, because the question was about the most successful Kentucky football coach — and how Stoops is about to surpass his most notable UK record.
After a decade in Lexington, Stoops was asked not about John Calipari (might be worth noting that Stoops has as many NCAA Tournament wins as Coach Cal since 2018), but about Paul "Bear" Bryant, whose 60 victories in Lexington has long been a measuring stick for UK football. Stoops has 59 wins at Kentucky. And counting.
For his part, Stoops professed not being concerned about measuring up against Bryant — noting only that he hopes his mother can be present for his 2nd win of the 2022 season, when he will become the UK career leader in coaching victories. But he did admit to pride in stringing together a decade of head coaching in the SEC, which even Bryant didn't do at Kentucky.
Asked about the secret to his success — Stoops is only the third post-World War II coach at Kentucky to post a winning record, and the first since Collier, who stepped down in 1960 — Stoops was fairly non-commital on Wednesday. At one point, asked about 2nd-year head coaches Shane Beamer and Josh Heupel, he was careful to proclaim that both were doing well and he wasn't sure about advice for coaches at other programs.
But he did briefly distill his recipe for UK success. "Build, select, develop," he said. Those three simple words have resulted in as many many 10-win seasons as UK football had in total before Stoops arrived.
At first, it seemed like Stoops misspoke. How can a coach build before he selects? Actually, it probably reflects Stoops' reality.
Inheriting a program that was 2-10, which he himself admitted was "about 6 spots below 14th" in the SEC pecking order, Stoops was a builder before he was a recruiter. From the initial interview where he famously wowed the UK athletic staff with an ambitious and detailed plan of how to revamp the program to bringing in an experienced and talented coaching staff to selling recruits on more of a dream of Kentucky football than a reality, Stoops hit the ground building back in 2012 and hasn't stopped.
Selecting is hardly news. Yes, Stoops has brought more 4-star and 5-star recruits to Lexington than anybody. Yes, 2-star Josh Allen became Bronko Nagurski Award winner and top-10 NFL Draft pick Josh Allen. Yes, 3-star Benny Snell was a step slow for home favorite Ohio State, but he became UK leading rusher Benny Snell.
Some of this situation occurred in development, but some occurred because Stoops (and recruiting coordinator Vince Marrow, the only assistant still around from Stoops' original staff) saw things that other, more highly-regarded coaches didn't see.
More recently, Stoops and Marrow have extended their golden touch to the transfer portal, which has yielded standout WR Wan'Dale Robinson, and 2022 mainstays QB Will Levis and LB Jacquez Jones, among many others.
Which brings us to development. Stoops talks about community support, about continuity, and being true to core ideas in his career. And the reality remains that magic isn't really magic. It's landing at a school that has the patience to abide a 12-24 start in your first 3 seasons. It's about raising the football consciousness of the entire state of Kentucky. "People get about as mad about you losing a football game as they used to get about losing a basketball game," one media member marvelled about Stoops' progress in Lexington.
Stoops also talked about adaptability Wednesday. Because development hasn't just been about getting players stronger, smarter and faster. It's been about teaching a defensive head coach to trust aggressive offensive play-callers and to be as excited about a big-time QB in Will Levis as he once was about LB Josh Allen or DB Mike Edwards.
It's been about a full-on embrace of the transfer portal at a time when some (Dabo Swinney) had the luxury to be hands off and cautious. It's been about training a school and a state to enter a football season expecting to keep climbing the mountain that is the ranking of SEC teams instead of passing the time until basketball.
In 2022, maybe it's time to acknowledge that Mark Stoops has earned Bear Bryant questions. He's built, selected, and developed his way to his own slice of Kentucky football immortality.