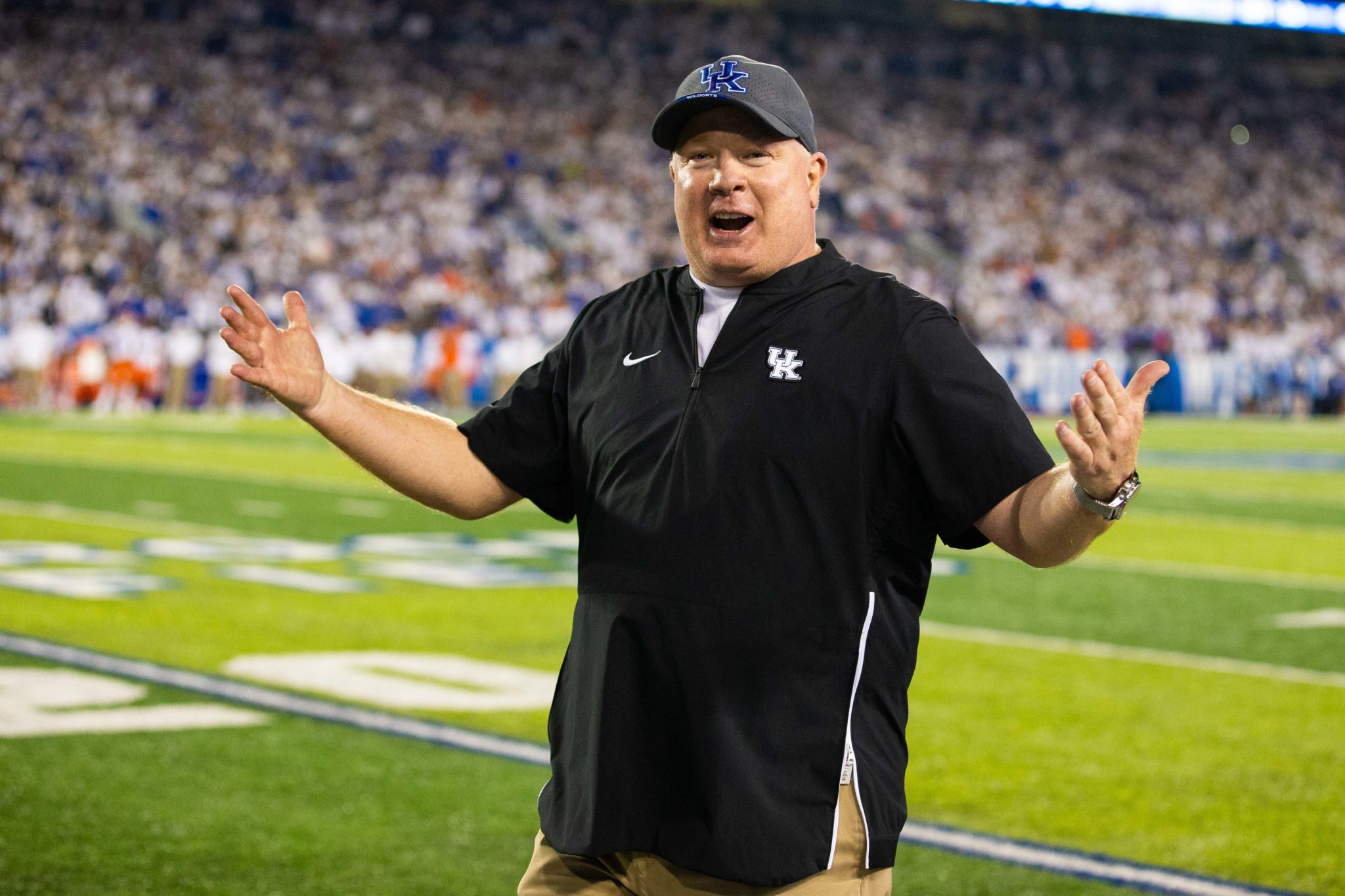 KENTUCKY
Skeptic's guide to Kentucky's 2022 football season
Fans and followers of Kentucky football don't need a lot of practice to be skeptical. So that's why seeing preseason predictions suggesting that UK wins 8, 9, and even 10 games lets a few Debbie Downers within Big Blue Nation start imagining that the preseason glass is actually half-empty.
What could make UK come up shy of those preseason predictions? Here's a quick primer of several reasons Kentucky could stumble.
1. Week 2 in The Swamp
Yes, Florida is down. New coach, no notable outside threats, a talented QB who can't seem to stay healthy, etc. Frequently projected lower than Kentucky down. But here's the rub: Kentucky's upset win in The Swamp in 2018 with Terry Wilson at quarterback is Kentucky's only win at Florida since 1979.
The 2022 Wildcats open with a home game against Miami of Ohio. Then they'll head to Gainesville. Early odds lines have the Gators as roughly a 3- or 4-point favorite. Calling any conference road game a must-win is a reach. But if Kentucky wants to reach those 2nd only to UGA in the East marks, they can't stumble early — meaning they'll have to win, likely as a mild underdog, in a place where they're 1-20 in their past 21 visits.
2. No "wan" can replace Wan'Dale
Kentucky's passing game in 2021 was a pleasant development. That said, to say it was heavily dependent on Wan'Dale Robinson is like saying that The Office was pretty dependent on Steve Carell. Robinson caught 104 of Kentucky's 242 completions. After Robinson and frequently injured receiver Josh Ali, who had 41 catches, nobody else on UK's team topped 20 receptions or 195 receiving yards.
Now, the 2022 'Cats are almost guaranteed to have more depth at receiver. But without one player who can equal Robinson's production, Kentucky's passing game will lack that go-to game breaker in a must-convert situation. That could be more pivotal than anyone realizes.
3. The tackles could be trouble
Throughout a transition of offenses and position coaches (following the tragic death of John Schlarman), Kentucky's solid offensive line play has been one constant. But the Wildcats lost starting tackles Darian Kinnard and Dare Rosenthal. When both missed the Citrus Bowl matchup with Iowa, the Hawkeyes sacked Will Levis 6 times, as the replacement tackles were frequently shredded on the edge. Kentucky claims to be confident in JUCO product Jeremy Flax, who has the size but did not overwhelm last season. The other spot could be Deondre Buford, frosh Kiyaunta Goodwin, or somebody else sliding outside. The bottom line is that UK will be putting a lot of pressure on a couple of guys without meaningful FBS football experience, and hoping that they can keep Levis upright. It could go fine, but it also could get pretty ugly.
4. Where's the pass rush?
Kentucky had a competent defense in 2021 despite the absence of a big-time pass rusher. Edge JJ Weaver had a team-high 6 sacks. Weaver is back, but up front disrupter Josh Paschal will be with the Detroit Lions. Weaver is a solid piece, but Stoops' best defenses have somebody disrupting the passer in a significant way, whether it's Josh Allen (17 sacks in 2018) or unheralded Calvin Taylor (8.5 sacks in 2019).
Kentucky's front line is now missing not only Paschal, but Marquan McCall and Abule Abadi-Fitzgerald. Guys like Octavious Oxendine and Justin Rogers have shown flashes, but the Wildcats will need a significant pass-rushing force in their defensive front, and there's no known quality here. This is especially important because …
5 The weakest position group got much thinner
Yes, Kentucky won 10 games in 2021. But the Wildcats also went through a horrifying 2-game losing streak to Mississippi State and Tennessee when the secondary became the gang that couldn't cover. Will Rogers and Hendon Hooker went a combined 51-for-59 for 665 yards and 5 touchdowns against a secondary that played like it was the Pro Bowl instead of a couple of pivotal midseason conference games.
Now, take that secondary and remove safety Yusuf Corker, nickel Davonte Robinson, and nickel Vito Tisdale, who will miss the 2022 season with an injury. Not only will Kentucky get Rogers and Hooker again, but Lane Kiffin is guaranteed to have something interesting cooking in the Ole Miss passing game. If the Wildcats can't play better coverage, Levis might feel like he stepped into a video game and will need to win every game 70-69.
6. Post-Georgia letdown … leads to Louisville loss
A not-small part of Stoops' success has come from catching and overtaking his in-state rival. Since upsetting Lamar Jackson's squad in 2016, Kentucky has handled Louisville with increasing ease. But this year's game will come on the heels of Kentucky's matchup with Georgia. Even if all goes well for the Wildcats, they figure to come out of that game emotionally spent.
But particularly if Kentucky has some early and mid-season struggles, the Bulldogs could deliver a hurting — and Kentucky has played poorly in the week after the Georgia game for some time now. The Wildcats are 2-7 under Stoops in the game after Georgia, and a badly-timed loss to Louisville would be another thing that could take the wind out of the Wildcats' sails.