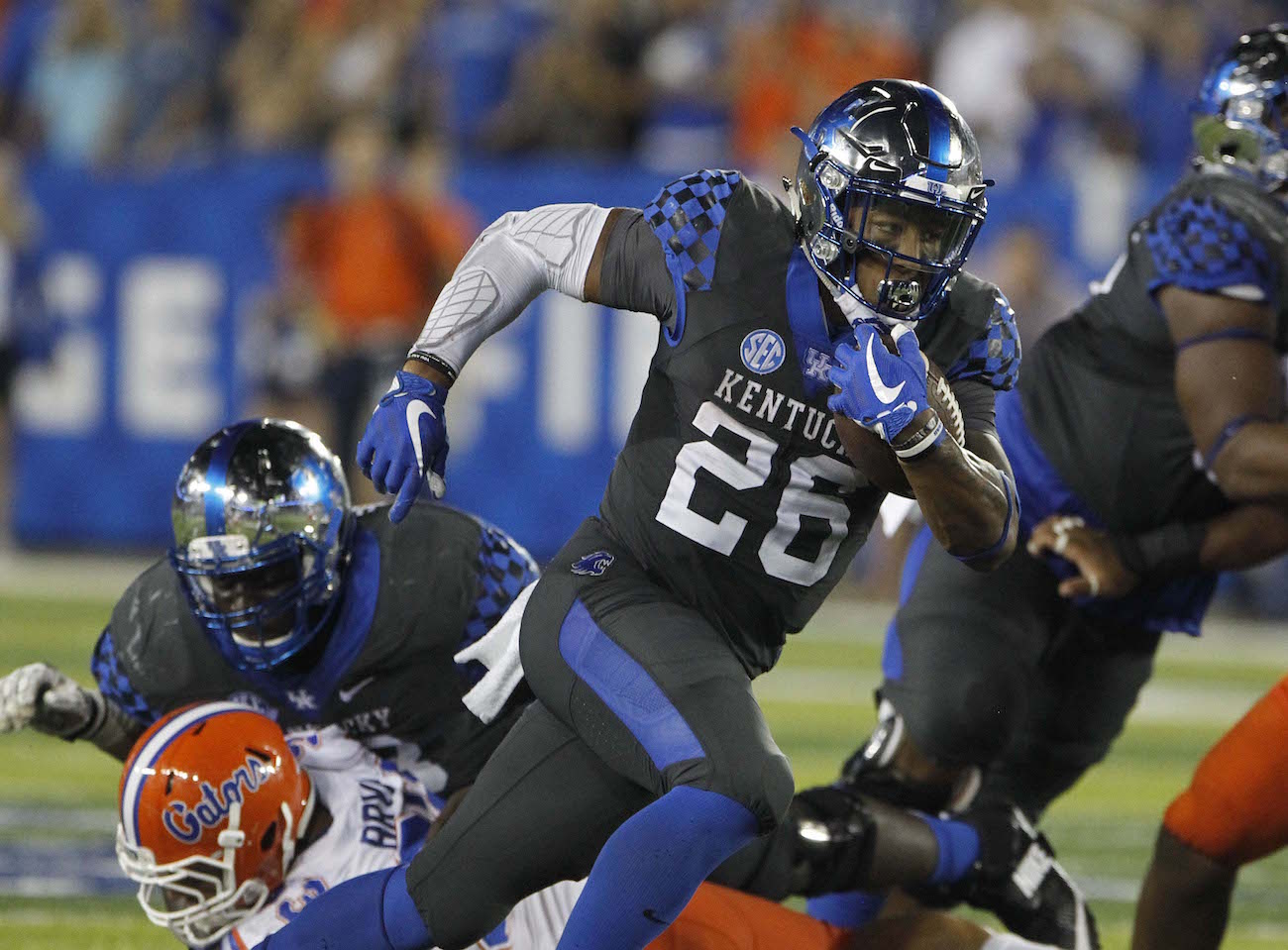 KENTUCKY
This is the year Kentucky (finally) will end the 31-game losing streak to Florida
Saturday night, the Kentucky Wildcats are going into The Swamp and, for the first time in 32 years, they will defeat the Florida Gators. OK, so quit snickering, admittedly, that's probably not going to happen.
But despite the fact that history and the point spread (which is hanging around two touchdowns) are in Florida's favor, there are reasons for optimism from UK fans. Here are five reasons UK will end the 31-game losing streak.
1. Florida struggled with run defense
Florida dominated Charleston Southern 53-6. But one issue that should cause some concern is that they allowed their FCS foe to rush for 222 yards and 5.2 yards per carry. This was despite CSU passing for just 3 yards on the game. Florida allowed 154 yards rushing per game and 4.2 yards per carry last season. Meanwhile, Kentucky rushed for 299 yards in its opener with two backs each breaking 100 yards and a mobile QB contributing 38. Kentucky's best asset might well line up against Florida's biggest early weakness.
2. The series has been competitive recently
Gone were the days when Florida beat UK 73-7 and 65-0. The Gators have won 3 of the past 4 games by a touchdown in overtime, by five points, and by a single point. Obviously, with Kentucky tending to stay in these games, it helps the Wildcats' odds of pulling the upset.
3. Danny Wuerffel isn't walking through that door
Much of Florida's dominance in this series has come from superior QB play. Feleipe Franks looked great in the first game, but he also has yet to play very well against an SEC defense, including Kentucky last year. Kentucky takes its knocks, but the Wildcats have a talented secondary and a much-improved front seven. Kentucky QB Terry Wilson struggled in Week 1, but Franks could very well return the favor.
4. Fumbling fingers
Kentucky put the ball on the ground five times in the opener, losing two fumbles, but the Gators were afflicted by the same problem. They recovered their fumbles, but on some level, that just makes the ball due to bounce UK's way.
5. Kentucky is due
Granted, a streak can work two ways. On the one hand, Reagan was President and Top Gun was making money at the box office the last time Kentucky beat Florida. But on the other hand, continuing to escape with close wins in this series makes UF like a blackjack player who keeps hitting on 19 and getting a good card. Sooner or later, you draw a bad card and your luck runs out.
Meanwhile, the biggest knock on Kentucky was the horrible QB play they had in Week 1. But how much does that really matter? The last UK quarterback to win in The Swamp wasn't Andre Woodson or Jared Lorenzen or Tim Couch or even Bill Ransdell (who was the last UK passer to defeat UF in Lexington). It was walk-on Juan Portela. Similarly, when Kentucky ended Tennessee's lengthy winning streak over the Wildcats in 2011, it did so with wide receiver Matt Roark forced into emergency duty as a quarterback.
Sometimes, you just get lucky — and after 31 consecutive defeats, Kentucky is overdue for a little luck.